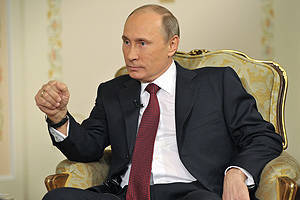 In an interview with the German television and radio company, President Vladimir Putin spoke about how he sees the country's path and his own path after the end of his political career.
Moscow. 5 April. INTERFAX.RU - On Friday evening, on the eve of the visit to the Federal Republic of Germany, Russian President Vladimir Putin gave an interview to the German ARD television and radio company. In a conversation with German journalists, the translation of which was published on the Kremlin's official website, Putin spoke about Russian democracy, objectivity in covering the situation with inspections of non-governmental organizations, and also for the first time touched on what will happen when he leaves the presidency.
About the path of democracy
Vladimir Putin is confident that Russia is on the path to building democracy and will be able to work out its own democratic tools, but this takes time. "The fact that we made an unequivocal choice in the direction of democracy, and the fact that we do not imagine another way of development is obvious. The fact that certain standards that are used in some countries are difficult to implement or not applicable in others, it seems to me that also an obvious fact, "Putin said in an interview with the German television and radio company.
The head of state believes that Russia needs to develop such tools that would allow the overwhelming majority of citizens to influence both domestic and foreign policy. "If we build the whole building of our domestic policy on such fundamental principles, all our state institutions, then I think we can talk about the success of democracy in Russia. But the fact that Russia is on this path goes this way, this is obvious fact, "reiterated the president.
He confirmed that it would take time to introduce democratic institutions in Russia. "Do you want us to overcome the path that other countries have overcome in 200, 300, 400 years in two decades? Everything is done gradually, step by step. But we understand where we are going and we will not turn from this path" - the president assured.
Pro checks and foreign agents
During the interview, asking the question, the correspondent said that "a lot of Germans are following the concerns of the German funds in Russia with concern," and "the Russian public must be intimidated."
Putin called for objectivity in covering the situation with inspections of non-governmental organizations in Russia. "This is what scares the German public. Nothing like that happens, don't scare people. We need to cover events objectively," Putin said.
Putin stressed that he was happy with the opportunity to clarify the position of the state in this area and talk about what is happening in reality. "Here you started the question with what? Searches, arrests. What searches? What arrests? Who is arrested? Name at least one last name. After all, there is nothing. There is no need to invent anything," Putin said.
He added that in Russia there is the Prosecutor General's Office, which is obliged to monitor compliance with the laws, and all citizens, organizations, individuals and legal entities working in the Russian Federation must respect the laws of the country. He recalled that at the end of last year in Russia a law was passed, according to which NGOs that are engaged in domestic political activity and receive money from abroad, must register as foreign agents. Putin stressed that this is not an innovation in world practice and the exact same law has been in effect in the United States since 1938.
According to the president, there are currently more than 650 non-governmental organizations in Russia that receive money from abroad. Russian society should know the sources of funding for NGOs, the head of state said. "Only four months after we adopted the relevant law to the accounts of these organizations from abroad, can you imagine how much money came in? You cannot imagine, and I did not know: 28 billion 300 million rubles is almost a billion dollars. 855 million rubles - through diplomatic missions, "said Putin.
At the same time, he stressed that nobody prohibits the activities of these organizations in Russia. "We simply ask them to say:" Yes, we are engaged in political activities, but are funded from abroad. "Society has this right," Putin said.
He affirmatively answered the question of whether Russia needs a strong opposition, stressing that it is impossible to develop without competition, including in politics. "Therefore, we will certainly strive to ensure that our society is based on this competition in all spheres of our life, including political life. But this does not mean that this opposition should be financed from abroad," said Putin
About the end of a political career
When a journalist asked if he was thinking about life after being in office, Putin replied that every normal person always looks beyond a horizon.
"I very much hope that after completing my political and state activities I will have the opportunity to work out with some other issues and problems. I really love the right, I love literature, and I very much hope that I will be able to do without specific reference to the state work by these problems, maybe some other - public, sports, and so on, "Putin said in an interview.
"And I'm far from being the biggest survivor in politics. In European politics there are people who took the first places much more and worked longer than I'm working in now - both in Europe and North America, by the way, in Canada" - added president.