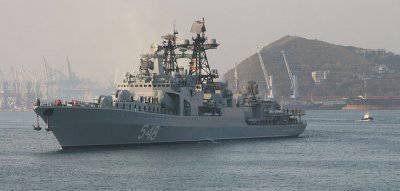 As part of the implementation of the decision of the Minister of Defense Sergey Shoigu on the formation of a permanent grouping of the Russian Navy in the Mediterranean, a detachment of Pacific ships
fleet
headed for the Suez Canal, the ministry said Friday.
"Currently, the squad as part of the large anti-submarine ship Admiral Panteleyev, the large landing ships Peresvet and Admiral Nevelsky, the tanker Pechenga and the rescue tug Fotiy Krylov left the South China Sea and continues to move in the direction of the Suez Canal "- said in a statement, which leads ITAR-TASS.
Admiral Viktor Chirkov announced the formation in the Mediterranean of an operational connection on an ongoing basis on March 11. According to him, the task was set by Defense Minister Sergei Shoigu.
"We have begun this work, this work has been going on, we have been doing it for a long time," said Chirkov.
Earlier the head of the Defense Ministry said that the Navy Russia has every opportunity for the establishment and operation task force ships in the Mediterranean Sea on a permanent basis.
Details about the creation of operational connection of ships in the Mediterranean Sea began to speak in the Russian Defense Ministry in late February. It was noted that helicopter carriers of the Mistral type are considered as headquarters ships for the operational naval formation being created in this region.
The operational connection of ships and vessels of the Russian Navy in the Mediterranean Sea can amount to 10 units, it must obey the commander of the Black Sea Fleet. At the same time, another source familiar with the situation noted that such control could also be created at the Navy Headquarters, coordinated by the General Staff.
According to him, an inter-fleet grouping of ships of three fleets: the Black Sea, the Northern and the Baltic - could be located in the Mediterranean, following the example of the one that regularly conducts exercises in the eastern part of the Mediterranean, near the coast of Syria, and could count 6– 10 ships.
During the USSR, from 1967-th to 1992, the 5-I Mediterranean squadron of the Navy ships, which at various times from 30 to 50 ships and ships, operated in the Mediterranean Sea.