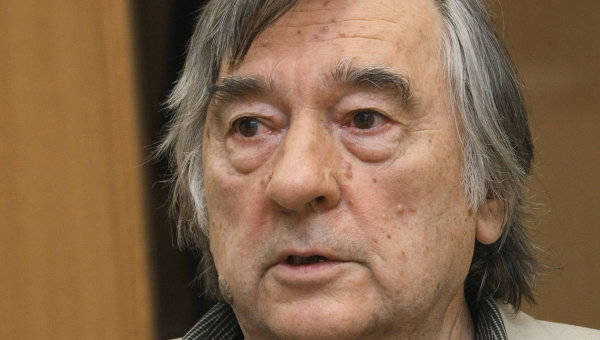 M. KOROLYOVA: But tell me, what's the point? .. Well, you already say that you know that the white scarf that was crushed. What was the point of him returning to Russia, now this Berezovsky is now in such Russia? Well, he would hardly have had the opportunity to lead the life that he had led here before (true?), To decide destinies, and so on. What was the point then?
A.PROKHANOV: Well, I think that ... And what was the point of returning to Russia, there, to the czarist officers or Shulgin, who took the renunciation of the sovereign-emperor? What was the point of returning to Vertinsky in Russia? This is a simple question, I do not know the homeland. And then how many people left for Israel after 1991? Shaft felled there. They then quietly moved back here. Not caught on.
M. Koroleva: Well, in different ways, Alexander Andreevich.
A.Prokhanov: Well, in different ways. But moved a huge amount. I remember everything, for example, Kozakov, for example - I talked with him shortly before his death. That too ... What was the point of coming here? We arrived, did not take root.
But Berezovsky, after all ... Here, everyone said, Berezovsky has the mentality of a Russian person - a lively Jewish mind and mentality of a Russian person. I do not think that he had the mentality of a Russian person. That he had a lively Jewish mind was definitely perfect. I think that he had the mentality of a Soviet person, and not a Russian person. These are different things. And when both the Soviet and Jewish Jewishness ended in him, because he lost as a Jewish cybernetics, he lost as such a manipulator, a permanent eternal player, he had no choice but to write this repentance. Maybe it was some kind of masochistic move. Berezovsky was very sexy, passions were raging in him, the flesh in him was raging. I do not exclude that in his sexual experiences there were very such things, complex, subtle. Maybe it was a masochistic move to repent before his fierce enemy.
This is a question of parapsychologists or psychologists, or writers. but not politicians.
(...)
M. Koroleva: You are asked how you feel about Alexei Navalny? Well, you probably know that in the city of Kirov on April 17 a court hearing was scheduled in the case of Navalny in connection with Kirovles.
A.PROKHANOV: That is, what testimony will I give at this court or what?
M. KOROLYOVA: No, you are asked just about the attitude towards Alexei Navalny, and of the planned court, because he faces up to 10 years in prison.
A.PROKHANOV: Alexey Navalny is my ideological opponent, he is an idol and leader of Bolotnaya Square, he is essentially an Orangeman in my ideas. And I have no ideological affinity with it. And I'm calm and cold.
M. KOROLYOVA: Well, then I'll not ask you about Alexey Navalny's personality (I'm not asking about her), I'm asking about activities.
A.PROKHANOV: I calmly and coldly, calmly and coldly watch Putin deal with his opponents, who then on Bolotnaya Square demanded his death and compared his future fate with that of Gaddafi. Such things are not forgiven. I will tell you that Putin or the state, so to speak, brilliantly worked with all those who were raging then on Bolotnaya Square.
M. Koroleva: So you applaud those who are already imprisoned and who will, perhaps?
A. PROKHANOV: Well, you see, I beat a tambourine and shout "Hurray!" To all that happened. I would, of course, be unpleasant, I confess to you if Putin was dragged behind an armored troop-carrier on a rope. Well, I'm not a democrat like that.
But the only one I feel sorry for in this
stories
This is Udaltsova. And all the others - no. All the rest will turn out. Kasyanov will turn out, Nemtsov will turn out, all this liberal breed will turn out, which substitutes the poor Russian guy again, leftist. He will languish in prison, and these will fatten and travel to the United States and report to their homeland. Well, that's what I see, a Soviet man.
M. Koroleva: Wait. But you probably know that Alexey Navalny didn't do anything ... He didn't kill anyone, he didn't rob anyone. True?
A.PROKHANOV: And I also did not rob anyone. And Kozlov did not rob anyone who is in prison.
M. KOROLYEVA: And why, in fact, should a person be threatened with prison in such a situation?
A.PROKHANOV: Why are all those who have committed crimes threatened with prison? Why? The court will show. If he is innocent, well, we will be the first to meet him with roses. The dungeons will collapse and the freedom will be joyfully received at the entrance, and the brothers will give you the sword.
M. Koroleva: I already present you with roses. Good. I think that here on this
news
, about which we will talk now, you will definitely applaud. I'm talking about the title of Hero of Labor, which is established in Russia. The decree has already been signed, Vladimir Putin signed it. So, Gertrude, as this title was once called Hero of Labor, returns to us.
A.PROKHANOV: Scoop, Gertrude. What other vileness invented about Soviet terms?
M. KOROLYEVA: Well, that was what they called then. Surely, you also used this word. Well, say no.
A.PROKHANOV: It only seems to you. It only seems to you that I used it. I am different, do you understand? You take me for another. Here, to all that seems to the disgusting liberals, I will applaud. Everything that is nice to them is disgusting to me. Here is such a strange breed.
M. Koroleva: Well, so you are happy? Are you glad that we will have the title of Hero of Labor? Why, Alexander Andreevich?
A. PROKHANOV: Well, look how I turned pink.
M. Koroleva: Why do we need it?
A. PROKHANOV: Well, I don't even say why. I just see what a terrible hatred is about this phenomenon. And seeing how democratic hatred floods this, I even reconsider my attitude to it. I was skeptical. And seeing how ...
M. Koroleva: Wait, wait. From this place in more detail. Was skeptic about? Here, let's talk about it.
A.Prokhanov: Well, I am a skeptic. I'm a skeptic, I treat everything. You, as a writer, will understand me, a journalist. I am very skeptical of everything. But when I saw what fierce hatred this announcement caused among the liberals, I think "No, Alexander Andreyevich, take a closer look at what is in it". And I discovered.
M. Koroleva: So?
A.PROKHANOV: What I discovered. I think that this so-called jerk that Putin announced is a jerk connected with overcoming this monstrous lag, primarily in the military-industrial complex. This breakthrough, of course, requires a working man. You can not be a showman, a businessman, you can not be a manager and build new aircraft, and create new weapons first-class, associated with the sixth way. There must be a new, passionate ascetic, creator, clever and skilled worker. That is, the man of labor returns to the context of our ideology.
After all, this man was thrown to hell after 1991 year. In the center stood the money-grip, the hedonist, the slacker, the thief, the gangster, the Jap, Taiwanchik, the grandfather ... What was his name, which was slammed recently? I forgot.
M. Koroleva: Grandfather Hassan.
A. PROKHANOV: You know. That's what the writing mind means. Grandpa Hassan. They crashed it, but there were no workers. Who just was? And suddenly, again, the worker returns. And the worker demands encouragement by money, of course. For 5 thousand rubles you will not build a fifth generation aircraft.
But this requires and encouragement. This is a complex system of rewards for a person. They are, it is called behaviorism. This is a method of promotion, it is on all conveyors - Fords are American. And we are back to this.
M. Koroleva: Wait, but is it really necessary to start with this?
A.PROKHANOV: They know where to start, it's not for us to judge with what to start. We must begin ...
M. KOROLYOVA: That is, let him introduce the title of Hero of Labor, and let this very Hero of Labor go to his 5 thousand rubles after a working day to his own, I don't know, the flowing five-story building, right?
A.PROKHANOV: No, well, in a brothel somewhere or drink vodka at the tray you still say. Because a man of labor is a cattle, I know what it is. Anchovies, in my opinion, yes? So we call them?
M. Koroleva: I do not know. This is what I do not know.
A. PROKHANOV: Well, anchovies, anchovies, yes. This is done simultaneously. When new workers are created by workers in whom money is pumped in the same way as in weapons and in technology, this is done simultaneously with money, with titles, with comfort, with new machines, with new approaches to the training of workers. But this title of Hero of Labor, I see only in those sectors that are engaged in state actions. I do not see the Hero of Labor, which works, say, at the enterprises of oil Abramovich, for example, or Vekselberg.
M. Koroleva: Wait. But, after all, no one talked about it. Firstly, nobody spoke about money, secondly, nobody spoke about machines, thirdly, nobody spoke about the fact that it limits some industries.
A. PROKHANOV: Well, no one, because you do not hear. You are listening to some kind of buzz, apparently flies are buzzing around you.
A.Prokhanov: Listen to me. I tell you. This is done in combination, it is connected with the need for a new voltage. Increase productivity, create a new working guard. So strange to me. Can a working person working in some oligarchic enterprises be a hero of labor?
M. Koroleva: Why not, if it works well?
A.PROKHANOV: Because he, working well, he increases the vile wealth of the oligarch, who is pumping funds abroad. He works for another civilization.
M. Koroleva: Wait. The wealth of the oligarch is the wealth of the country as well.
A.Prokhanov: You are mistaken.
M. Koroleva: Taxes.
A.Prokhanov: What are the taxes?
M. KOROLYOVA: How is this "what taxes"?
A. PROKHANOV: First, everyone is hiding from taxes. Then all the profits, all the super profits went abroad. This is an offshore economy. Don't you know what? You as a writer must know this.
M. Koroleva: Wait, wait ...
A.Prokhanov: I do not want to know. I say that the offshore economy is the economy of the comprador bourgeoisie. All Russian money earned on our forests, oil, gas, women's hair, in the end, all go abroad. And the person who works for this vile offshore economy, reward him with the title of Hero of Labor? It is senseless and disgusting.
M. Koroleva: So, the Hero of Labor is only for the defense industry, for example?
A.PROKHANOV: This is only for Russia, this is only for the homeland. And our economy is divided into 2 parts. One part of the economy eats Russia and transfers this wealth abroad - to Cyprus or wherever I don't know. You know better as a writer.
M. Koroleva: Wait, wait. Good. But if, for example, a person works and produces pots, can he be given the hero of labor, if he does it perfectly?
A.PROKHANOV: If these pans then go in order for the people of the White House to eat from them, nothing. I would have these pots inside anointed with poison. Essentially, I am in favor of giving Hero of Labor to introduce this title of Hero of Labor.
M. Koroleva: I already understood that.
A. PROKHANOV: At the same time ... No, you did not fully understand.
M. Koroleva: But, unfortunately, we need to finish.
A.PROKHANOV: At the same time in order to introduce the title Enemy of the People. These are the 2 posts, the 2 symbols should exist side by side.
A.PROKHANOV: A full-scale war is underway in Syria. Cities are destroyed there. Those cities in which I was, a suburb, for example, Damascus, literally a suburb of Damascus - it was turned into ruins, it is Stalingrad or Vukovar, or Grozny during two wars. I have seen all these cities fallen.
These are the cities where street fights take place, work
Tanks
, infantry fighting vehicles, heavy artillery. The war is being waged with a special type of army. This war is generally of a special type. The so-called rebels have formed into a very interesting, still unexplored, association, when a huge number of militants brilliantly trained and able to fight begin to flock from all over the Islamic world on a whistle.
M. Koroleva: From all over the world, you say?
A.Prokhanov: M?
M. Koroleva: From all over the world, you say?
A.PROKHANOV: 30 countries. 30 Islamic countries. This is neighboring Iraq, and, of course, Libya, these are people from Jordan, these are people from Bangladesh. These are people from all over the Islamic world. 28 approximately.
M. Koroleva: So, this is such an internationalist?
A.PROKHANOV: This is the International, which, I repeat, has developed into a roughly 30-thousand army. The army is not managed from a single center, it's some kind of network control of this army, rapid movement, disappearance, emergence. There was such a plasma that moves, spreads, connects with Syria and this war is going on there.
This is the war being waged by the army of Bashar al-Assad, not adapted for waging this war. It was created for the war with Israel, that is, for large-scale operations. And this war is a completely new enemy, a new soldier, a new fighter, a new technology. Capture cities. They rush, for example, into the cities, they seize the mayor's office, the central governing bodies of this region, they shoot immediately captured. People run out of these cities, the cities are empty. firing points arise, they create defense lines and the army must move along these sniper chains, knocking them out of each apartment. The cities that I saw are yes, these are charred facades, these are inscriptions of militants, these are half-burned corpses and, in essence, this ...
M. KOROLYOVA: And what about civilians in general?
A.PROKHANOV: Civilians are fleeing from these cities, they want to escape. Who runs where. Where there are supposedly no fights. They go all over the country, they go all over Syria. And, of course, there are huge losses.
I met with President Bashar Assad. He hit me. I once met, for example, with Milosevic.
M. Koroleva: Have you interviewed him?
A. PROKHANOV: I talked with him. The content of the conversation was asked not to disclose. I met with Milosevic, when we were standing on a bridge across the Sava River under the blows of cruise missiles, it was Easter and finished off essentially Yugoslavia. Milosevic was depressed, he was depressed. Bashar in great shape, calm, elegant, intellectual. He is superior in intellectualism to all - the prime minister with whom we met, the vice-president, above his major officials. This is a sophisticated refined intellectual. He says that a lot of interesting.
I can note one aspect in our conversations. He talked about Russia all the time. He spoke all the time about Russia as a factor that could save the country, about a factor that could save the state.
M. KOROLYEVA: Well, that is, I spoke with hope, with hope for Russia from Syria.
A.PROKHANOV: He spoke with hope for Russia, all the time he was saying "Take care of Russia". Because this plasma that I told you about, these 30 thousands or 50 thousands, when they or if they are done with Syria, they will move to the expanses of our Central Asia. And all these worthless, failed regimes in Kazakhstan, in Uzbekistan, in Dushanbe, in Bishkek, these are all failed states, these are chicks that fell out of a big Soviet nest. They will incinerate them within six months.
(...)
M. Koroleva: I want to clarify once again. If Syria falls or you say "Syria will fall"?
A.PROKHANOV: If Syria falls. If Syria will fall.
M. Koroleva: So you are not saying that Syria will fall?
A. PROKHANOV: Well, what am I, an idiot to say? I see the courageous resistance of a country that is fighting an enemy with the world. It will not fall yet because the European Union is afraid to start that contactless war
aviation
when they threw cruise missiles at first, then Iraq, and then Tripoli, Libya. And they, not flying up to the country, threw hundreds of thousands of cruise missiles, destroying the entire infrastructure. This will not work with Syria, because I was in the positions of the Russian "Shells". These are powerful anti-aircraft missile-cannon systems, which exclude any contactless war. They eat these cruise missiles like hay cow. And thank God that there are Russian installations. Thank God that the Syrian squadrons, the military mastered these installations and these installations are a guarantee that French attack aircraft or attack aircraft, I don't know there, Italy will not fly towards Damascus.