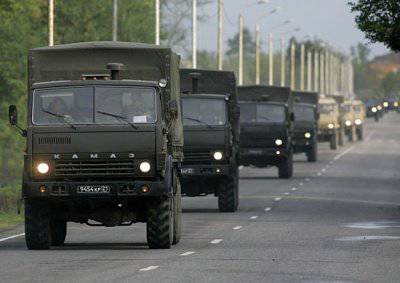 Car KAMAZ for many years faithfully serves not only in the civilian sector of the economy, but also works in the military sphere. In civilian terms, KamAZ is a real workhorse for commercial traffic. From the North Caucasian republics of Russia, the transportation of cargo by KAMAZ is about 68%. KamAZ can be used as
mixer truck
, refrigerator, car carrier, cargo tow truck, passenger-and-freight transport for employees of mines and companies for the extraction of hydrocarbons.
KamAZ trucks have their own niche in the military sphere. One of the new developments of such a vehicle for the military industry is the variant of the KamAZ-based tractor. This KamAZ-6350, which is provided with an armored cab and a special compartment for the transport of personnel. In addition, the car has a body that is specially equipped for the transport of ammunition. The main purpose of the 6350 model is towing certain artillery pieces. The advantages of such a tractor include the fact that it can easily overcome sea obstacles, the depth of which does not exceed one and a half meters. In addition, the KAMAZ 6350 is a tractor capable of traveling over rough terrain with hills, the slope of which is up to 31 degrees. In the car there is a design feature in the form of a crane. With it, the operator can load cargoes weighing up to 2 tons into the body, which is ideal for unloading and loading massive boxes with parts for artillery guns or ammunition for these guns.
One of the most powerful KamAZ, issued for the whole
history
factory, is KAMAZ brand 6560. This is a typical army vehicle, which belongs to the class of onboard tractors. The power of its engine is 400 horsepower, which provides him with increased throughput even in the mode of increased load. The wheel formula of this car is 8 on 8. The tractor can handle the transportation of cargo weighing up to 35 tons, carrying out lifting at an angle up to 60 degrees. Neither the 180-centimeter (in depth) reservoir, nor even the 60-centimeter-height wall will become obstacles for such a military vehicle. The total capacity of the fuel tanks of this model is up to 700 liters. In the cabin of KamAZ-6560 there is, including, a sleeping place.