Russia is developing an updated program to study the moon with robotic probes, and plans for this program were announced by Igor Mitrofanov from the Moscow Institute for Space Research at the 54 Micro-Symposium, called "Lunar Farside and Poles - New Destination for Exploration", the annual Conference of the Moon and Planets, held in March in the woodlands, texas.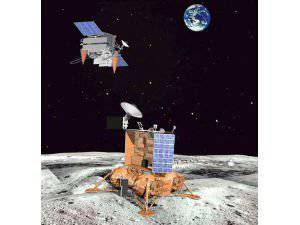 The schedule for the next five years looks something like this:
2015 g. - Moon 25
(Luna-Globe descent module): A small landing gear that will explore the regolith and the exosphere of the moon, being placed at its south pole.
2016 g. - Moon 26
(Luna-Glob orbital module): The orbital probe will be placed in a lunar orbit at an altitude of 100 km, from where it can make detailed maps of the lunar surface.
2017 g. - Moon 27
(Luna-Resource-1): A large descent module that will investigate the regolith and the exosphere of the Moon, and also will test a new drilling system designed to collect samples of lunar soil for later storage in a cryogenic chamber.
2019, 2020 - Moon 28
(Luna-resource-2), Luna 29 (Luna-resource-3): - these missions are a continuation of the cryogenic experiments at Luna-resource-1 station, and they can be launched if the first station successfully completes its mission.