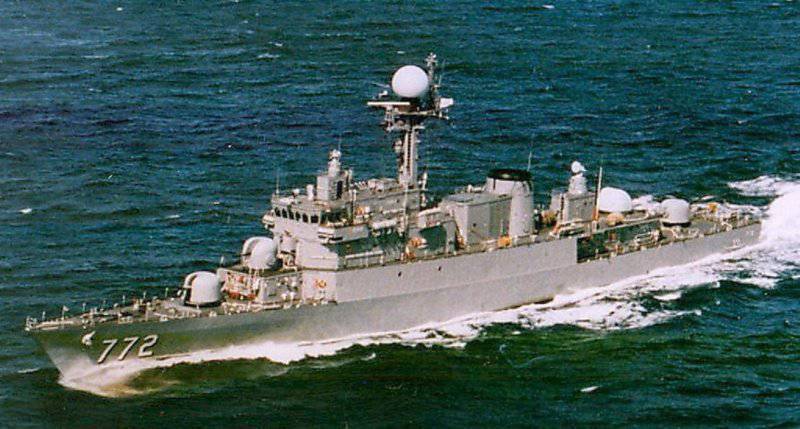 On the third anniversary of the North Korean torpedo attack of the South Korean Corvette of the Pohang class, South Korea discovered that, compared with 2010, it was not much better prepared for torpedo attacks from North Korean mini-submarines. This is due to the fact that the correction of the current situation could not be carried out in a hurry.
South Korea needs the best means of detecting small North Korean submarines. Pohang class corvettes were equipped with sonars capable of detecting such small submarines at a distance of about two kilometers. A new sonar capable of detecting these submarines beyond 15 kilometers was not available. At the same time, the replacement of the Pohang class ships is in full swing, the first of these Incheon class frigates was adopted for service two months ago.
Another solution was a system of hydroacoustic stations, similar to the American SOSUS system used during the Cold War. It can be deployed, but to complete its work it takes several years to use it to listen to the noise of submarines and surface ships (and large sea creatures) so frequent in coastal areas in order to establish who is who and what is what. This process is already underway, but it will take another year or two before some benefit from SOSUS appears.
Despite the fact that the Pohang corvettes were built to fight submarines, they turned out to be really effective only against twenty large North Korean ocean submarines. All these old, noisy boats rarely go to sea. Most of the North Korean 90 submarines are much smaller than ocean submarines and operate along the coast. In shallow water there are more currents and much more than other underwater noise. The Pohang sonar, designed to detect old and noisy submarines in the open sea, proved ineffective in the coastal zone. An order was received to immediately install a more powerful sonar, but a suitable sonar could not be found. But even if he did, he would weigh much more than the existing one, which in turn would lead to an imbalance of the ship.
Corvette Pohang is a small ship. Its length is just the 88.3 meter and the displacement is 1200 tons. The crew of the 95 man provides a large number of weapons. There are four Harpoon anti-ship missiles, two 76-mm cannons, two paired 40-mm automatic cannons, six torpedo tubes (each with an 324-mm anti-submarine Mk46) and twelve depth charges. The maximum speed is 32 knots (59 kilometers per hour), cruising 15 knots (28 kilometers per hour). Autonomy is about ten days.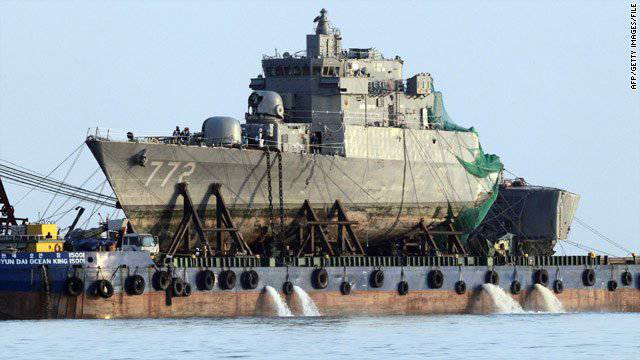 In the period between the 1983 and the 1993 for years, the 24 Corvette Pohang was adopted. To date, one has been written off and one (Cheonan) has been sunk. The remaining Pohang corvettes will be written off shortly. The Incheon-class 2300 ton frigate will replace the Pohang corvette, but they are only being built and will go into service one or two a year. Thus, over the next decade or so, Pohang corvettes will still be targets for North Korean torpedoes. In order to avoid this, an attempt was made to install devices capable of detecting the sound of an approaching torpedo, as well as equipping with acoustic (noise) lures capable of attracting some types of torpedoes. These remedies are of limited effectiveness. At the moment, Pohang corvettes are just as vulnerable as they were three years ago.
South Korean efforts to install a sonar antenna array along its shores proved more successful, and some details of this became known. It is known that the technology is similar to the one that the US used for its SOSUS system during the Cold War. The SOSUS system was very expensive to maintain. American SOSUS managed to survive the end of the Cold War only because its sensors became available for civilian research, as well as through the use of cheaper and more powerful electronic and communication technologies. While many parts of SOSUS were decommissioned, other additional portable SOSUS devices were deployed as needed. Obviously, South Korea got access to these technologies.
South Korea, it seems, was assisted in the modernization of its sonars. The US is doing research in this area and apparently offered its help. South Korea also has the scientific capabilities and manufacturing facilities for such devices. The first South Korean SOSUS system was deployed in the western coastal area near the North Korean border. Detection of North Korean submarines going underwater on battery power and near the coast is a very difficult task. South Korean SOSUS will help equalize chances.