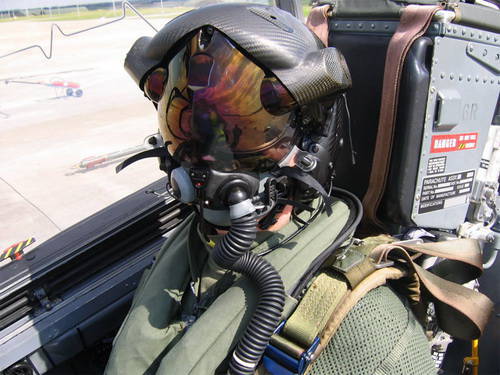 The US aerospace company Raytheon has developed a new 3D Audio system for military pilots, which will warn them about the type of threat and its exact location. The system creates a directional sound that appears in the place where the danger is coming from.
One of the problems of military pilots is that the sound in the headphones does not have a pronounced orientation. If the pilot heard several radio messages from different sources, sound merges and distorted.
3D Audio helps pilots distinguish between multiple radio channels at the same time. This is similar to how a person communicates with several people at a party. Since the call participants are at different locations, it is easier to understand who is talking about, even if the voices sound simultaneously.
The Raytheon system understands when the pilot turns his head and the sound in the headphones "moves" according to his movement. In addition, the pilot can configure the system so that the voice sounded a certain person in a certain place. For example, the voice of the co-pilot sounded on the right side, the voice of the passenger - from behind, and the air traffic controller - in front.
Another important function of the system - it audiopreduprezhdenie about external dangers. In fact, the pilot will hear what is happening in kilometers behind the aircraft, from which side, and therefore will be able to react faster, for example, to the attack of the enemy.
Modern technologies of warning pilots of danger require that they first look at the picture on the display before taking further action. With 3D Audio, in addition to this, pilots will receive a geospatial designation of threats, which will help them quickly orient and respond.
According to Mikhail Demidov, a venture capital fund partner T34Moscow, 3D Audio can function only as a working prototype, because the pilot cannot fully concentrate only on hearing.
"Hearing as one of the senses was practically not covered by any such invention. However, I think that this technology is not quite know-how, but just a refinement of the dynamics. When the pilot is in the sky and listens to what is being said to him from the ground, it is difficult to make so that there is no cacophony, which is likely to be observed when using 3D sound. Therefore, in my opinion, such a system is overkill, "added Mr. Demidov.
"This system can help military pilots reduce response time, for example, when there is an emergency message about an impending threat from a sound source. But the main difficulty lies in the precise implementation of the system, because in addition to constantly monitoring the position of the pilot's head and the correct operation of the sound speakers, you must also reliably determine the position of the real source of sound / threat, because otherwise the system can simply disorient the pilot ", - says the employee of the laboratory of spectroscopy nanomaterial at the Institute of General Physics. A.M. Prokhorov RAN Alexander Chernov.