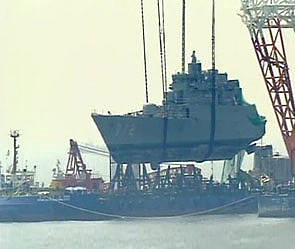 A group of Russian experts will be sent to South Korea to find the real culprits for the Cheonan corvette. Such an order was given by President Dmitry Medvedev. He also called on Seoul and Pyongyang to prevent the escalation of tension in tensions.
"Medvedev considers it crucially important to establish the true cause of the ship's death, to identify with certainty who is personally responsible for what happened ... The President of Russia, at the suggestion of the leadership of the Republic of Korea, decided to send a group of highly qualified Russian specialists to the country for detailed information on the results of the investigation , collected material evidence ", - quotes RIA
News
statement by the presidential press service.
The Kremlin noted that at present, Russian experts are thoroughly and comprehensively studying the materials with the results of the investigation, transmitted from Seoul. "We presume that if there is reliable information about the involvement of anyone in the incident, measures must be taken against the perpetrators that the international community considers necessary and adequate," the statement says.
The presidential press service also indicated that Dmitry Medvedev called on the DPRK and South Korea to show restraint and restraint in the interest of preventing further escalation of tension, preserving peace, security and stability on the Korean Peninsula and in the region as a whole. The Russian leader assured that Moscow is ready to continue close cooperation on this issue with all concerned.
States.
Recall that the South Korean corvette "Cheonan" sank in the Yellow Sea March 26. The victims of the incident were 46 people. 58 crew members were able to escape. In Seoul, announced that the ship was killed as a result of hitting the North Korean torpedoes. However, Pyongyang stressed that they are not related to the incident.
According to Days. Ru, UN Secretary-General Ban Ki-moon called on the United Nations Security Council to take action against the DPRK. For her part, US Secretary of State Hillary Clinton said that Washington is considering various opportunities to bring North Korean leaders to justice, according to the BBC.
However, in Moscow they stated that they would not submit the situation with the corvette to the UN Security Council, until they receive 100% proof of Pyongyang's involvement in these events, Vesti.Ru reports. "We should not allow tensions between the DPRK and the Republic of Korea to enter the stage of an armed conflict," stressed the Russian Foreign Ministry.