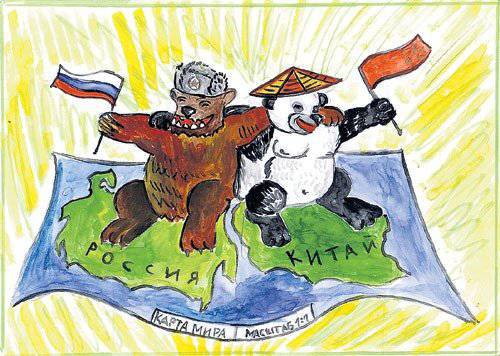 China offered Russia assistance in rebuilding its armed forces. China needs a strong ally and, with help, Russia can become such a powerful ally. At present, China is a more powerful country than Russia. China's GDP exceeds Russia more than three times and China spends more than three times more on defense than Russia (which is trying to keep defense spending at the level of 2.8 percent of GDP). Russia's current GDP is almost 2 trillion dollars and 2.8 percent is $ 50 billion. The United States spends more than three percent of its GDP in 15 trillions of dollars on defense, but gradually reduces it. Economics is fate and the Russians have learned this lesson. Thanks to China's recent impressive economic growth, Russia sees an opportunity to regain the status of a major military power. At present, China has twice the number of troops, and most of them have the best weapons. However, the cost of rearmament seems to be more than the Russians can afford. China also offers to help spending billions of dollars on Russian weapons (despite the blatant theft of Russian military technology by the Chinese). How unpleasant it is, but the situation is such that Russia really needs help. Russia is also beginning to realize that it is far from being a superpower of Soviet times.
After the collapse of the Soviet Union in 1991, it turned out (the communists were very poor in accounting) that Russia's actual GDP was significantly lower (less than a tenth of US GDP of six trillion dollars) than previously expected. The chaos that followed the decay in 1991 has led to a further economic downturn of the 1990. By the end of the decade, Russia's GDP was about 200, and billions of dollars. But since then, reforms have led to a significant improvement in the situation. Over the past ten years, GDP has grown ninefold compared to 1991. Expected even greater growth. There is quite a bit of enthusiasm about rebuilding the armed forces, but when it comes time to write checks, other, more immediate priorities appear. From the Soviet Union, there was a destroyed or no infrastructure, and such an infrastructure (roads, utilities, ports, water supply and sewage) is necessary for economic growth.
Weapon
this is good, but infrastructure is more necessary. There is talk of rearmament, but in a democracy (despite the totalitarian aspects), the needs of ordinary people cannot be simply ignored. All this makes the Chinese proposal for help is attractive, despite the fact that many Russians fear that the rapidly growing Chinese economy will gradually make the sparsely populated eastern regions of Russia (Siberia and the Far East) more Chinese than Russians.
Over the past few weeks, the Russian government has conducted raids on ("inspectorates") to hundreds of 2000 NGOs (non-governmental organizations such as the Red Cross and pro-democratic groups) in order to verify their financial reporting and remind these organizations that they are not particularly happy there. Among other things, the government is not satisfied with the fact that NGOs and Russian supporters of reforms are in favor of publicizing corruption among pro-government politicians and high-ranking officials. The new laws adopted last year classify foreigners working for NGOs as "foreign agents", who must register with state bodies and are subject to taxation and constant monitoring. The FSB (the Russian counterpart of the FBI / CIA) has long accused Western countries of working with pro-democratic Russian NGOs in espionage against Russia. Western states deny it. For the past seven years, the government has been actively campaigning against non-governmental organizations and foreign influence in general. Now many NGOs are not allowed to register and they were asked to leave. Western countries view this as part of the effort to turn Russia into a paranoid police state, as it did in the Soviet and Tsarist periods (as in the last thousand years). China gets along well with this and would prefer Russia to be more like the Soviet Union than Western democracies.