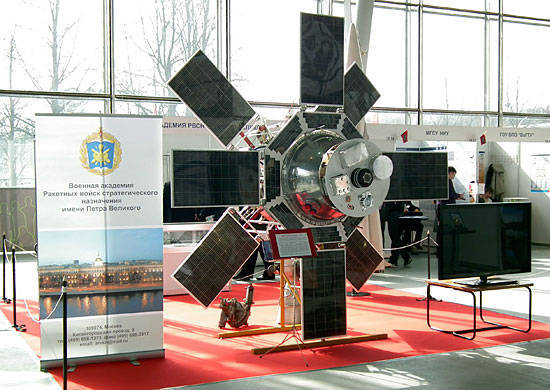 From 2 to 5 in April in Moscow, at the Sokolniki Exhibition Center, the 16 of the Moscow International Salon of Inventions and Innovation Technologies Archimedes-2013 is held. It is traditionally attended by the Military Academy of the Strategic Missile Forces (RVSN) named after Peter the Great and its branch located in the city of Serpukhov (Moscow region).
According to the results of the work of last year's salon "Archimedes-2012", scientists and inventors of the Military Academy of the Strategic Missile Forces received 7 medals of various levels.
Developments in the field of alternative energy and information protection were awarded with cups and diplomas of directors of the Russian Association for Innovative Development at the Chamber of Commerce, the Russian High-Tech Development Fund and the Nanoindustry Concern CJSC.
This year, the exhibition booth of the school presents more than 30 exhibits demonstrating modern approaches and technical solutions in the field of creation and operation of aircraft, non-traditional energy sources, solid fuel utilization and other interesting developments.
All exhibits presented at the Archimedes-2013 showroom (inventions, utility models and innovative projects) will be qualified by the Expert Commission and the International Salon Jury.
Each year, the Military Academy of the Strategic Missile Forces performs more than 120 research projects and operational research assignments of the General Staff of the Armed Forces of the Russian Federation, offices of the Ministry of Defense of the Russian Federation, Command, departments of departments and services of the Strategic Missile Forces.
From 2009 to 2012, scientists of the Military Academy of the Strategic Missile Forces filed more than 50 applications for inventions, received more than 39 positive decisions on the grant of patents, issued more 90 rationalization proposals. Over the past 5, academy representatives have participated in more than 60 exhibitions and forums. Received over 80 gold and silver medals, won more than 140 prizes.
The Peter the Great Military Academy of Strategic Missile Forces has scientific schools in a wide range of branches of Russian science. Research and development are subordinated to the most pressing issues of strategic deterrence, the management of the daily activities of troops and the security of the Russian Federation.