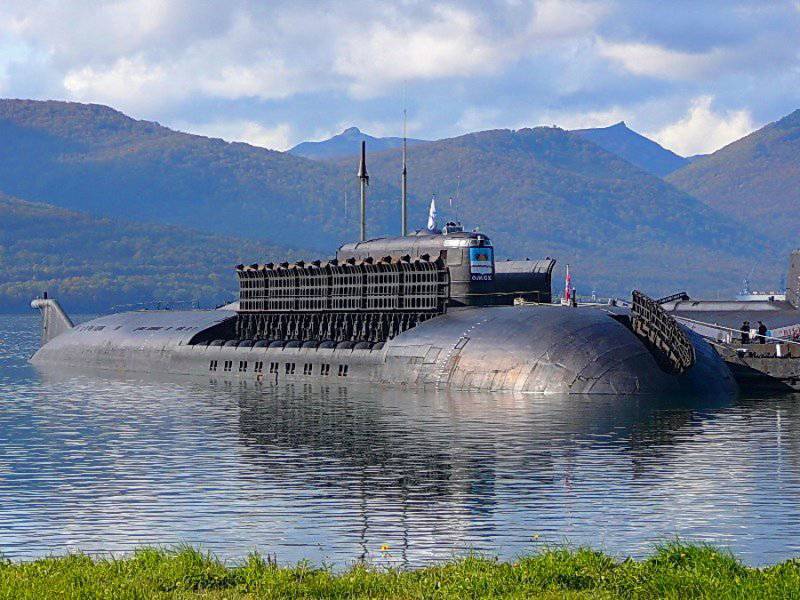 The Far Eastern Center for Shipbuilding and Shiprepair (DCSC, part of the United Shipbuilding Corporation) proposes to upgrade until 2020 three nuclear multipurpose submarines of Project 949A Antey (according to NATO's Oscar II classification) of the Pacific
fleet
(Pacific Fleet), reported on Monday in DCSS.
"To maintain the combat readiness of the Pacific Fleet Defense Center, the DSSS proposes to conclude a contract for the period of the State Armaments Program until 2020, regarding the modernization of three nuclear submarines (XPS) of the 949A project," said the DSSS.
The Center noted that "the implementation of the contract for the Pacific Anteyam could begin in the 2013 year."
As a source at the Russian Defense Ministry told Interfax earlier, "due to the temporary impossibility of repairing the submarine in Vilyuchinsk at the facilities of the Northeast Repair Center, it was decided to send them to repair at the DSSS plants in Primorye."
Submarines of the 949A project are designed to combat carrier-based strike groups. The main armament is P-700 Granit anti-ship missiles (24 missiles), as well as six torpedo tubes with ammunition up to 28 rocket-torpedoes and torpedoes. According to the existing modernization plans, it is planned to replace the Granit missiles with Onyx.
In the period from 1982 to 1996, 11 submarines were built from 18 planned, one of which was built - Kursk - was lost.