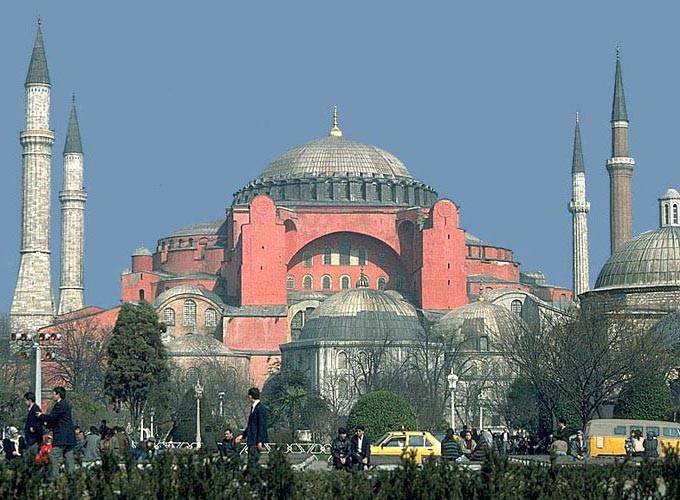 It was no accident that I touched on the topic yesterday in the "question of the day"
historical
relations between Russia and the Orthodox peoples of southern Europe. For all the seeming attractiveness of the slogans of Pan-Slavism and the unity of the Orthodox, when making decisions in practical politics, and even more so in geopolitics, one still needs to proceed from realities, not ephemerisms, no matter how attractive they seem to us.
I was very pleased with the excerpt from Dostoevsky's "Diary of a Writer" yesterday, which was dedicated to this issue. And although many have already read it there, let me once again place it in the text.
"... according to my inner conviction, the most complete and insurmountable - Russia will not have, and never have there been, such haters, envious, slanderers and even obvious enemies, like all these Slavic tribes, Russia will liberate them, and Europe agrees to recognize their release! And let them not object to me, do not dispute, do not shout at me that I exaggerate and that I am a hater of the Slavs! so it will come true, as I say, and not low, ungrateful y, though, the nature of the Slavs, not at all - they have character in this sense, as in all - and precisely because such things in the world differently and can not happen.
After their release, they will begin their new life, I repeat, precisely by asking themselves to be given the pledge and protection of their freedom from Europe, England and Germany, and even Russia will be in a concert of European powers, but they will protection from Russia and will do it.
They will certainly begin by saying that within themselves, if not directly out loud, they declare themselves and convince themselves that they are not obliged to Russia with the slightest gratitude, on the contrary, that they hardly escaped Russia's power-loving intervention by the European concert, and not if Europe had intervened, Russia would have swallowed them right away, "bearing in mind the expansion of the borders and the foundation of the great All-Slavic empire on the enslavement of the Slavs to a greedy, cunning and barbarous Great Russian tribe."
Perhaps a whole century, or even more, they will continually tremble for their freedom and fear the lust for power of Russia; they will curry favor with European states, slander Russia, gossip and intrigue against it.
Oh, I'm not talking about individuals: there will be those who will understand what it means, it means that Russia will always mean to them. But these people, especially at the beginning, will appear in such a pitiful minority that they will be subjected to ridicule, hatred and even political persecution.
It will be especially pleasant for the liberated Slavs to express and blow to the whole world that they are educated tribes, capable of the highest European culture, while Russia is a barbarian country, a gloomy northern colossus, not even pure Slavic blood, a persecutor and hater of European civilization.
Of course, they will have, from the very beginning, constitutional governance, parliaments, responsible ministers, speakers, and speeches. They will be extremely comforting and admiring. They will be in ecstasy, reading telegrams about themselves in Paris and London newspapers informing the whole world that after a long parliamentary storm the ministry finally fell into (... the country to taste ...) and a new majority of the liberal majority someday theirs (... last name to taste ...) agreed to finally accept the portfolio of the president of the Council of Ministers.
Russia needs to seriously prepare for the fact that all these liberated Slavs will rush into Europe with ecstasy, before losing their personality will become infected with European forms, political and social, and thus will have to go through a long and long period of Europeanism before comprehending anything in its Slavic meaning and its special Slavic vocation among the humanity.
Among themselves, these lands will forever quarrel, always envy each other and intrigue against each other. Of course, in the moment of some serious misfortune, they will certainly turn to Russia for help. No matter how they hater, gossip and slander Europe to us, flirting with her and assuring her of love, they will always feel instinctively (of course, in a moment of trouble, not before) that Europe's natural enemy of their unity was they will always remain, and what if they exist in the world, then, of course, because there is a huge magnet - Russia, which, irresistibly attracting them all to itself, thereby restrains their integrity and unity .... "
Needless to say, the topic is fully and comprehensively disclosed and for more than a hundred years its interpretation has not lost its relevance at all.
I drew attention to this topic when events began in Cyprus. Once again, they tried to harness us again, like a sledding horse for the sake of rescuing co-religionists. What kind of co-religionists they are, we'll talk below, but for now I'll just say that the direct reason for this text was one of the revelations of the Greek "holy elder" named Paisius Athos, the link to which I gave in the comments to the article "The Land of Fools" from the planet. " Moreover, the holiness of this husband, according to the assurances of the authors of the video made with his statements, is recognized by all politicians, statesmen, military men and even monks of Greece.
I don't know how in Greece, but personally these prophecies caused a feeling of deep abomination in me. You can read them yourself from the links, and I will only briefly say how I understood them.
1. Turkey will violate the borders of Greece in the Aegean Sea. (Obviously, in connection with claims for some fields. We see the emergence of such conflicts in Cyprus, where the leadership of the Turkish part of the island aggressively warns about attempts to develop the shelf without agreeing with it - my note.)
2. The Greeks will not fight, but only try to stand along the borders, restraining the pressure of the Turks. "There will be a clash in the Mediterranean. We are not touched "(that is, despite the fact that Turkey is attacking Greek territories, even if they are sea territories, the Greeks themselves do not seek to defend the fatherland, but are just glad that they are not touched when someone else faces their interests. But not Russia yet)
3. Further, "from above," as the elder writes, the Russians will intervene, they will smash the Turks and take away Constantinople from them. (what do you think, what do we need it for - the Russians will need it? In order to give it to the Greeks. Give it, about which the elder writes quite frankly). "The city will be given to us as a result of the war between Turkey and Russia. The Russians will eventually win, and the city will fall into their hands. Then we get it back. They should give it to us. "
Actually, you can safely stop at this, we add only that in one of the prophecies sounded quite a crazy amount of total losses in this Armageddon - 600 million people. It is clear that our among them will not be enough.
In my opinion, this prophecy perfectly illustrates the true attitude of Orthodox Europeans towards Russia. We owe them something forever. In the name of faith, in the name of unity of origin, it does not matter. Should. Just because neither is. But for their part, they owe us nothing and never. Funny brotherhood turns out, is not it?
So funny that I seriously thought about whether this is not an accident, but a carefully planned pattern of someone. After all, when time after time repeating the same thing, it can not be accidental. For the sake of what our ancestors died at Shipka, if after that the "bulletar Bulgarians" fought against us in both World? The reason for the start of the First World War and the guarantee of Russia's participation in it was the attempt on Ferdinand not somewhere, but in Yugoslavia, in Sarajevo. After that, with the permission of saying "Slavs", they immediately began to shout "Russia, help." And how to evaluate the double-dealing of Yugoslavia after the Second World War? How do you feel about the fact that after the heroic attack of our paratroopers in Pristina during the Kosovo conflict, the Yugoslavs immediately began to negotiate with NATO and the European Union behind our backs, making us look like a joke? And for what did our volunteers die in Yugoslavia?
And Orthodoxy itself is not so clear. Yes, Byzantium was the center of Christianity and Orthodoxy. But Byzantine Orthodoxy and Russian (Christian) Orthodoxy are not the same thing. Close, but the essence is different. Thank God that at one time Sergius of Radonezh and other devotees of the Faith were able to introduce into Christianity certain solar meanings of true Vedic Orthodoxy, which even the Nikonian treacherous reform could not completely destroy.
But it's not only that. At the level of the management of peoples and processes, this world is cruel and cunning. If there is any phenomenon in it and it exists for a long time, then someone strong is necessarily behind it. And now look at the zone of Byzantine Orthodoxy. Bulgaria, Romania, Greece, Cyprus, Yugoslavia. Which one is strong? Who prevented the establishment of Catholicism in these territories for centuries under European control? Indeed, in Poland, no one prevented this, despite the fact that Russia was much closer and even for quite a long time included Poland into its Empire. But in the south all of a sudden, all of a sudden such grace. No one even encroached. And do not talk about the roots and fortress of faith. In real politics, these are insignificant factors destroyed in one or two generations.
Let someone disagree, but I believe that European Byzantine Orthodoxy was preserved not in spite of, but thanks to the Vatican. Obviously, instead of making these peoples Catholics, it turned out to be more profitable for him, retaining in certain territories Islam, inherited from the Ottoman Empire, as a balancer for Orthodoxy and means of control over it.
We have all witnessed what has been going on in this region in the last twenty years. There is no doubt that this plan worked and justified one hundred percent.
Consequently, we can well assume that the preservation of Orthodoxy in the countries of Southern Europe, only in its original form, corresponding to the original intentions of the creators of Christianity, could be a means of constant psychological impact on Russia. Quite successful by the way, as history teaches us.
But is it worth it to vlyapyvatsya in this cheese in a mousetrap again? And most importantly for what? In order to once again we were raped, betrayed and left with a nose until the next time?