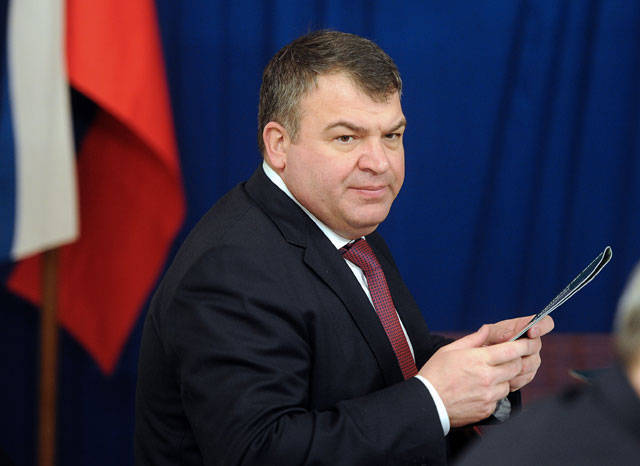 Former Russian Defense Minister Anatoly Serdyukov may become a witness in the case of the illegal transfer of weapons across the customs border of Russia. About this April 2 newspaper Kommersant.
"As part of the investigation of the case, the investigation is going to interrogate as a witness and former defense minister Anatoly Serdyukov, who signed the decree on the establishment of a working group of Admiral Suchkov," the publication quotes Interfax.
At the beginning of March, according to the results of an inspection conducted by 10 officers of the operational-search unit of St. Petersburg UEBIC, a criminal case was initiated under section 2 of the 226.1 article of the Criminal Code of the Russian Federation ("Illegal movement of weapons and military equipment across the customs border of the Russian Federation"). The case was filed on the fact of the illegal supply to 2012 of Russia of components for oxygen homing torpedoes under the Remvooruzheniye contracts (included in Oboronservis OJSC). The person involved in the criminal case was Vladimir Fitzner, general director of the supplier company ZAO NPO Bars.
As it turned out, the NGO did not have the appropriate licenses of the Federal Service for Military-Technical Cooperation, the Federal Service for Defense Order and the FSB to conduct foreign trade operations with military goods. Nevertheless, its general director was included in the working group on "re-examination of oxygen torpedoes with subsequent service at the enterprises of Oboronservis OJSC." All this is due to the patronage of Admiral Gennady Suchkov, the newspaper believes.
The admiral himself led the group, and Mikhail Sokolovsky, the head of Remvooruzheniye, became his deputy.
29 March Fitzner was summoned for questioning by the Transport Investigation Directorate of the Main Directorate of the Ministry of Internal Affairs of Russia for the North-West Federal District, where, in the presence of a lawyer, he was introduced to the decision to prosecute him, the newspaper reminds. The entrepreneur was detained for 48 hours, after which he was released on bail.
According to Kommersant, on his first interrogation, Fitzner refused to testify, citing the 51 article of the Constitution, which allows him not to testify against himself. The publication also failed to get his comment.
According to newspaper sources close to the investigation, Admiral Suchkov, an adviser to the Minister of Defense, has already received an offer to resign at his own will, but he refused the offer.