As one not the most innocuous Russian proverb says: "Who about what, but dirty about a bath". It is within its framework that the main passages of the first and only president of the Soviet Union, Mikhail Gorbachev, who decided to become a lecturer for some time last weekend, fit. The topic of the lecture was as follows: "A man does
history
or does history make a person? "During the lecture, the ex-leader of the state struck long thoughts about his role in the history of the country and chided the current authorities for saying that they broke off the restructuring, and that there would be no return ... "Mikhail Sergeyevich did not elaborate, but it was clear that the plans of the current Russian authorities are clearly not in line with the plans of Mr. Gorbachev himself. In his speech, there was literally some kind of resentment that neither Medvedev nor Putin wanted to try Gorbachev's perestroika happiness again ...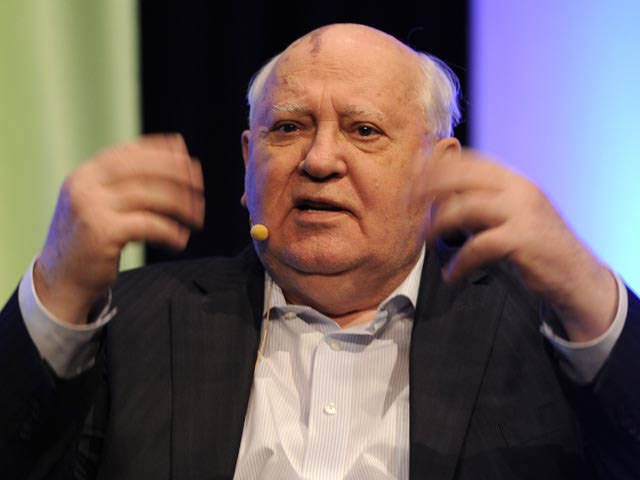 Gorbachev's remarks that political authoritarianism was increasing in the country and that perestroika had ordered to live long were compelled by the press secretary of President Putin. Dmitry Peskov said that he could not listen to Mikhail Gorbachev's lecture, but quote:
"I would like to hope that we will no longer have perestroika. We have enough reconstructions. "
And it is difficult to disagree with this remark of the presidential press service. Over the past 25 years, Russian citizens managed (and some did not have time) to go through so many restructuring, transformations, political and economic metamorphosis, it is not clear what other restructuring, according to the President of the USSR, has now been interrupted. After all, if we evaluate the results of its restructuring, then its main results can be considered the complete impoverishment of the population of a huge country with its subsequent collapse and partial transition to bloody civil strife. If, according to the version, Mikhail Gorbachev, such a restructuring continued, would he not want to say in his lecture that before the supporters of the continuation of such changes there was a plan for new destruction - only instead of the USSR there should have already been Russia with a transition to endless interethnic and interfaith conflicts. In general, what a sin to conceal, Gorbachev's words about the restructuring, which was supposed to continue, caused a persistent public allergy.
During his lecture, Mikhail Gorbachev noted that he and he alone is the man who in the late eighties brought the Soviet Union to freedom, including free will, publicity and political thaw. Well, here we can agree with Mikhail Sergeyevich: indeed, there was so much freedom that many citizens of the Union literally did not know where to put this freedom. Do you want to rob - rob, want to show a causal place in public - show, you want to take money abroad - for God's sake ... And in this respect, Gorbachev's perestroika, perhaps, is still going on ... Some gentlemen have not robbed everyone yet, have not stolen everything, not all the money has been withdrawn, and not all have shown the bare fifth point. Here Mikhail Sergeyevich's business still lives, not as big as at the dawn of 90, but, nevertheless, he therefore in vain deigned to worry. Apparently, there are quite a few people in our country who are still ready to embody those covenants that Gorbachev himself embodied ...
By the way, it is necessary to mention that, before his sensational lecture, the President of the USSR managed to release a book, which he called "Alone with Himself" (or in the foreign version "Everything has its time"). It is easy to guess, based on the translation of the foreign version of the name, Mikhail Gorbachev through all his work carries the idea that for Russia he is a man who is ahead of his time ... And, really, what is the use of false modesty. The man went down in history in the same vigorous step as the ancient Herostratus, but the glory is that for Herostratus, that for Mikhail Sergeyevich - no matter what sign. The main thing is that for a certain circle of people (mostly outside Russia), Mikhail Gorbachev really remains a great politician. But Russians can understand the understanding of the Gorbachev size by at least the result of the candidate Gorbachev in the presidential election of the 1996 sample of the year. Then, taking part in the presidential race, Mikhail Sergeyevich scored "as much" 0,51% of votes ... Two years before the election, in an interview with Vlad Listyev, Gorbachev declared his readiness to literally break into big politics:
"I firmly decided: I will go to run for president."
Then Listyev asked Gorbachev: "And then?" "And then — how will the people decide," declared Sergey Sergeevich, full of desire for a victorious revenge over Boris Yeltsin.
And it's today that the situation with Gorbachev's participation in those elections looks rather doubtful, if not comical, but in those pre-election years (1994-1995) Mikhail Sergeyevich could well have the idea of ​​Western support in his head. After all, at the beginning of 90, he helped the West in his aspirations, so why not make the West curtsy in return ...
Judge for yourself: Mikhail Sergeevich, at that time, very, very recently, did what his Western partners and friends, led by Washington, could only dream of. In a few years, if he didn't liquidate a huge rival for the West, he did a lot for that (and not without the help of perestroika, by the way) for this rival to fall apart. And now, since the epic collapse, some 5 years have passed, and Mikhail Gorbachev declares his desire to control the country again - this is another country. How could the Western associates perceive such a message from their friend and, no less, the Nobel laureate? It would seem that only stormy, unceasing applause. After all, who, if not Mikhail Gorbachev, could complete his "perestroika" to the end, having destroyed to the ground also Russia, to the joy of Western states.
The West could well support Gorbachev, draining Yeltsin's 1996 year with his favorite democratically method: with the CEC's specific help in counting votes cast by voters for one candidate or another. After all, here's how it happened: Yeltsin in 1994, in fact, unleashed the Chechen campaign that the West could use against him. But did not use. Why? On this occasion, you can make a few assumptions. One of them is that by unleashing a war in Chechnya, Yeltsin, oddly enough, allowed himself not to become a victim of the western "plum". In other words, the western "partners" decided to observe, and what the end of the military campaign in Chechnya for Russia will be. And, as we remember, the results of that campaign cannot be called cementing for the Russian Federation. During and after the first Chechen war, Russia experienced a real territorial tectonics, which could lead to separation from the federation not only of Chechnya itself, but also of the entire North Caucasus. That is, the Yeltsin version of the solution of the North Caucasian question was definitely beneficial to the same United States, and therefore, apparently, they decided to "not change horses at the crossing": Yeltsin was given a "win", rejoiced at Zyuganov's silence and closed his eyes on Gorbachev's 0,51%, expecting a Caucasian one rejection, and then - a new parade of sovereignties with all the consequences.
Another reason Gorbachev's main supporters (Western leaders) were left without support in 1996 could be the fact that he was already considered waste material. Like, Mavr Sergeevich did his job, Mavr Sergeevich does not need to try to enter the same river twice. But then, after all, what good will begin to atone for sins - to try to restore something that, not without his participation, was at first upset, and then completely collapsed. The fact that he fulfilled and exceeded his mission, from the point of view of the West, was obvious. After all, in our world, just like that, the Nobel Peace Prizes do not give ... And to become a two-time owner of it - this is somehow completely indecent ... Even from Western positions.
In general, Mikhail Sergeyevich had to turn into a number of oppositionists and try to conduct public advocacy activities for the masses of the fact that he once managed to do the impossible. This, apparently, he continues to be engaged to this day. Apparently, there is a desire to justify himself before the people, but Mikhail Sergeyevich cannot openly say anything about this. And if you cannot apologize for yourself, then you have to look for the faults of others - such a tactic. Only, you certainly won't earn any trust on this, and the reputation of the former secretary general and the ex-president is tarnished so that no political drying will help anymore ...