The first production helicopters Mi-24A arrived at the end of 1970 in the Voronezh branch of the 4 pulp and paper industry. Of the combat units in 1971, the 319 th obvp stationed near Ussuriysk at the Chernigovka airfield started the development of the new machine. The proximity of the Progress Arsenevsky plant made it possible to quickly solve emerging problems and facilitated the retraining of the flight and technical staff. In the future, as Mi-24 arrived in parts of other military districts, the Far Easterners shared their accumulated experience with their colleagues: already in the service in other regiments, the students of 319 of the main armed forces, lieutenant colonels N.I. Kovalev and E.I. Zelnyakov were awarded the title Hero of the Soviet Union.
In 1975, the Mi-24A helicopters armed the 55th Air Force Base in Brody in the Carpathian Military District and several regiments in other districts. In 1980, the Army separated from the Air Force
aviation
, the basis of which was one and a half dozen regiments of combat helicopters. Typically, such a regiment included three squadrons: two on the Mi-24 and one on the Mi-8, 20 vehicles each. In addition, the Mi-24 were included in the airborne division, and with the formation of army aviation structures and in the ovebu (equipped with Mi-bVKP, Mi-22, Mi-8TB, Mi-8PPA, Mi-24R and Mi-24K) with combined arms divisions .
Since 1973, military helicopters of the GSVG Air Force began to awaken the citizens of the GDR in the morning: the 172nd and 439th air regiments in Parchim and the 178th in Stendhal. In the second half of the 1980s. Mi-24 carried out military service in Germany in the following operational associations: 1st Guards.
tank
Army - 225th Obvp (Apstedt), 485th Obvp (Merseburg) and 6th Ovebu (Hel-lerau); 2nd Guards tank army - 172nd OBVP (Parchim) and 41st ovebu (Verneuchen); 3rd Guards shock army - 337th OBVP (Magdeburg), 439th OVP (Parchim), 178th and 440th OVP (Stendhal), 9th ovebu (Noyryupin) and 113th ovebu (Serenberg); 8th Guards Army -336th OBVP (Nogr), 486th (Uteborg), 296th Ovebu (Magdeburg) and 298th (Erfurt); 20th Guards Army - 487th Obvp (Verneuchen).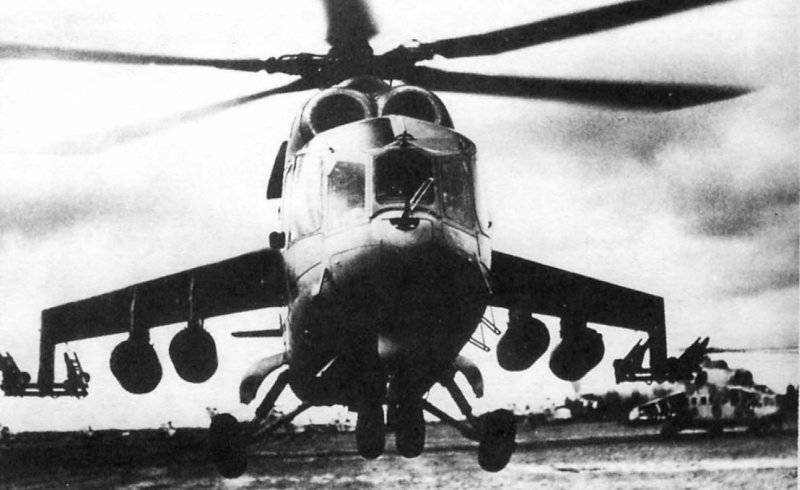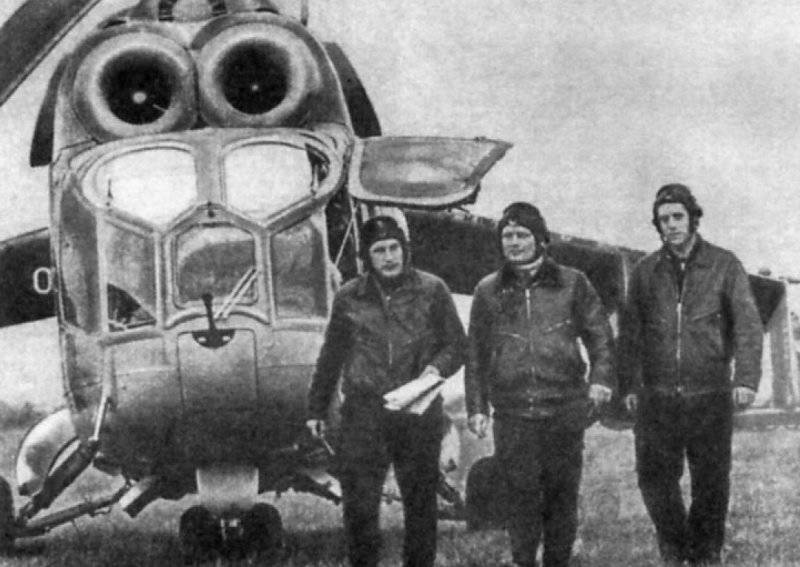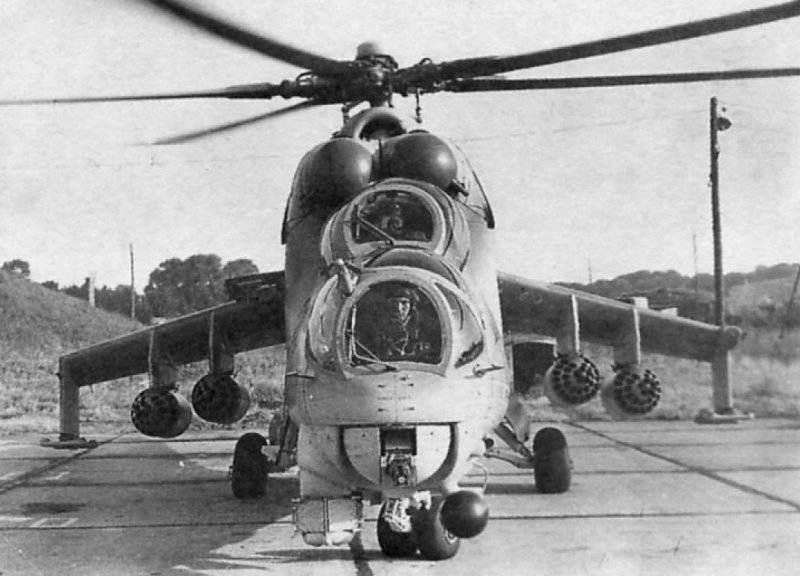 Mi-24B from 439-th obvp, Parchim (GDR)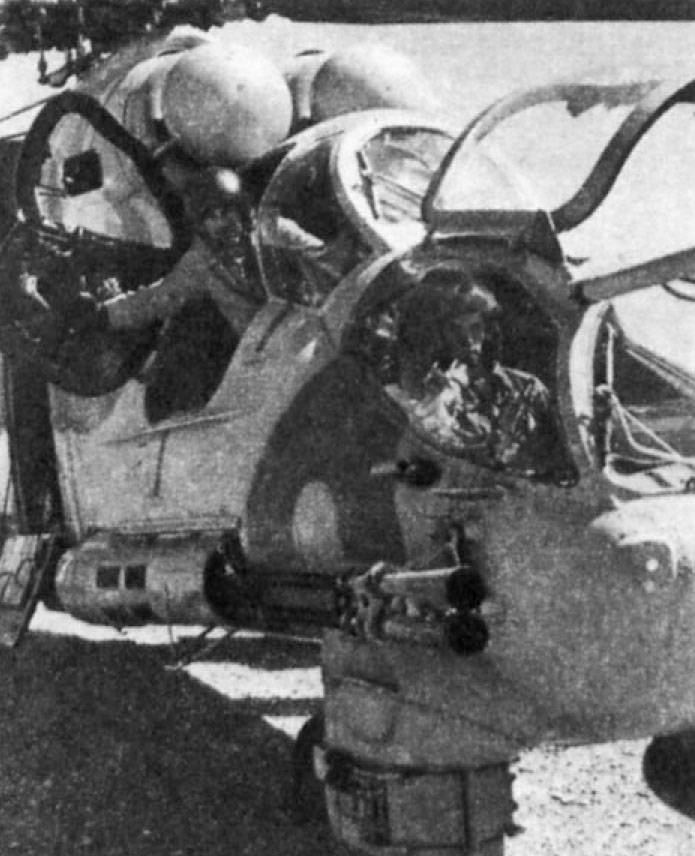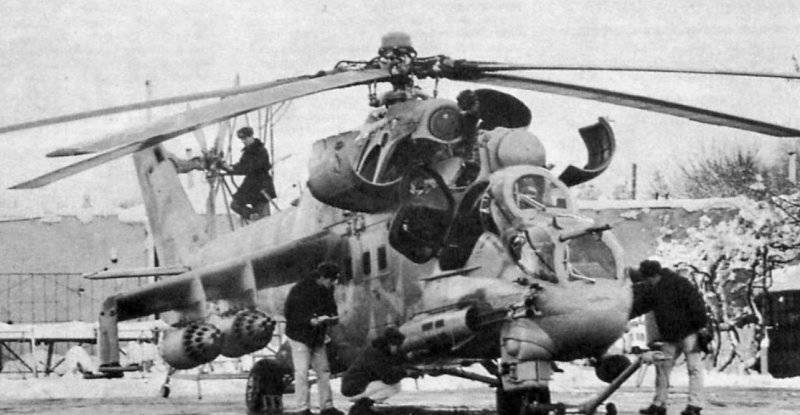 As the Mi-24 was mastered and practical tactical combat tactics were used by combatant regiments, the range of tasks for them was finally determined: operational strengthening by anti-tank weapons in tank-dangerous areas, covering and supporting ground forces in offensive and defensive operations, escorting along the route and fire support of tactical landings landed from transport helicopters.
According to the results of the analysis of military operations and exercises conducted with the "twenty-fours", the four-barreled YakB-12,7 machine gun was replaced by the fixed double-barreled GSH-ZOK gun, and as a result, they preferred the double-barreled GSH-23L gun on the turrets. Suspended containers UPK-23-250 proved to be a very effective means of defeating manpower and field fortifications.
Soviet military experts in the middle of 1970's. An assessment was made of the combat effectiveness of the attack helicopter air combat. There were also field experiments. Cost center them. M.L. Mile, together with the Kolomna KBM, equipped the Mi-24 with missiles Strela-2. These works continued in the second half of the 1980's. on the Mi-24 with air-to-air missiles P-60 and P-73. Thus, the helicopter was finalized in the 1038 pulp and paper industry and the FL in the Turkestan Military District. Missile launches were performed by a pilot, aiming with the aid of АСП-17В and turning the machine up until the moment when the target of the GOS was captured. Trial launches for lighting bombs were quite successful. The development of attacks in the forward hemisphere on helicopters equipped with an EVE showed that the IR GOS captured the target from a distance of no more than 600 m. And yet the machines of some helicopter squadrons equipped with P-60 missiles, including those in the GS VG