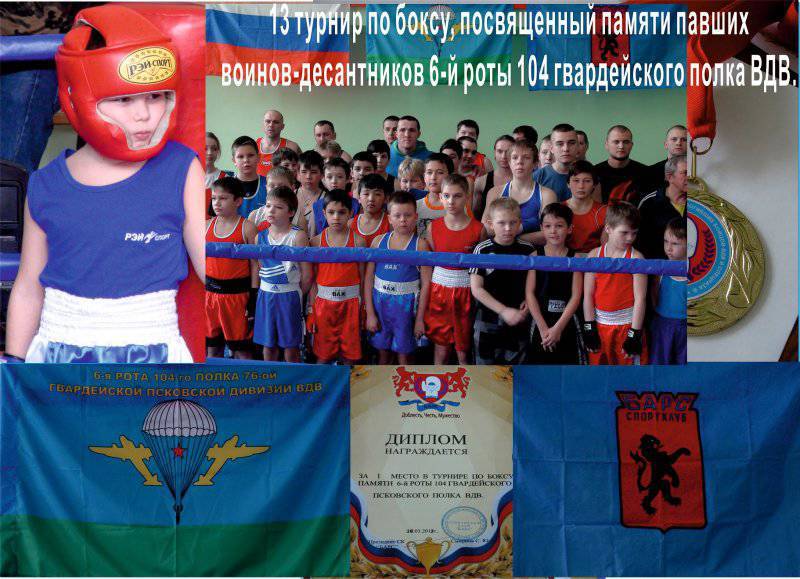 On March 30, on the basis of the State Educational Institution of Education, Moscow, No. 1865, the 13 boxing tournament was held in memory of the fallen paratroopers of the 6 Company of the 104 Guards Regiment of the Airborne Forces.
Competitions are held on the initiative of the Moscow Sports Club "Bars", which is headed by a reserve officer, honored coach Sergey Smirnov, with the assistance of the Russian public organization "Officers of Russia", the Union of Paratroopers of Russia, as well as with the support of the Moscow city branch of VOOV "Combat Brotherhood".
Young men of pre-conscription age, draft age and already serving military service took part in the fights - in total more than 100 people representing teams from Russia (Moscow, Moscow region, Bryansk region), Belarus and Ukraine.
"All sportsmen are pupils of military-patriotic and sports clubs of fraternal countries. According to statistics, 100% of these guys make an informed choice and go to serve in the army, in special forces, Airborne troops, Marines, "said the president of the Sports Club" Bars "Sergey Smirnov.
"The feat of the paratroopers who did not retreat a single step, did not betray their comrades-in-arms and given the oath of allegiance to this Motherland, is a very high, above all spiritual feat",
"Our common task is to honor the memory of the children. These are real, not cine heroes. And the boxing tournament among schoolchildren and young people dedicated to their memory is an important event that is simply obliged to receive due attention and full support from those officials who are responsible for educational, patriotic and sports work in Moscow.