In the fall I had a meeting with officials from the Ministry of Education and Science of Russia. Enough, as it seemed to me then, encouraging. They even jointly decided that it was necessary to open such a site, to which people could send their complaints about how the education reform is carried out and what it turns into. Yes, a lot of inconclusive politicians and journalists, scholars and teachers of universities, schools wrote about this ... But most of all horrified by what they did to their children, ordinary people - those on whom Russia always rested!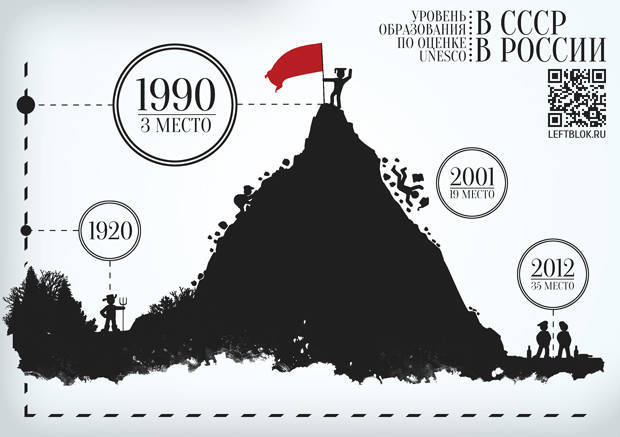 I received a lot of letters from them. Is this true when there is no one to complain, except for the satirist ?!
In concerts I gave a lot of seemingly funniest examples of youth illiteracy. But this is not fun.
After all, our state, growing underdeveloped, turns the younger generation into unhappy people who do not have sensible occupations. Our fertility is covered with non-vitamin weeds.
Today, many say that when applying for work, young people politely ask the question: "How much will I get?" But no one asks: "What will I work with?"
They have no professions, skills, self-discipline ...
Those who received an education during the Soviet era began to be worth their weight in gold. They are more organized, they can make decisions and take responsibility for their actions. Of course, many at my age have fallen behind the new technologies. But not all! Moreover, it turned out that to master these technologies for a person who was educated in the Soviet era is just to spit. Were stubborn and those who are lazy. As well as the proud, who consider new technologies to be devilish.
But personally, when I come to the store and if I don't understand something, I try to find an older seller for clarification.
As a result, many courses have been opened in the country where future managers are trained. Management does not need to train! Manager ... sorry, I will speak in Russian, the ability to manage people begins with the ability to control themselves. Not courses should be for managers, managers, and in school you need to enter the subject "Office work". The ability to control oneself and future subordinates should be in everyone! This must be learned in the same way that in our time we have been trained in gymnastics lessons and singing in singing lessons. Do exercises, sing, be able to organize things ... - as necessary as the ability to breathe properly. And special courses are a pulling of dough from suckers.
Most of our young people think that if they crawl freely through networks, they have already learned everything! The monstrous mistake that each of them will ever lead to unhappiness.
The ministry officials, when I gave them examples of today's youth lack of education, did not believe me and, bulging eyes, accused that I had invented all this as a satirist.
Then we decided to create a site for collecting information, on which all indignant could speak, to give examples of the horror of degradation.
So what?
Half a year has passed - the ministry does not itch!
Do you know why? They do not know what to do. Even the site can not open. They can not arrange for the design of such a site the necessary paper. This is one reason, but there is another, more serious one. Today's officials are afraid of everything! It seems to them that Putin is personally observing each of them, and if they do something wrong, he will personally dismiss them. Honestly, this is arrogance! Nevertheless, the main thing that motivates today's official is fear! And suddenly, for such a site, on which ALL TRUTH will appear, they will not be praised from above. And on top - Koschey-Fursenko. It still hangs over the Minobrazin Damocles horseradish, although it seems that it was stuck on some distant Kremlin mezzanine. But, you see, on a very high mezzanine, from which everything is visible and you can watch your glade.
Those officials I met with are cute, cute, one can see by their eyes, those who want to improve at least something. But they themselves are underdeveloped! How can under-educated people engage in education? Sometimes some of them are illiterate. You can't even blame them. It is impossible, for example, to accuse me of assisting neurosurgeons during an operation poorly. True, unlike officials, I will never do what I do not know how to do. But the official is such a profession, any of them can be thrown to any position, like the notorious Serdyukov, from the stools to the army.
The workers of today's Minobrazina are pawns! And the pawns who never become queens!
Koshchei fear.
Only in this way can I explain why such a handsome man like Livanov, the Minister of Education of Russia, said publicly like:
From an interview with Livanov "RG" about the cost of training:
"Today, for example, we don't need so many engineers. At the same time, there are three times as many places in universities as we did then. Obviously, there should be fewer places, but the cost of one student should be much higher. Not 60 thousand, as it is now, but 200 – 250 thousand rubles. As soon as we get away from universal free higher education, mechanisms will appear that will help attract valuable personnel to enterprises. For example, an educational loan. If a good education is expensive and the person is forced to pay for it, he will be able to take out a loan, and the future employer will pay it in exchange for obligations. "
I am sure that Koschei-Fursenko left in the Ministry of Education his guardians, who are still following the established financial schemes and flows. And what can today's ministry employees do as a result if Koshchei warriors sit on financial flows? They really can not be blamed. I feel sorry for them.
Yes, they are up there, on the "Kremlin entresols", all faithful to each other, like a sidekick from the same zone.
But the country is from this very bad! They are ready to betray the people, country, conscience, army ... But not each other! What does it mean? They are tied up with the same machinations, with the same slogans, with a single hatred of the people, which must be turned into a sort of human mass of oil and gas boilers.
Personally, I wait until our Minobrazin will swing, tired!
And I decided to open a website myself, on which everyone could write and share their sadness, sadness and anger at what the Ministry of Education has done today.
And then, you see, the Ministry of Finance does not have money to open the site. But in my case, there is always a store in it.
So, dear friends, send everything you consider necessary to bring to the attention of the Ministry. I promise to give them this future "collection."
I warn you, it will only include your real complaints and examples. Fantasies and angry letters written in hearts will not be bound.
Here, by the way, is an example of another real crime on the part of the Ministry of Education ...
At Moscow State University, at the best, strongest institution of higher learning in the country, a struggle has begun with the faculty of philology. How many worthy teachers, scholars-philologists raised this faculty! And how many intelligent students are brought up, whose high level of education is recognized even abroad, when they leave for work there. But, you see, today this faculty is not very self-sufficient. Is it not a shame to make such claims to an educational institution in the country of oil and gas? How is it possible to demand self-sufficiency from educational institutions? Those who do it, or criminals, or assholes. Dostoevsky is not on them!
And most importantly - the rector of Moscow State University on the side of the Ministry of Education. Understandably, he takes the most serious post! In addition, a respected person, a real scientist ... He is afraid that if he goes against the ministry, the title of a real scientist will be removed from him.
And after all, many people understand it in their souls that they are wrong, and they are obliged to surrender to them.
I think that Minister Livanov himself also understands everything in his heart. In fact, judging by his youth, he was always a very faithful companion, a man with noble intentions. He is a mountaineer! He knows what it is to work in a bundle. How to be a devotee. But "a good climber" is not a reason to become a minister of education. In addition, a loyal comrade is great, but to be in tandem with Fursenko and to remain loyal to him means ... to change your people!
And now I will outline some topics to which, in my opinion, many of you will respond:
- What are ugly puzzles in modern textbooks of various disciplines.
- How poorly educated are today's young teachers.
- What instructions come from above to schools and institutions almost under the heading of "secret." Since these instructions are secret, it means that they understand very well above that they are directed against the people. The people should not know about them!
- Questions EGE.
- Answers pupils and students.
- The level of knowledge of applicants.
- How much are grades in various universities?
- How much do they pay for "beautiful" diplomas?
- What are the meager salaries of teachers!
- Why men do not go to school to work as teachers.
- Registry and window dressing. Estimates now do not reflect knowledge. The higher the average grades score of pupils in the school, the higher the score of this school is from the Ministry of Education.
- Extortion.
- Quotes from written works.
- Faded amateur - spring child activity.
- Close interest circles - no money! And to lead the circle, say, "Embroidery and sewing" should embroideress with ... DIPLOMA! (At the same time, the officials of the Ministry of Education themselves are underdeveloped! But with diplomas.)
- Examples of how young people do not know how to express a thought in their native language, retell the content of a film, a book read.
"And much more, which I don't suspect right now, and many of you will surely open my eyes."
Let us help our Ministry of Education! Give him a helping hand, shaking that, he shudder. I promise with my assistants to make a collection of the letters you sent and send it to the Ministry of Education. Of course, they can pretend that he was not noticed. Will not work! I will send the second copy to the Presidential Administration. I know there are several non-pilates who "will not wash their hands."
And even as a safety net, I'll post it all on the Internet, and if I need to, I'll call upon to collect signatures so that today's ministry workers can be dismissed at once. And today's minister should not be offended at me, he is still a young man, will again be a wonderful mountaineer, his friends will respect him, and he will again become a true friend in conjunction with those like him. And today, being in conjunction with Fursenko, he betrays himself first and foremost. About the guard I do not speak, they do not even deserve attention.