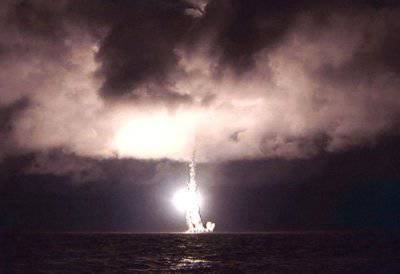 The Russian Navy has adopted a new automated control system for strategic nuclear forces, which allows real-time retargeting of the P-30 "Bulava-30" intercontinental ballistic missiles. According to the Izvestia newspaper, the Yamal satellites are used to transmit the coordinates for the rockets; their work is provided by the company Gazprom ─ space systems, a subsidiary of the gas monopoly Gazprom.
According to a newspaper source in the Russian Navy, the new system so far works only on the strategic nuclear submarine Yury Dolgoruky of the Borey project 955 and only with the Bulava missiles. In the future, all the submarines of the Borey project with such missiles entering the fleet will be connected to the new control system. The latter can re-target ballistic missiles even in flight and launch them from submarines without the participation of the crew.
As expected, over time, it is planned to combine the control system with the strategic submarines of the Delphin 667BDRM project with the Sinev ballistic missiles. Currently, the coordinates of targets for such missiles are set by the crew manually. To launch missiles, the submarine must reach the periscope depth and release the antennas, after which the General Staff unlocks the launch system. Then, the senior combat assistant and the special department officer of the FSB introduce special codes into the control system, and the combat compartment calculation ─ new coordinates.
The new system simplifies this process. With her, the submarine needs to go to the periscope depth and release the antennas; all other procedures will be done through an automated control system. In the future, the Russian Navy plans to switch the communication channel of the new control system to a modernized unified satellite communications system, which allows you to transmit information in digital format.
The first Yamal satellite was launched into geostationary orbit in 1999. In total, the military ordered seven such devices, but only five of them were commissioned. Currently three satellites are operating; one Yamal was already decommissioned, and the second one stopped working as a result of the accident. Despite the fact that geostationary satellites are not able to provide reliable communications pole, they are able to transmit information in areas where combat duty is the strategic forces of the Navy, - reports lenta.ru.