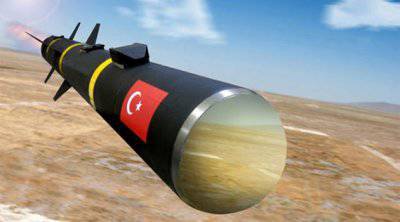 During tests of the first Turkish-made anti-tank missile called UMTAS, the prototype successfully hit the target.
Work on the UMTAS project ("Uzun Menzilli Tanksavar Füze" - "Long-range anti-tank missile"), created to meet the needs of the army in anti-tank missiles by the Turkish industry, began in September 2008. Thanks to this project, the UMTAS missiles for T-129 ATAK helicopters will be available to the Turkish army.
According to a press release published by the defense company Roketsan in January 2013, UMTAS missile systems designed for use from helicopters are able to effectively withstand the main combat
tanks
and in many respects superior to similar anti-tank systems.
The first field tests in this project were held in July 2012, the prototype of the guided missile hit the target at a distance of 5 kilometers. Field trials will continue this year.