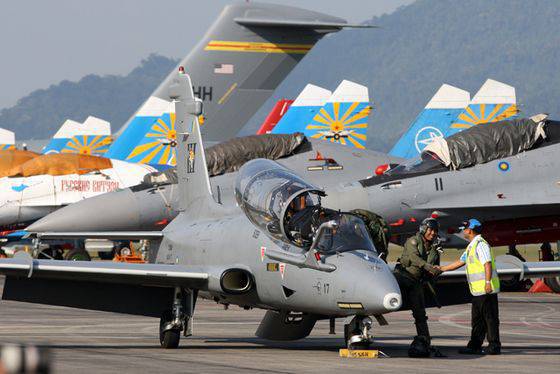 Malaysian Defense Minister Ahmad Zahid Hamidi during the exhibition LIMA-2013 announced some details of the tender for the supply of fighters in the framework of the program to replace outdated MiG-29.
According to Ahmad Zahid Hamidi 28 in March to Reuters, by 2015, Malaysia intends to acquire 18 new multifunctional fighters to replace the MiG-29. Within this project, five manufacturers are included in the "short list of applicants".
The bidders included the Eurofighter consortium (BAE Systems) with EF-2000 Typhoon, the Swedish Saab with JAS-39 Gripen, the French Dassault Aviation with Rafale, the American Boeing with F / A-18E / F "Super Hornet" and "Rosoboronexport" with Su-30MKM. According to the Minister, this is the final list.
All five manufacturing companies were represented at the LIMA-2013 exhibition and declared their readiness to supply the aircraft that meets the requirements of the Malaysian Air Force. Thus, the representative of the company "BAe Systems" Mark Kane confirmed that informal negotiations have already been held with the Malaysian government. "Dassault Aviation" promises to organize the licensed assembly of the multi-purpose fighter "Rafale" in case of its selection by the winner of the tender. Saab 26 March signed an industrial cooperation agreement with the Malaysian consortium DRB-HICOM Berhad, with the prospect of its inclusion in the chain of component suppliers for JAS-39 Gripen. Deputy Director General of Rosoboronexport OJSC Viktor Komardin also confirmed that Russia will necessarily participate in the tender.
Cost parameters for procurement have not yet been determined. According to local sources, the cost of the program may exceed $ 1 billion. Its implementation will allow to upgrade the combat fleet
aviation
Malaysia, having territorial disputes with China and waging a long struggle with militants in Sabah.
As expected, the decision to start the procurement of fighter aircraft will be made after the elections, which are scheduled for the end of April.
According to analysts, in the course of the election, the National Front party coalition (Barisan Nasional) is in a tough battle with the opposition.