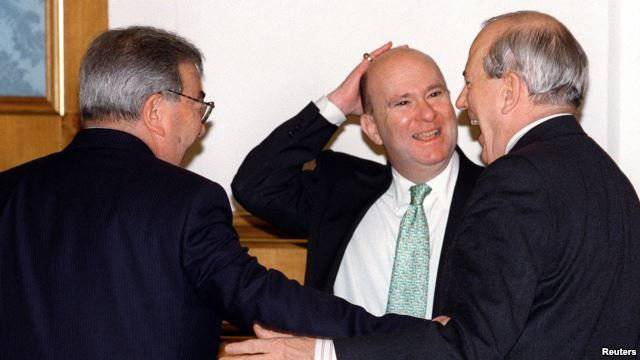 WASHINGTON - "Oil revenues do not determine Russia's GDP," said Martin Gilman during a lecture at Johns Hopkins University on Wednesday in Washington. The American economist who represented the IMF in Russia on 1996-2002, the author of the book Default, which could not have happened, now a professor at the Higher School of Economics in Moscow, does not share the pessimistic predictions that the Russian economy "has entered a dead loop of low investment and massive outflow capital. "
Gilman cited this formulation by enumerating common myths about the Russian economy, which, in his opinion, require immediate debunking.
Acknowledging that the business climate in Russia is not the most favorable, Gilman stresses that the private sector in Russia is developing and remains dynamic.
"After the crisis, the Russian economy, to the surprise of many, began to flourish in many unexpected sectors - transport, banking, insurance and many others. This is the future of the Russian economy, "Gilman believes.
The perception that the Russian economy is stagnant and will deteriorate, Gilman calls one of the common myths, no more.
"Since the crisis, the Russian economy has been demonstrating very good indicators," the specialist said.
According to Gilman, who does not consider that everything in Russia is "tied to oil," prices for this energy source should fall to 75 dollars and lower in order for it to have a negative impact on the Russian surplus.
"The Russian starting economic position was very good. They have a balanced budget, "Golman said during his lecture, stressing several times that Russia's greatest achievement is" the lowest government debt ratio in the world. "
Speaking about the problems of the Russian economy, Gilman stresses that capital outflow from Russia is a topic that deserves a separate discussion.
"Money is leaking because of a bad investment climate," the economist stresses, noting that "if you compare Russia with other new markets of oil-exporting countries, it exports less capital than others".
"When 30 percent of national capital is in savings, some of this money will inevitably leave the country," says Martin Gilman.
He points out that Russia has very few "real economic barriers", and the economy is quite open.
"Russia has been and remains a country with a relatively successful market economy. If there are any problems, then they lie in a political plane, "sums up the American economist.