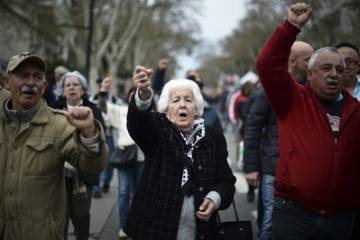 In the next decade, millions of older Americans will actually die from poverty, and nothing can be done about it. About this, if you clear the text from the conventions, writes Forbes.
Political correctness does not save from decrepitude
The pathos articles of the leading business publication of the United States are as follows. 75% of retired Americans in the 2010 year had less than $ 30.000 in savings on their retirement account. When they signed up for corporate pension plans, they were promised an average of $ 100.000. (However, they promise even now, only not to them, but to the next generation. Independent experts call the figure in $ 25.000).
For obvious reasons, a decrepit person needs far more medical attention than a healthy one. This provokes a massive desire of old people to work - among those employed, a part of health insurance is covered by the employer. Today, the necessary medical care is simply not available for millions of older Americans retiring. Moreover, 25-30's thousands of dollars cannot live for long at all without special medical procedures, and besides this money, the pensioner can only rely on meager unemployment benefits.
When this situation was just developing, those who left it in the last ten years began to return to the labor market, only to earn a little more money or regain medical insurance. The symptom of this "wave of returns" was the appearance of traditionally student-youth jobs, such as packing purchases in bags in supermarkets, of people tightly behind 65.
Given the competition, the elderly have to give all the best to save even such a place.
Further: the awareness of this phenomenon by those who are still working, but already thinking about retirement, led them to a reluctance to stop working. People who decided to postpone retirement for heel-another years turned out to be the natural prey of their employers, who are beginning to transfer them to lower positions, part-time jobs, or cut back fees (because they have universal pressure on aging workers). At some point, workers are aware if they have not already realized that no efforts will allow them to stop working altogether - at least part-time, while there is strength.
And now - the most tragic.
Sooner or later the forces run out. A person, no matter how politically correct it may be, treats him, becomes decrepit, weakens and loses working capacity.
And at some point it is impossible to "occupy" it.
And he remains without work.
And without opportunities to secure the very "proper standard of living", which seemed to be its goal.
And millions of old people will start to die simply because of the lack of money in the middle of the most seemingly developed country in the world.
How did that happen
Since the topic of the collapse of the pension policy has already been covered by many people - let us recall in brief. Corporate pension savings plans under the law 401 (k), an approximate analogue of our voluntary insurance, have been incredibly popular in the United States for thirty years. In addition to 6,2% of income paid to finance state social security programs for the poor (who receive about $ 400 per month, if they don't have any income at all), a person could postpone his pension to an investment account in a mutual fund, brokerage firm or bank, and contributions would not be taxed either at the time of enrollment, or later, at the time of withdrawal. Moreover, the employer could, on his part, report additional funds there. Investment income from a properly placed pension would also not be taxed, and thus almost all working people placed it on the stock exchange. An exemplary slogan: "while you work, your pension grows by itself."
However, the recession and reduction in the number of new contributions turned these savings into splashing from bursting bubbles, and because of the bankruptcy of the companies, their former employees lost their life and health insurance, which was guaranteed not by the state, but by the pension plan.
In essence, there is nothing new in all of this: we have already written that PF does not even provide people with normal medical care, since they are not created for people, but for feeding their savings to the stock market. It is not surprising that this system, like other systems of economists, did not stand the test of recession.
New and interesting here is another. No one is trying to find a way out of the situation.
"I will work until I can crawl out of bed"
Here is a person in the comments under the Forbes article that discusses what to do in the current difficult situation:
"I'm 53, I'm a self-employed entrepreneur and still healthy. I have no hope that social protection will help me out when I think about slowing down. I also do not expect that when I retire, I can sleep at home, read online or newspapers all morning, and then play golf in the country club all day. All this was for the generation that was lucky. My generation, and especially - the generations following me, will only work a lot and hard for a very long time. Probably, as long as they are physically able to do the work in general, then they will have to hope and pray that they have enough money to survive.
I completely agree that we are in an unenviable position, but it seems to me that it is time for everyone younger than 60 to soberly reconsider their views on work and retirement. They need to be brought into line with reality, and not with the hopes of what they can do in the "golden years". I plan to work even the least 20 for years, or until I can crawl out of bed in the morning, and my wife and I did an excellent job of accumulating funds and planning the future. "
Agree, the chic is offered a recipe: "to carry out work on the accumulation of funds and planning the future and work while you can crawl out of bed." But smart business analysts of Western publications are shyly grumbling about something like, "you had to create your own retirement yourself", "you need to invest better" and "you can't put all your eggs in one basket".
That is, the current catastrophic situation is still presented as a classic example of how life itself punishes people who misuse their freedom.
... But when the great American answer "we need to work more" is applied in relation to 73-year-olds - this is already, we agree, something completely unhealthy.
Conclusion
In short, today we are witnessing - on an exemplary example of an exemplary model country - the collapse of the idea, so to speak, of mass self-made-menstruation. Well, you remember: it is such a special idea that everyone is able to earn money for his needs, and all these mutual assistance, families, continuity of generations and care for the neighbor, which will return to you in time of need, are in vain. All this was archaism. It is possible to work honestly and a lot, to invest properly - and then in decrepitude you will leave for sunset on a boat with young blonds (or, in the female version, on a liner with burning stewards). The modern post-industrial economy is so post-industrial that you can spend money on yourself all your life, so that you can spend the money already put off ahead of time.
... As it turned out - no.
It is even more interesting to observe the stubborn propaganda in our country of mechanisms and attitudes that have already led to a catastrophe in the so-called. advanced countries.
And it is all the more important to rethink our "lagging behind the West" in some areas - and to begin to regard it as an advantage.