The propaganda war around the situation on the Korean Peninsula continues. In addition to replicating on the Internet clips about the victorious march to Seoul, the young marshal continues to inspect the troops and objects of the North Korean military industry.
And here on the Web there were photos of the combat vehicle, on which an unusual installation was installed. There is no consensus on what it is. However, some military experts believe that in this way the North Koreans decided to declare that they were working on a laser
weapons
.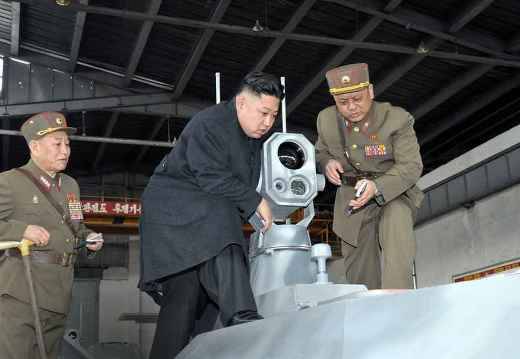 "Pobedunny Marshal Kim Jong-un admired the unprecedented achievement of North Korean scientists"
Of course, if this is actually a kind of laser complex, then, most likely, it is intended, like the Chinese design, to disable the enemy's optical equipment or organs of vision of enemy soldiers.
The Chinese have
Tanks
Type 99 of various modifications installed laser system of active protection of the tank. According to the website "Courage 2004", it consists of a warning system for laser radiation LRW and directly a quantum generator LSDW.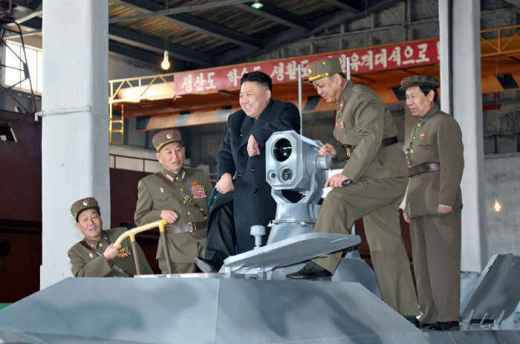 "These deadly rays will sow terror in the ranks of the imperialist aggressors"
When a tank receives a signal about the enemy's irradiation with a laser beam, the warning system generates a signal to rotate the turret towards the detected source, then a weak-power laser beam turns on, which determines the exact location of the target, after which the beam power instantaneously increases to a critical level for the enemy.
True, there are no laser radiation sensors on the Korean machine from the side of the enemy.
In the Soviet years in service with motorized rifle units, such laser weapons appeared as early as 70's. On the BMP-1C installed the so-called "equipment AB-1", which was supposed to laser beam output various optical devices of the enemy.
In the Soviet Union there were even more powerful laser systems on tracked chassis, such as the 1K-11, P-300 and 1K-17. It will take the North Koreans many years to reach their level.