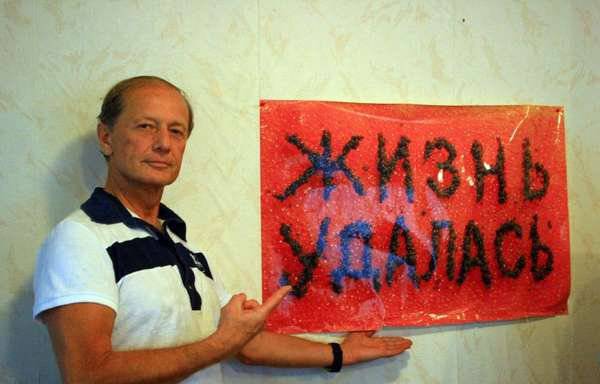 The Internet choked with memories of Berezovsky. Who saw him where: in the elevator, in the toilet ... Of course, he is a person. About him today they write and argue more than about Cyprus and about the snow.
I also knew him, by the way. And once, too, met in the elevator. In Boston at the end of the 90. In the hotel "Hyatt Regency". I flew in the morning, in the evening there was a concert. I went into the elevator, looking at the wall ad, printed in large Russian letters: "DO NOT SMOKE IN THE ELEVATOR".
Wow, I think, yes, here, see, our cool live! We got the Americans so that they began to write in Russian on the walls.
Suddenly I heard a familiar voice: "Wait!" I turn around - Berezovsky, and with him two more democrats known at that time. We all learned each other, greeted each other, talked briefly. Only Berezovsky was silent. I understood why. Two months before, the journalist "MK" asked me a question about the new wave of anti-Semitism in Russia. My answer was printed in the newspaper: "This is unfair. Can you not understand that the Jews are different? You can not all cut with one comb. Do not judge Zhvanetsky according to Berezovsky! "
Berezovsky knew about this my NESUT. Therefore, the elevator did not even greet. Stood in the corner offended from 1 to 7 floor. Although before that we were familiar. True, I saw very rarely - I never had the urge to be friends with dangerous people. On the contrary, I avoided them. Many deaths were rumored to be on the conscience of Berezovsky's team. Even then, the security service was attributed to the murders of Vlad Listyev, the thug Sylvester, several businessmen, the military, and journalists.
He was accused of bringing his friends, semi-gangsters and bandits to power. What was friends with the Chechen mafia. And conspired with them in the most difficult for Russia war years with Chechnya. Blamed him and on sale
weapons
, and in that he made his margin on this war.
In general, a lot of troubles piled on Berezovsky. I do not know what is true of all this.
But I remember once I was sitting in the office of Badri Patarkatsishvili in Ostankino a week after the murder of Listyev. Suddenly Berezovsky came in, very pale. He whispered something in Badri's ear, and they, apologizing, hurriedly left. It turned out on TV a few minutes before it went
news
that the investigation was on the trail of Listyev's murderers. Then it all turned out to be a "duck" launched in the news, no one came out on any trace. And if left, they were forced to lose this trail. But the frightened faces of Badri and Boris still stand before my eyes.
How to understand who ordered whom? Who won from the "order", he ordered! Berezovsky once received the First Channel, became in fact its owner. Although this is certainly not proof for trial. True, I think that our president has more reliable information about all these events, and it is no coincidence that after Berezovsky helped him become president, he gave him the opportunity to flee the country.
Berezovsky had a mathematical mind. He is a genius-mathematician, techie. I did not have time to become a professor and an academician just because perestroika broke out, and he needed this mind for cheating more than for obtaining a scientific degree. His brain worked at a breakneck pace, and, unfortunately, suppressed his heart. And that was his misfortune. This Berezovsky showed our future thieves how to fuck Russia. He was a true inventor and wit. But everything that he invented was not for the good of the Motherland, but vice versa. However, such people do not have a homeland. Their homeland is where money is.
He always fussed. He did not live!
He was always a little.
By and large, it is a pity. After all, all his financial schemes were thieves. Genius of darkness.
In recent years, Berezovsky reminded me of Mephistopheles, who was portrayed in Soviet times on a wooden nutcracker for nuts. Looking at him, every time I wanted to ask: "Why, Boris, do you live?" Now you can only ask why he lived. How many in his life did he get joy, love, care?
Berezovsky is a vivid example of an unhappy person who has devoted his life to his grandmothers. He really saw little love. Women mostly loved him for his wallet. Those whom he considered friends, betrayed him when he lost power. He lived in constant fear. He lived without a homeland. He was suing someone all the time, taking revenge on someone. That's life?
Of course, in a Christian way, you can forgive Berezovsky. But as a crook from which the robbery of Russia began, certainly not. But humanly it is really a pity.
Our current nouveau riche live according to the schemes established by Berezovsky. Berezovsky lived, Berezovsky is alive, Berezovsky will live! But with a minus sign.
By his death, he showed all our oligarchs what an inglorious end awaits many of them. In the end, they are all sorry!
It is said that lately Berezovsky had a severe depression.
And here's the question: why robbed, incited to kill, come up with schemes, weaving intrigue? Poor-poor rich Berezovsky ...
Even the Americans turned away from him, why did they need a "downed pilot"? Like Khodorkovsky, by the way. Those who have lost influence, for the Americans - "downed pilots." There was no friendship, there was expediency.
By the way, Berezovsky was the first to show our oligarchs how beneficial it is to change friendship for expediency.
But once America, oh, how to "graze" Berezovsky. Then in Boston, in the same hotel where I stayed, a conference of Russian businessmen and democrats was held. And spent her ... the CIA! Yes ... In the evening, when I returned to the hotel after the concert, an elderly American approached me and in very good Russian introduced himself as a former military attaché of the US embassy in Russia. Now he headed the department of the CIA for the Study of Russia. He recognized me and wanted to chat. He told me that they are now holding a conference of Russian businessmen and democrats in this hotel (he said, without hesitating, "we are holding"). After a while Berezovsky approached us. They discussed plans for tomorrow with an American. Democrats came up too. All frowned before tseerushnikom. At that conference, they gave presentations on a democratic Russia, each lecturer, as I was told, received thousands of dollars for 50. Almost all of these people now have high positions in Russia. Every time I see them on TV, I remember that conference.
Today I would advise our oligarchs to think about the last days of Boris Berezovsky's life. After all, Roman Abramovich has recently completely stopped smiling. He is smarter than Berezovsky, and so simply will not fall into the trap of his own greed. But they say that his yacht is equipped with an anti-missile security system. It means that he is in constant fear, that is, practically does not live.
And one more reminder. For every crook there is always another crook. More modern, trained in more powerful scam technologies. As they say: "for every tricky ass there will be a bolt with a screw."
Vaughn, in Cyprus, what happened? Some of those who hide their stolen "grandmas" there could have supposed that? Suddenly, half of the attendants will disappear. And they thought that they had buried them very reliably.
And after all, the very bank where Russian money was kept crashed down on the orders of Brussels! First put 20%, then 40%. A little more time will pass, and a condition is put forward: everyone who keeps money in our bank must give one kidney! :)
It is a pity for them all the same, our poor-poor rich! And we will remember Berezovsky. And it is a pity that with a minus sign. I remember him even before all his scam, when you could pleasantly discuss with him about scientific events, technical discoveries and even ... about quantum mechanics! I wonder what he remembered in the last moments of his life? His childhood or the first successful deal-razvodilovo?
An incredible snowfall broke out in Russia. Snow, like a shroud, hid the memory of a man who, after the collapse of the USSR, was the first to establish rampant super-theft.
PS Today in the news news - Berezovsky was strangled. I do not know if this is so. Perhaps it is beneficial for the British to arrange provocations: strangled, poisoned, drowned by the Russian authorities ... In the end, it does not matter. The main question is: did Berezovsky play all these dangerous games? To so ingloriously end the life of a budding scientist?
P.P.S. The story "Bandits and women" (ending) in the next two posts, as well as on my SITE!
PPP.S. Oligarchs and their ilk and with them, learn to live with the Russian people, who "by smoke" and Cyprus, and the snow, and London with its provocations!