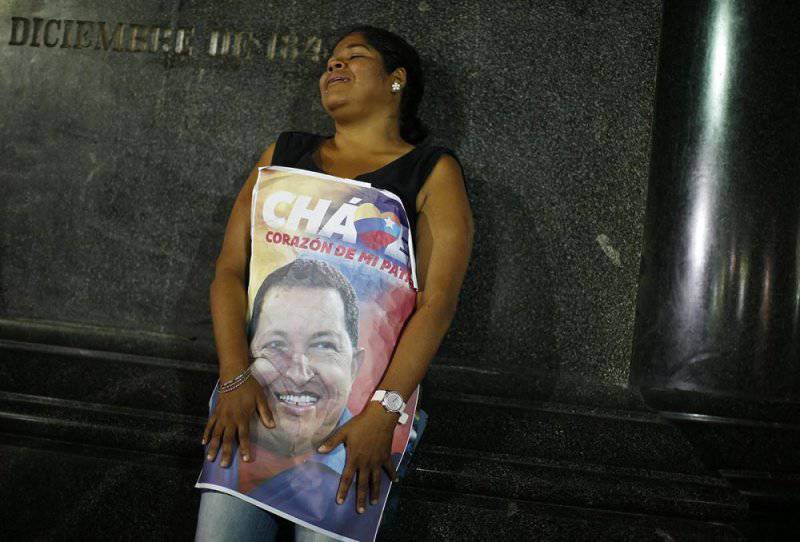 "Red Rebel"

To the death of Hugo Chávez
1
The water has become salty in Orinoco.
Like black coffee, Rio Negro.
In Venezuela - mourning. Alone
mestizo, Russian and Negro.
Although "Viva, Hugo!", "Gloria al bravo ..."
chanting under the sun red
the leader, the Indian ... How sad, right,
in the bustling streets of Caracas!
2
In Caracas from cancer life went out,
"Burned down" rebel, but the sun, as takes
from his head, the fire glows red ...
He was a hero, a colonel and a poet.
And he burned with words like a prominence ...
Senators drink "Whiskey" slowly:
Hugo will not say that Christ is a rebel,
that the Roman Empire - SESHA.
In that century, Sankara and Che Guevara
killed the american capital.
For a long time did not iron the neck of the guitar,
verses do not write honest captain.
And Che does not write, having smoked a cigar;
in his line does not clang metal.
I repeat: Tom and Che Guevara
killed the american capital.
The holy battle continued by Hugo Chavez:
"God bless socialism!"
And the Castro brothers met with Chavez
on Liberty Island ... Paroxysm
burned bile Uncle Sam, "Democrat".
In Europe, banks burst into tears:
"He brought gold! Execute the pirate!
He forgot both our percentage and shame! "
Not the rangers fired from the "Beretta" ...
No wonder Fidel warned about cancer.
In that century, honestly bullets and poets
walked towards. But the enemy became meaner:
intelligence agencies infected Hugo with cancer.
Fantasy? And how do you mournful row
Latin "left"? Yes, Fernando Lugo,
Roussef and Silva ... They also "burn"!
The enemy of the kind of Th ... happy: Castro "melts"
in the fire of the disease ... many are holding cancer!
Before his death, Hugo spoke clearly:
who is there in the dark ... cancer attacks;
and who stood in New York behind the podium,
where the "smell of sulfur" ... the devil's work ...
In Venezuela, tremulous and young,
beautiful creolka gave birth
boy (I believe that among the cypresses
he will grow up like Chavez: the leader, the poet
second "Furious"). And revenge mestizov,
and their love will know the "New World".
March 2013
Andrei Shevtsov (b. 1982) - poet.
In 2005, he participated in the All-Russian meeting of young writers in Nizhny Tagil.
It was published in the almanac "Gates of Siberia" (Tyumen, 2005), the almanac "The Poetic Marathon 2007" (Ekaterinburg, 2008), the newspaper "Tyumen Literary" (2008), the newspaper "Tyumenskaya Pravda" (2011).
In February, 2013, the winner of the regional competition of young authors (up to 35 years) for the best literary work in the nomination "Poetry". The competition was dedicated to the 50 anniversary of the Tyumen regional branch of the Writers' Union of Russia.
He lives in Tyumen.