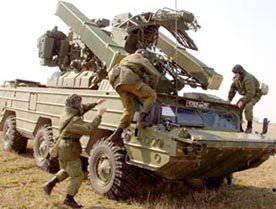 Units of a separate brigade of the Marine Corps of the Black Sea
fleet
, which includes the anti-aircraft missile regiment conduct combat training in three training ranges.
So, the anti-aircraft gunners' field camp is set up near the Kacha airfield. There, for the second week already, the personnel of the regiment have been working out practical tasks together with naval pilots
aviation
Black Sea Fleet. By the decision of the command, almost 90 percent of the fall draft sailors were brought to the field exit. The main purpose of the study is to improve the individual skills of combat crew numbers in a difficult environment, to coordinate all the regiment's units, said Captain 1st Rank Vyacheslav Trukhachev, head of the information support department of the Black Sea Fleet.
Pilots of the Kaczynski and Guards garrisons of the Black Sea Fleet assist in the training of anti-aircraft gunners. Initially, the role of an airborne enemy on the drills for detecting, taking on escort and preparing data for firing was played by the Mi-8 and Ka-27 helicopters. Then, the anti-aircraft missile batteries worked out more challenging tasks with test-shooting firing with the involvement of Su-24 attack aircraft.
Marines perform their tasks at the Marine landing ground "Opuk" near Theodosius. There is a field camp, equipped with a parking lot of military equipment. Despite the difficult weather conditions, the units daily practice the exercises in practice. The calculations of the self-propelled artillery battalion and the mortar battery have already completed several combat shooting. Like the Marines Airborne Battalion.
A field exit involving more than 600 marines and an order of 100 combat vehicles will end in April.