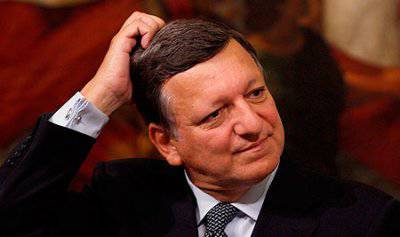 Last Friday, two-day talks between Russia and the European Commission ended in Moscow. The final stage of the meeting was the conversation of Dmitry Medvedev and Jose Manuel Barroso. Many analysts were waiting for a certain "Cyprus" decision from the EU and Russia, which could have been reached during the negotiations, but there was no solution. Barroso merely remarked that the European Commission (at the time of the negotiations) had not received from the Cypriot authorities proposals for overcoming the crisis and preventing a possible "default."
At a press conference following talks between Medvedev and Barroso, a Wall Street Journal journalist
asked
: "Why Russia could not or did not want to provide assistance to Cyprus? Does this mean that Russia threw depositors in the banks of Cyprus? "- The Russian Prime Minister replied:" We did not close the door, we did not say that we would not discuss anything, we didn't want to hear anything, because this is an EU member state, and leave me alone us. We have quite understandable economic interests. But we will be ready to discuss various options for supporting this state, especially since we have already provided support, given credit, after the final scheme has been worked out with the participation of the EU states and Cyprus itself. Only in this case Russia will be able to connect to this process on quite understandable legal and economic approaches. "
Now, as you know, the Eurogroup has reached a compromise on the restructuring plan for Cypriot banks without Russian participation.
According to preliminary information
"Laiki Bank" will be liquidated, and cash deposits in it for an amount of less than one hundred thousand euros will be transferred to the Bank of Cyprus. The remaining deposits and assets of "Likes" will be lost almost completely. The Bank of Cyprus will be graciously preserved by the EU with the help of recapitalization, which will be partially financed by international assistance, and partly by large contributors. By the way, owners of deposits in excess of 100 thousand euros in this bank will lose up to 40% of their funds. But a one-time tax on deposits in the financial structures of Cyprus will not be introduced - that's a joy, especially for those who lose 40% or all.
The development of the Cyprus topic at the talks in Moscow was awaited because rumors circulated in the media that, say, the situation in Nicosia would embroil Russia and the EU. Moscow
unhappy
that the EU did not warn her about the decision on the tax on Cypriot deposits, and Brussels is not satisfied with the criticism of Russia, which led to the cancellation of this decision. Well, how can it be: after all, the Kremlin did not warn that the European Commission would almost "expropriate" "overlay" deposits in Cypriot banks. The President of the European Commission, Mr. Barroso, had to admit earlier that Russia was not aware of such a harsh decision of the European Commission. As he noted, "there was no pre-made decision".
Upon arrival in Moscow, the main expropriator immediately declared that Russia was not afraid of Europe and would even cooperate with it. Still: without gas in winter Europe is bad. Especially in new climatic conditions, when there is more snow and cold than ever. After talking with Comrade Medvedev, Mr. Barroso said:
"We are not only not afraid of Russia, we want to develop constructive partnership."
The head of the European Commission even acknowledged that Russia is a civilized country, not some savage and barbaric one:
"Russia is an important part of European civilization, we are proud of this part."
At home, he must call this "part" nothing more than a "gas appendage."
Surrounded by thirty (according to other sources, only fifteen) European commissioners (without revolvers and Mauser), Barroso really felt like a brave man. And in order to be even less afraid, the chief European commissioner met with Medvedev twice, and with Putin only once. Correctly journalist "Financial Times" Neil Buckley
считает
that Medvedev has no "steel taste of threat": "Even when he speaks harshly about the EU, Medvedev does not have that steel taste of threat that is inherent in Putin's style. Perhaps that is why he lost the battle for the presidency, which, according to at least one Russian analyst, was real. "
Gas really turned out to be a significant part of the negotiations. The parties signed three documents: a) a roadmap for energy cooperation (up to 2050 of the year); b) a memorandum of understanding between the Rospotrebnadzor and the relevant EU structure; c) a statement of cooperation in the field of civil protection. A well-known question of the abolition of the visa regime of development during the two-day meeting did not receive.
Feeling behind them the breasts of commissars loyal to the EU bureaucracy, J. M. Barroso with a chill
said
: "There are many questions on which Russian interests do not correspond to our priorities or, at least, how we define our common interests." Mr. Barroso saw the discrepancy in different approaches "to the role of civil society", as well as in the attitude of the EU and Russia to "fundamental freedoms and rights". Then he did not lie: he could not see the six-color homoradian flags over ministerial buildings in Russia, not like, for example, in the free spirit and body of Britain. The question of the attitude to the Syrian conflict also seems to Barroso "mixed". However, her boss does not advise Russia to stop negotiations with the European Commission: you can stop it, but you can only negotiate with each country separately - it will cost you more. "The 27 bureaucracies of the member states are even more complex, even more difficult to deal with than the one and only bureaucracy in Brussels," he said with confidence in his voice.
On the last day of the Moscow meeting, Friday, Cyprus was again mentioned - just in passing. Mr Barroso said the decision would be communicated to Russia: the Cyprus accounts of its state-owned companies, Jose Manuel, refused to recognize the top priority. It could even be understood this way, writes Kommersant observer Peter Netreba that these accounts will be responsible for the island crisis. Here, Barroso sarcastically emphasized that, they say, "Cyprus found itself in a difficult situation primarily because of the size and structure of its banking system compared to the size of the country", probably hinting that Russian billions (according to Western media, there are 19) are almost equal to the annual GDP of Cyprus (about 24 billion dollars). Well, Cypriots failed to digest Russian money, what to take from them.
It remains only for Medvedev to say that "in the opinion of the Russian Federation, a mutually acceptable solution should be found by the European Union, on the one hand, and Cyprus as a state party to the European Union." Only after, according to him, "when the final scheme will be worked out with the participation of the EU states and Cyprus itself, only in this case Russia will be able to join this process according to quite understandable legal and economic approaches".
Here it should be noted that on the eve of meeting with Comrade Putin, Barroso a lot of things flattering
сказал
about the relations between the EU and Russia: "We need to build a common civilization, where we share common values. Because when I am in Moscow, I have the full feeling that I am in a European city. I think you feel the same way in Europe. I think that it is this European trend that is the driver that can serve for the development of our future relations. I think that based on this shared vision, we can create free space from Lisbon to Vladivostok, where free movement of both goods and people will be ensured. " However, he further remarked: "If earlier our partnership was a partnership of necessity, now we turn to the partnership of preferences."
And this topic of "preferences", as we see, was developed by him at the subsequent meeting with Medvedev. The EU prefers a completely different approach to Syria. The EU wants Russia to treat "rights and freedoms" differently. The EU is eager for Russian money in Cyprus (the accounts of something huge, not at all a hundred thousand) to go away, go to a "restructuring". The EU smugly considers itself a powerful bureaucracy, with which Russia will have to deal, whether it wants to or not. Feels Barroso and the opposite (energy) dependence, but, apparently, not before Medvedev.
Observed and commented on Oleg Chuvakin
- especially for topwar.ru