Judging by the photographs that appeared on the Russianplanes.net web site taken on March 15, 2013, the helicopter fleet of the Syzran branch of the Air Force Military Training and Scientific Center "Air Force Academy named after Professor N.E. Zhukovsky and Yu.A. Gagarina "(training
aviation
groups at the Sokol airport in the Saratov region) was replenished with new training helicopters of the Ansat-U and Ka-226.80 types.
In particular, six new Ansat-U helicopters produced by JSC Kazan Helicopter Plant (KVZ) entered the Syzran Center - vehicles with yellow tail numbers from 41 to 46, delivered at the end of 2012 of the year. In total, the Ministry of Defense from the KVZ already delivered 19 Ansat-U serial helicopters - six were commissioned in the 2009 year, two in the 2010 year, five in the 2011 year, and six in the 2012 year. Of these, the first three helicopters (onboard numbers "28", "29 and" 30 ") are at the Army Aviation Training Center in Torzhok, and the remaining 16 machines from the 2010 year entered the Syzran school (onboard numbers from" 31 "to" 46 11 2011 and 2012 helicopters were manufactured by the KVZ under contract from 1 March 2011 of the year providing for the construction for the Russian Ministry of Defense 32 Ansat-U machines for delivery in 2011-2018. The negotiated cost of one Ansat U helicopter "under this contract is 127,72246 million rubles excluding VAT.
Also on the Sokol airfield during 2012 of the year six new Ka-226.80 helicopters manufactured by Kumertaus Aviation Production Association (KumAPP) were received. Two of these cars were built in the 2011 year, and four in the 2012 year. Thus, ten Ka-226.80 serial helicopters have been delivered to the Ministry of Defense of Russia so far - the first four 2011 vehicles of the year have been received at the training center in Torzhok or have remained at the disposal of OAO Kamov. The production of Ka-226.80 is carried out by KumAPP under a contract with the Ministry of Defense of Russia from 1 in March 2011 for the supply of 16 machines in 2011-2013. Of the Ka-226.80 helicopters captured in Syzran, one has the tail number "51 red", and two have paper stickers indicating that the tail numbers "64" and "66" should be assigned to these vehicles.
Attention is paid to the storage of the new Ansat-U and Ka-226.80 helicopters at the Sokol airfield in special fast-deployed shelters.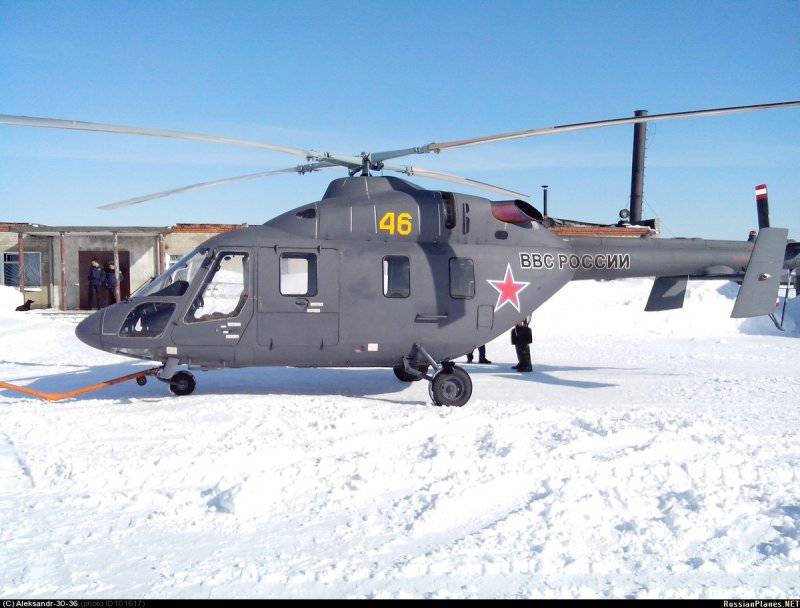 The helicopter "Ansat-U" (tail number "46 yellow") built 2012 of the year, received in the Syzran Training Center. Sokol, Saratov region, 15.03.2013
Helicopters "Ansat-U" built 2012 of the year, received in the Syzran Training Center. Sokol, Saratov region, 15.03.2013
Ka-226.80 helicopters, received by the Syzran Training Center. Sokol, Saratov region, 15.03.2013