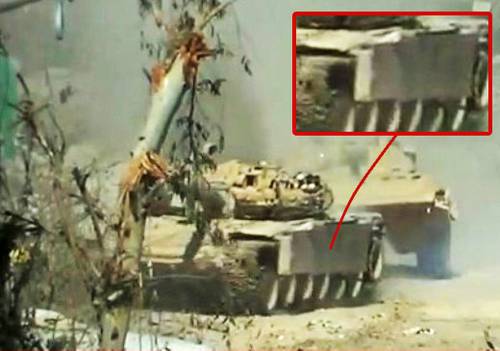 The Syrian army not only continues to smash international terrorists, but has also begun to install on armored vehicles protection adequate to the emerging threats.
In recent months, Syrian mechanized units operating in the Daraya region have developed effective tactics for sharing their
tanks
T-72AV and BMP-2 infantry fighting vehicles. As a result of such joint actions, it was possible to minimize the loss of personnel and equipment.
Wanting to somehow reduce the activity of the Syrian army, the militants have resorted to the creation of a special group that should specialize in hunting for tanks of government troops.
A well-trained rocket launcher managed to destroy two T-72. At the same time used Russian RPG-29 "Vampire", stolen from army arsenals.
These grenade launchers, due to the presence of tandem cumulative combat units are effective
weapons
against any tanks. Moreover, the fighter aimed at the least protected on-board projections of the combat vehicle, which, as a result of active exploitation, lost the elements of Dynamic Protection "Contact-1". It should be noted that "Contact-1" was developed almost 30 years ago and is currently not as effective against modern anti-tank weapons.
During the last successful use of terrorists for the use of RPG "Vampire" tank exploded and the crew died.
The Syrian military has long been criticized for not being very flexible in responding to emerging threats, since the majority of older T-72 models have not yet received funds that reduce the effectiveness of cumulative ammunition. But tankers operating in Darayya, not only masterfully own their equipment, but also quickly learn from their mistakes.
So the other day in the area on the video was shot tank T-72AB with new side screens. Of course, it is difficult to understand some design features only from this video, but one can discern that they have an impressive thickness. In any case, such protection is better than just bare, not covered side.
Again, in the video you can see that in the place next to the gun, where the infrared illuminator "Luna-4" was previously mounted, the Syrians installed additional blocks of dynamic protection "Contact-1". Thus, they covered another vulnerable zone of the tank.
Curiously, the newest modification of the modernized Russian T-72 is supplied to the army without any protection in this place. If the events in Chechnya did not become a lesson for us, maybe at least we will take into account the Syrian experience? Moreover, the installation of a pair of "reactive armor" units will not become burdensome for the Russian military budget. But it turns out that again we save on "matches".