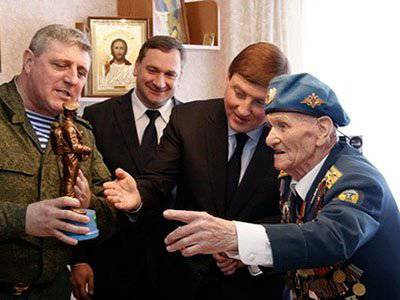 March 19 was a veteran of three wars, an honorary citizen of the city of Pskov, a veteran of the 76 Guards Air Assault Division, the oldest veteran of the Airborne Forces, retired colonel Alexei Alekseevich Sokolov, turned 102 of the year.
A celebrated paratrooper celebrated his birthday at home. On this holiday, Alexey Naumets, commander of the Pskov airborne unit, was visiting with him. Congratulations to the oldest veteran and living legend of the Airborne Forces were sent by the Commander of the Airborne Forces Colonel-General Vladimir Shamanov.
The commander of the 76 Guards Air Assault Division, Alexey Naumets, presented Alexey Alekseevich with gifts from the commander of the Airborne Forces: an engraved board and a parachutist figurine. "There are only two of them: one is with the President of Russia, Vladimir Putin, the second is with you," he specified.
At the festive table, the veteran showed memorable photographs for him, and also sang the song "We were able to stand up in Stalingrad".
A retired colonel, Aleksei Alekseevich Sokolov, was born 17 (30) in March 1911. He is a member of the Soviet-Finnish (1939-1940), World War II (1941-1945) wars and the final stage of World War II (August-September 1945) .).
For more than 30 years he was the chairman of the veterans' council of the 104 Guards Parachute Regiment of the 76 Guards Airborne Division, in which he served in the military.