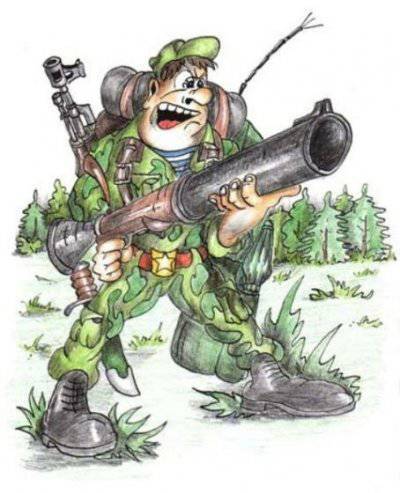 Military unit. Somewhere the end of either the sixties, or the seventies ...
The paratroopers just started practicing the method of "jumping from a plane without a parachute, with someone who has a parachute catching you in the air." This was done for the purpose of rescuing a paratrooper in the air, whose parachute did not open. The idea is that if a paratrooper, not yet opening a parachute, sees that a comrade's face is disfigured by death-terror, he, without opening his parachute, flies up to him, hugs him, and only then opens his parachute. And some damned foreigners wanted to watch it. Marshal Grechko should have been present, aha, aha ... Well, no one wants to jump without a parachute, because the words "paratrooper" and "damned" still are not synonymous, no matter how bad American intelligence is. They are just jealous.
So, we decided to go for such a trick. At the airport collected a stuffed man from scrap materials. Pay attention to these words: at the military airfield and from the materials at hand ... The result was that they collected quasi-bots (exclusively from steel pipes), put an amphibious uniform on it, raised this chock to 2000 meters on the day of the parade and threw it from the plane. Lord experts, and now, attention, question. How much can a two-meter steel weight weigh? .... Well, three hundred kilograms, I think, no less. Naturally, this pig is flying down so fast that no one has time to catch it. This pig falls in view of the fact that the wind does not carry it down (heavy infection) straight to the airfield, to some kind of hangar there, it punches the roof and goes into the ground. While falling, she slightly clings to the nose of the technician sitting in that hangar. He angrily swears, kicks a nearby kettle, comes out of the hangar, claps his earflap on the ground and yells: "Well, on. *. These are the airborne forces! I dismiss this very second!".
Now imagine a picture from the side. A man without a parachute flies, pierces the roof of the hangar, comes out of there and yells at the whole parade that leaves the Airborne Forces, and definitely to the e * eno fene! They say that Marshal Grechko was shocked by the courage of a man who jumped without a parachute, remained alive, raised his rank and even rewarded him with a medal ... And the fact that he swore after such a jump - well, the person was upset, well, what will you do .. .