American view of personal weapon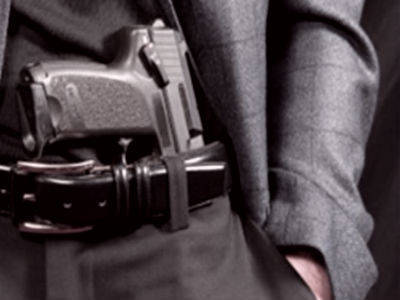 OUR SOCIETY, perhaps, like no other in
stories
humanity professes the principle of respect for the individual. Our entire popular culture, from fashion magazines to cinema, extols the special value of the individual and encourages originality, judgment and freedom of self-determination. This enthusiasm is reflected in the prevailing opinion that helping others leads to an increase in the feeling of "self-esteem"; that if a person appreciates himself, he will be happy, successful and, what is not very clear, a responsible member of society.
And yet, while people are encouraged to revel in their individuality and self-worth, the media and authorities continually advise us that in the face of a deadly threat we should not resist. If a robber attacked you, you just need to give him everything he wants. When it comes to rape, the discussion boils down to talking about how a woman can change her behavior to reduce the risk of rape, and discussing various ridiculous "remedies" that she can carry with her, like a police whistle, apartment keys, a baton, or a terrifying weapon like a cell phone. How is this possible in principle? How can a person who appreciates his personality so highly not respond to an insult, which of course is the offense of a criminal on his freedom, life and property? How can a person, who considers the freedom of self-determination to be the basis of his dignity, agree that he is forcibly deprived of this very self-determination? How can he quietly, calmly, with dignity, abandon resistance? Of course, it is assumed that there is no contradiction. The advice "not to resist criminal encroachment, but simply to give away your belongings" is based on the statement that life is the highest value, and that no property is worth life. Let us leave aside the outrageousness of the assumption that a criminal posing a mortal threat should be treated as if there is some new social contract between the criminal and the victim: "I will not touch you or kill you if you give me what I want" . For many years, feminists have explained to people that rape is connected not so much with satisfying the sexual needs of the abuser as with his desire to subjugate and destroy the identity of the victim. Probably, someone should inform the authorities and the media that the abduction and seizure of people, robbery and armed attack is an encroachment not so much on property, as on a person. A crime is not only a complete denial of the social contract, but also violence against the person and the dignity of the victim. If human dignity consists in the fact that he is a creature endowed with reason and moral principles, voluntarily entering into free interaction with others, then a crime is always an encroachment on human dignity. In fact, crime is an act of enslavement. Your wallet, wallet, or car can not cost more than your life, but your dignity can; and if it is not worth fighting for, then you can hardly have it at all.
Gift of life
Although it is difficult for modern man to imagine this, there was once a universal conviction that human life is a gift from God. And not to protect her in moments of danger means to despise this gift. The person who does this is a coward, he violates his obligations to society.
In one sermon that was pronounced in 1747 in Philadelphia, the refusal to resist the criminal was equated with the sin of suicide: The Lord commanded him to strive to prolong his days, and nature itself teaches every creature to defend itself. " Today, "cowardice," "self-respect," and "self-esteem" have largely disappeared from public debate. Instead of "dignity" we are offered "high self-esteem."
"Respect for oneself" implies that a person has moral principles, according to which he evaluates himself. Self-esteem simply measures how satisfied a person is with himself.
Previously, the measure of "dignity" was the self-control and strength of the human spirit in the face of the vicissitudes of life and the hostility of others. Now, ideas of dignity have changed. "Dignity" requires that we avoid any conflicts, because our precious personality is probably not able to survive even verbal abuse. This is vivid evidence of the weakness of the character of modern man and his spiritual emptiness. It is impossible to talk about the problem of crime, not to mention the moral responsibility of the victim. The criminals are outraged because we, law-abiding citizens, indulge them, look for excuses for them, obey them. We allow and encourage crime because we don't resist here-and-now criminals. Crime is growing, not because we lack prisons, judges and prosecutors are too lenient, and the police initiative is shackled by absurd instructions. The reason - in the attitude of society to crime. We are a society of cowards and wimps.
While you were lucky
In the 1991 year, when the Minister of Justice and Attorney General Richard Thornberg published the FBI's annual crime statistics data, he said that a person is more likely to become a victim of a violent crime than be involved in a car accident. Despite this, most people readily believe that the existence of the police exempt them from responsibility in the sense that they do not need to take care of self-defense. The police, however, are not personal bodyguards. Their role is to curb crime by the fact of their existence and to catch criminals after committing a crime. The courts have repeatedly confirmed that it is not the duty of the police to protect a particular citizen from a specific crime. You cannot sue the police for not protecting you from criminals. The police really terrify the criminals, so the criminals do not commit crimes where there are police officers. Unfortunately, it follows from this that if you become the object of attention of criminals, the police will not be around. If you are the victim of a robbery or rape, you will find it very difficult to call the police while you are being robbed, even if you have a cell phone with you. However, you may be interested to know how much time passes on average before the appearance of the police. According to Ministry of Justice statistics for 1991, the police managed to arrive at the scene of a violent crime no later than in 5 minutes, only in 28% of all calls from all calls. "The view that police protection is a kind of service that can be ordered by phone and get it in a timely manner, erroneously. As the gun owners say: "Call the police, an ambulance and a pizza delivery. Look who will come first! "Many people" solve "for themselves the problem of crime, convincing themselves that they live, work and move only in" safe places. "And every time they are greatly surprised when it turns out that criminals do not care rules and do not care about imaginary boundaries.If you still realize that a crime can happen anywhere and anytime, and if you realize that you can be crippled or fatally injured in some seconds, then perhaps you should think about whether to entrust your baa safety in the wrong hands.
Power and responsibility
Is your life worth protecting?
If so, who is responsible for this? If you think that the police, you are not only wrong - because the courts think otherwise - you are morally questionable. How can you require another person to risk their own lives to protect yours? Because it is his job and he gets paid for it? Because your life is priceless, and the cop salary is $ 30 000 per year? If you yourself think that it is wrong to repel a criminal's attack with a lethal weapon, how can you demand from another person to do it for you? Do you believe that you are not allowed to defend yourself, because the police are more qualified, because they are professionals, and you are an unhappy "lover"? Come on! It is the same as believing that only concert pianists have the right to play the piano and only professional athletes are allowed to play sports. What are the special qualities of the police, which we do not have, mere mortals? Anyone who values ​​his life and takes responsibility for his family and his loved ones should take care of the ways of resistance and be able to respond if he and his family are in mortal danger. Such a person will never rely solely on others in matters of personal safety or consider that it is enough to behave cautiously and avoid "dangerous places". Let's face it: a responsible person must have a weapon and be able to handle it in order to protect themselves when confronted with a mortal danger.
Article reprinted with abbreviations. The basic meaning, with reference to our reality, is preserved.