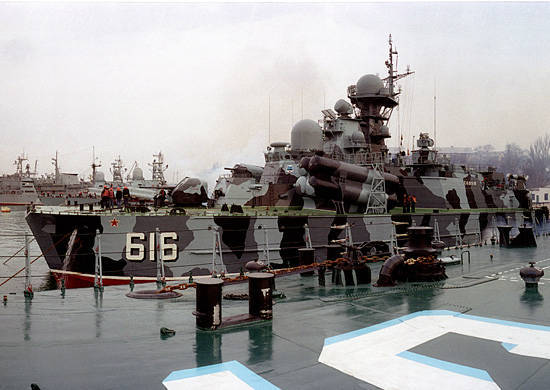 In the period from 7 to 10 in May, Turkish Istanbul will host the 11-I international defense industry exhibition. It is expected that the products of more than 600 firms, including four from Russia, will be represented there.
Experts have no doubt that one of the exhibits that will cause increased interest among the exhibitors will be the borax missile ship RKVP of the Black Sea
fleet
.
The Bohr RVCP (1239 project) is the largest in its subclass in the practice of Russian and world shipbuilding a high-speed warship using a hydrodynamic platform - a catamaran with aerostatic air discharge.
The ship consists of two narrow hulls covered with a platform. In front is an elastic screen. High speed allows the ship to not fall into the seizure of homing missiles, for the same reason it does not have time to catch up with the torpedo.
The displacement of the RVVP "Bora" is 1050 t.
Dimensions: length - 65,6 m, width - 17,2 m, draft - 3,3 m.
Maximum travel speed: 55 nodes.
Navigation range - 2500 miles with 12 nodes.
Armament: 2x4 rocket launchers Moskit anti-ship missile launchers, 1x2 launcher OS-M,
76 mm AK-176 gun mount, 2x6 30-mm AK-630 gun mount.
Crew: 68 people.