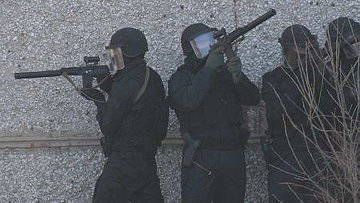 Russian special forces on Thursday night, March 21, conducted a special operation in the village of Semender near Makhachkala, during which a group of militants was eliminated. Interfax was informed about this by a source in the law enforcement agencies of Dagestan.
According to the agency interlocutor, the active phase of the operation is over. At present, the number of militants in the group is being specified, and the sappers are checking the basement in which they were hiding.
It is assumed that among the killed militants there may be a native of the village of Gimry, Untsukulsky District, Ibrahim Hajidadaev, who was the leader of the Gimry sabotage and terrorist group. He was wanted for the murder of the deputy of the National Assembly of Dagestan Gazimagomed Magomedov, committed in 2007 year. In addition, Gadzhidadaev claimed responsibility for the assassination of Dagestan's Interior Minister Adilgerei Magomedtagirov in the 2009 year.
Earlier in the media it was reported that in Semender in 6: 00 20 March was introduced counter-terrorist operation (CTO). The siloviki blocked several houses of the settlement in connection with the information received about the presence of armed militants in one of them.
The actions of the special forces served as a pretext for the uncoordinated protest in Makhachkala itself. About a hundred people blocked Akushinsky Avenue, demanding the termination of the CTO in Semender. According to the law enforcement agencies, among the participants were relatives of the deputy of the Untsukulsky district assembly Magomedhabib Magomedaliev, who claimed that the deputy was in one of the blocked houses.
At the request of the police to stop the rally, the participants did not respond, so the protest was stopped by riot police. According to eyewitnesses to the events, the security forces acted with batons and shields.