Recently, more and more often, crossbows can be seen on the screens with which the characters of movies are armed, the action of which occurs in our time and sometimes in the future. It is remarkable in this disgrace that almost always directors or scriptwriters, I don't know whose fault it is, endow it
weapon
the most incredible abilities, fully equating its characteristics to modern long-range sniper rifles and at the same time making it completely silent. In general, the topic of discussing a crossbow for the army has long been brewing, but without Hollywood inventions. And although I am not a master in crossbow sports, I had a chance to try such weapons with my own hands, so I think I'll draw on the topic, but if something is controversial or I'm mistaken about something, we'll be happy to talk about the crossbow in comments.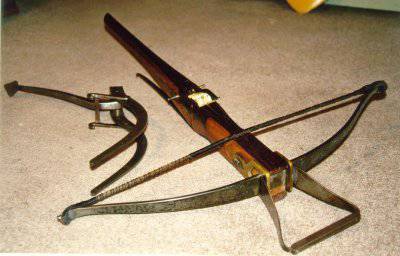 It's probably worth starting with what place the crossbow found among the throwing weapons. Initially, the crossbow was a weapon that was shunned by people who attributed themselves to the upper class, so that a crossbow was born, like a "mob" weapon. Oh, and in vain at the time of the crossbow refused. Judge for yourself. Good archers have been trained literally since childhood, and the reason for this is not only the archery wisdom, but to a greater extent that the tension of the effective bow was not an easy task from the point of view of physical strength. The bow itself was a weapon that was far from precision-guided in combat and was most often used for firing at squares, and not at specific single targets. The crossbow was a weapon less long-range, less rapid-fire, but it was easy to pierce heavy armor and shields of knights. Now imagine a situation where you are a knight, you were prepared from childhood to wield a sword, a spear, rescue beautiful virgins and terrify dragons. And then you left your castle on a white horse to accomplish feats, and at that time a crossbow bolt and a grimy commoner flew out of the bushes into you and apologize, you haven't trained to wipe your ass, take your sword, armor, horse, and the beautiful maiden remains to grow old in a high tower. But this I, of course, exaggerate, whatever one may say, and the crossbow was a fairly expensive weapon even when its shoulders were made of wood, although after a couple of exits "on the road" such a thing completely paid for itself.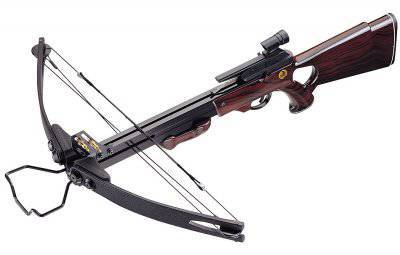 No matter how hard nobles tried to exclude themselves from these weapons of commoners, the high combat effectiveness of crossbows against an enemy-protected enemy did their job, and soon crossbows gained their maximum distribution. It is said that even the church once declared that it was not good to use a crossbow against Christians and threatened to excommunicate such an act, but I want to live more than being a good Christian, because this ban simply did not give a damn, but the court was not the twentieth century. In general, the crossbow took its place and took quite firmly. It was used along with bows, but if bows were now relatively long-range weapons, crossbows were used as armor-piercing weapons.
Well, now let's go through the myths that created the cinema. Crossbow weapon silent. Haha three times. The one who says so apparently held in his hands those crossbows, which are sold now only on presentation of a passport and even weapons, such as, according to the law, are not considered, but only an object that is structurally similar to a weapon. Although recently the law on weapons has so many amendments that appear like mushrooms after rain, that you will not follow everything.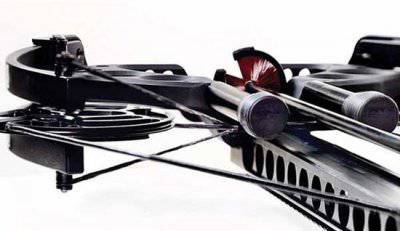 In fact, a full-fledged crossbow, with which there are chances to survive on the hunt for the same boar when fired, a rather loud bang is emitted, or rather not a bang ... well, in general, the sound. At the same time, if we compare it with the same self-loading silent pistols, from which the sound is in fact formed only when the shutter moves when reloading, then a good block crossbow "sounds" much louder. But oh well, let's say it can be compensated by a greater armor-piercing crossbow bolt and a greater effective range, although it all depends on the specific model of the crossbow. But the fact that the crossbow between the shots will be a huge amount of time, which is even longer than that of non-self-loading silent pistols, cannot be compensated for. Yes, the dimensions with weight are simply incomparable, or rather comparable, but already with sniper silent weapons, and here the crossbow is already losing in all respects. It turns out the crossbow can not replace the silent pistol, and the pistol will be in a better position, and the crossbow in the span.
Now, regarding the effective range of weapons. Well, it's impossible to shoot thousands of meters with a crossbow, unless the crossbow's bolts are not reactive, although with a light arrow, but from the top of Everest ... In general, everything is possible in theory, but in practice, when efficiency also comes into play and practicality can be much less. So, alas, but with a long-range sniper rifle crossbow can not. However, the goals of the sniper are far from his position by far from hundreds of thousands of meters, sometimes you need to work on closer goals. So, within the city limits, a good crossbow can very well compete with a sniper rifle at distances up to 150 meters, but let's not forget the rate of fire of the weapon, but that it is impossible to cock it without taking your eyes off the target, but that the weapon has large dimensions and so on. In general, and here the crossbow, despite its aerodynamic properties, flies by. By the way, you can increase the crossbow rate of fire, one of the options for increasing the rate of fire is described
in this article about a quick crossbow
, but along with the rate of fire increased the size, weight, and this approach can be used only with very weak shoulders.
But we will not write off such a weapon completely, after all, if you already persistently seek the use of a crossbow, then you can really find it.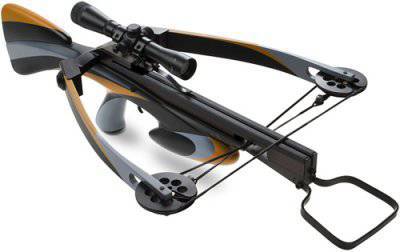 For example, with the help of a crossbow, you can throw the antenna to a sufficiently large height, although if you use a crossbow for such purposes, then why not start up the trained monkey, it's better to cope with the task, and if you have a camera, you can make money a case where a squad is forced to produce food for itself, and each cartridge is worth its weight in gold, but who will drag such a fool especially for this occasion? In the end, the crossbow can be used simply for entertaining shooting, because the soldier also needs to have a rest, although here I think it would be more preferable to consume food and sleep. In short, the use of a crossbow in a modern army can be found, but it will not be a combat application, and I will not look for it, although I really like the weapon itself, there is something attractive about it, and it's not for nothing that movie characters still use it.