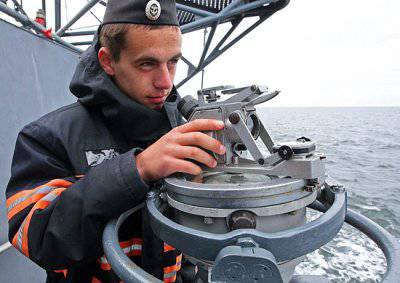 The combat services of our ships continue
fleet
in the Mediterranean Sea. The detachment, consisting of the Yaroslav the Wise patrol ship and two large landing ships Kaliningrad and Alexander Shabalin, continues the campaign according to the schedule of business visits: having replenished supplies at the port of Beirut, they went to Syrian Tartus.
Following the visit, the former Brigadier General of the Lebanese Army Amin Hotei expressed the opinion that "the Russians can make Lebanon their new strategic base in the region." Noting that Russian ships usually go to the Syrian port, bypassing Lebanon, he suggested that this was somehow connected with the "tense situation in Syria." However, now the situation in Syria is much calmer than during some other visits. The complexity of the situation did not prevent our ships from making friendly visits, whose schedule is very tight. It does not hurt now. As for our military base in Lebanon (purely hypothetical), such a solution would not be ideal. We need to try to unite around us all the forces interested in the stability of the region, and not to create potentially conflict situations around our military presence. And the base in Lebanon will certainly annoy Israel, although objectively, both we and Israel are interested in maintaining stability. However, no one can forbid the Lebanese to dream.
At the same time, another detachment of ships of the Baltic Fleet headed for the Gulf of Aden. These are the Fearless patrol ship, the Yevgeny Khorov sea-going tug and the Yelnya tanker. "Fearless" goes to the Horn of Africa for the third time, and
news
can hardly be called sensational. In general, the combat services of our fleet off the coast of Africa have not ceased for several years, and detachments of different fleets replace each other. It must be said that African pirates have become an excellent opportunity for crews to learn and work out combat missions far from their native shores. But this, so to speak, is a neutral reason for long-distance hikes for educational purposes and for the purpose of being present in an important area of ​​the world's ocean under a specious excuse. The "pirates" campaigns are even better than the "friendly visits" - in them, as if there is absolutely nothing "personal".
But besides this, more frank statements, which are preparing the world community for the emergence of the forces of our fleet far from their native shores, are beginning to appear lately. Most recently, Navy Commander-in-Chief Viktor Chirkov reaffirmed plans to recreate the grouping of ships in the Mediterranean, which will operate on a permanent basis. According to him, it can consist of five to six ships, ships of the first rank (cruisers and frigates) should form its basis, in addition, support ships will be included in it, and management should be carried out through the command of the Black Sea Fleet. In addition, the commander said the following:
"AT
stories
The Soviet Navy had experience when we had squadrons in the Indian and Pacific Oceans. Of course, if necessary, we will offer the leadership of the Ministry of Defense, the government, the president there to also create operational connections on an ongoing basis. "
What's new about it? After all, the forces of the fleet are always present in the Mediterranean Sea, and sometimes even in larger composition. Constantly ships serve in the western part of the Indian Ocean. Maybe all this, as one journalist said: "exclusively for internal use? Say, look: Russia rises from its knees ... "?
Yes, it is. Yes, it serves. Only for this, it is necessary to invent some kind of excuse, like exercises, "purely by chance" coinciding with the activity zone of our "potential partners", the hunt for pirates, or the rich schedule of friendly visits. It's as if we apologize for having our own interests outside our territory. Like, do not think that we are here with some goals of our own - so, by chance we passed. Such an excusable tone forms the corresponding attitude to our actions: "since they didn't mean anything like that - why should they be serious"?
Probably, it comes time to get rid of the guilt complex for their own existence. This is important, not so much for a successful foreign policy, as for the self-awareness of its own citizens. Alas, many of our fellow citizens need time to get used to the idea that they do not live in a third-rate country - but in the country. Yes, our country has recently experienced one of its largest disasters, although it is far from the first. But she is recovering from her and is returning to her historical path. And this way is not "third-rate", and it does not require citizens of "third-rate". And they need to bring up.
We have already grown for two generations without pride in our country. Yes, the older generation is trying to instill this pride with examples from the past. But the past is not enough. Need to be proud now. After all, it is precisely from the feeling of belonging to something non-rowy, high that a person has high aspirations and self-esteem. Without this, it is possible to fight corruption and moral decay as much as you want - only there will be no result. A citizen who considers his country "third-rate" will behave like a "third-rate" person. He will not be ashamed, neither for meanness, nor for lying, nor for treason, nor for theft and embezzlement. Where does it come from, if "everything is with us ..."?
Do you think I moved from the naval news to loud phrases? Then read how the latest fleet development plans are commented: "It is unlikely that Russia will have squadrons on an ongoing basis in the ocean zone"; "Where to get the ships for the new 5 squadron?"; "Shoigu ordered to give ends. Our fleet is commanded to proceed to permanent combat service in the Mediterranean Sea ... "And then in the same vein with the unchanged conclusion that everything is fiction and nothing will come of it. For several years now we have been walking to the Horn of Africa, and for almost a year, how are we constantly in the Mediterranean Sea - what will come of it? At the click of your fingers to build a "great armada"? True - it will not work. Back thirty years ago? Even less likely. You can either build a fleet and study at sea, or rant about how awful everything is. To each his own.
One friend who remembers the Soviet Navy teachings (I, alas, remember very different times), argued with foaming at the mouth that all current teachings are fiction and a waste of time and material resources. I advised him to go to those who envy white envy — who are getting off the ramp ashore today and try to prove to them how insignificant their trip was ... with a high probability of serious harm to their health. Why is the probability high? Yes, because no one will trample his pride and his dignity, even if a trampler also has something to be proud of.
It is clear that now the capabilities of the fleet are far from fantastic dreams. It is clear that there are questions about the pace of fleet construction - what if it could be faster? It is clear that there are questions for combat training - all of a sudden, is it possible without wear and tear on the equipment resource, on any simulators? It is clear that I want everything at once. But the fleet is being built, and the crews are learning. And if we stop watering ourselves with mud, then the fleet will be far from being "third-rate", and crews worthy of the glory of their ancestors.
Our fleet has always been the glory and pride of Russia. And the new Russian fleet is being built, as always - by the ocean, and not by the coastal customs. We need it not only for security - even the Republic of Guinea has such a "safe fleet". It is needed, based on the fact that Russia is a world power. This has always been, and will remain so.
What, already weaned? It does not matter, it's time to get used and learn to be proud of your country.