AgustaWestland company Finmeccanica announced on March 5 of 2013 of the launch of the Project Zero helicopter technology demonstrator, making it possible to understand how such a machine might look like in the future. It was far from working on paper. The technology demonstrator was designed and built in less than 6 months and has already secretly completed several flight tests in the 2011 and 2012 years, demonstrating AgustaWestland's advanced rotary-wing technology.
The technology demonstrator with a rotary rotor is equipped with an all-electric drive, capable of taking off like a helicopter and making horizontal flight on an aircraft basis, thanks to its two built-in rotors turning more than 90 degrees. The demonstrator made its first wired unmanned flight in June 2011 of the year in the center of AgustaWestland in Cascina Costa in Italy, and since then radio-controlled flights have been conducted inside the safe zone.
AgustaWestland CEO Daniele Romiti (Daniele Romiti) said: "The Project Zero technology demonstrator program brings together many advanced technologies that AgustaWestland has been engaged in in recent years and demonstrates our strong technology base, on the basis of which we will develop of our customers. We firmly believe in the concept of a rotary rotor as the future of high-speed rotary-wing machines, as it provides a much greater speed and range than the trad helicopters. "
"This is a remarkable achievement by the AgustaWestland Advanced Concepts Group. A team of passionate and brilliant engineers worked very hard on a secure facility to understand, design, create and test this technology demonstrator in an exceptionally short period of time," said Dr. James Wang, Vice-President for Research and Technology at AgustaWestland. This team lives with dreams, and if they have any dreams, they can make it happen. The team does not just build airplanes or electric helicopters, it would be too easy They strained all their forces and built an electric tiltrotor with a double rotor, without a transmission or a swashplate. "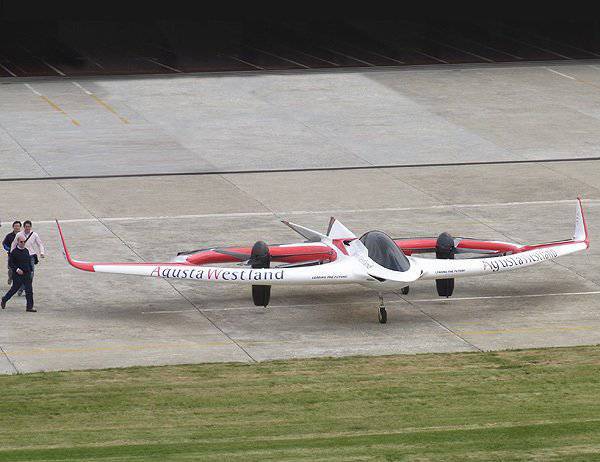 The rotors of the demonstrator are powered by advanced electric motors powered by batteries; future hybrid solutions were also explored using a diesel engine as a generator drive. All aircraft control systems, flight control and landing gear are equipped with electric actuators, eliminating the need for any hydraulic system.
The wings provide most of the lift during flight, the fuselage and fairing also contribute. Project Zero was designed with removable outer wings for tasks that require helicopter mode first. The elevons provide pitch and roll control in level flight, while a V-shaped tail provides longitudinal stability. In flight, the tiltrotor has very low noise levels and thermal visibility and does not require oxygen; this allows it to fly at high altitude or in highly polluted conditions, such as during volcanic eruptions. Being on the ground, the tiltrotor can deploy its rotors in the wind, so as to recharge the electrical devices of the device. Electric drive systems also have the advantage that they do not require a complex and heavy transmission system installed on conventional rotary-wing machines.
Currently, the Project Zero technology demonstrator program is fully funded from AgustaWestland's own funds as part of its ongoing research and development.