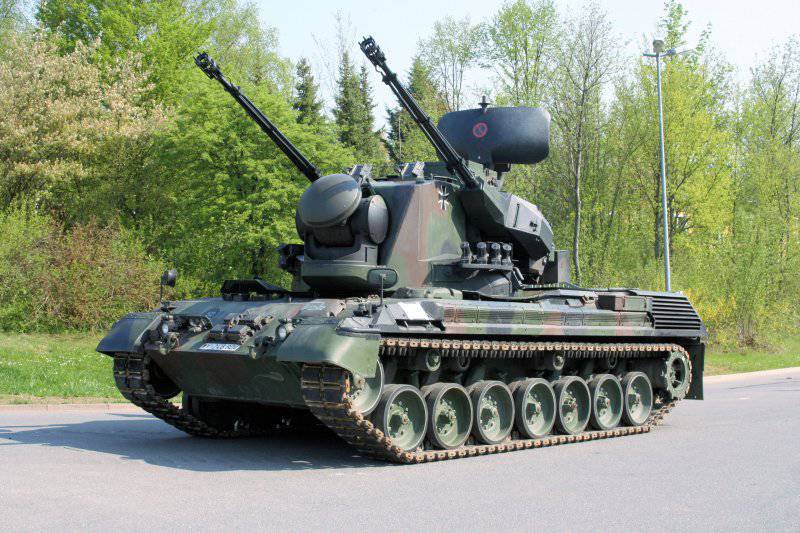 The General Staff of the Brazilian Armed Forces issued Order No. XXUMX-EME, approving a plan for the acquisition of 31-mm anti-aircraft self-propelled guns (ZSU) "Cheetah-35А1" from the German Armed Forces.
According to Altair, according to the order, 36 will be acquired three years ago, the ZSU produced by the German company Krauss-Maffei Wegmann will be acquired. As previously reported, they will be used to provide resistance to possible terrorist attacks from the air during the upcoming 2014 World Cup.
As TSAMTO previously reported, the German Defense Ministry proposed the 36 ZSU "Cheetah-1A" from the Bundeswehr in Brazil in the middle of the 2011 year. Later, several ZSU passed tests at the site in Brazil. The proposal also included the supply of spare parts, maintenance, personnel training, technology transfer through the KWM do Brazil unit formed in Santa Maria (in the south of the country). Three years ago, installations underwent limited upgrades in Germany.
In 2012, NE of Germany decided to abandon anti-aircraft artillery in favor of the air defense system in connection with a reduction in defense spending. However, the German government guaranteed support for weapons systems by the manufacturer until 2024. In December, the delegation of the Armed Forces of Brazil visited Germany on 2012 to assess the state of the proposed equipment and discuss the terms of delivery.
According to the order, the contract should be signed on March 22. The purchase price is estimated at 30 million euros. The package will also likely include hardware on the chassis.
tank
Leopard 1 and radar.
The first batch of Brazilian ZSU aircraft should be received before April 15 in order to ensure their readiness for use before the start of the FIFA Confederation Cup scheduled for the end of June, which will be the dress rehearsal for the 2014 World Cup.
According to experts, the purchase is beneficial for the Armed Forces of Brazil, since the ZSU has been modernized and in excellent technical condition. In addition, the installation was created on the same chassis as the previously purchased Brazilian MBT Leopard-1A5, which facilitates maintenance and reduces operating costs.