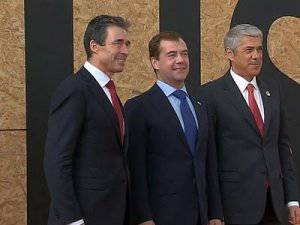 The People's Daily newspaper published an article entitled "Rapprochement between NATO and Russia is aimed at worsening Sino-Russian relations." In it, the leading Beijing edition analyzes the results of the Lisbon summit of the North Atlantic Alliance. According to the newspaper, "Russia and NATO, which in the past were" enemies, "are now becoming" partners. " Chinese analysts believe that this
historical
rapprochement has a certain underlying motto: "The West is improving relations with Russia, with the goal of worsening relations between Moscow and Beijing."
Russia and the West have understood and recognized that the rise of Beijing and the growth of its state power can no longer be contained. Moscow is acting cautiously in this situation and wants to maintain good relations with China. But the main goal of the Kremlin is not to lose the remnants of its influence and once again return to the 70 era. Then on the world stage dominated the triangle in the face of the United States, Russia and China.
The position of the United States, Chinese analysts see as: Washington is now moving the center of world strategy to East Asia. In this regard, the United States, improving relations with Russia, expects that in the future it will adhere to a neutral position with the inevitable disagreements between the Americans and the Chinese.
All this seriously scares the Chinese politicians. However, they, like Chinese political scientists, hope that "Russia and NATO have only temporarily found a common language." The Chinese are warning Moscow - "if in the future the United States sees that Russia threatens them, they will break all the written agreements that were reached in Lisbon."
Nevertheless, the Renmin Jibao newspaper believes that relations between our countries have an internal potential for development. The Chinese assume that they will not undergo great changes due to a change in the international situation. It remains to hope that the Kremlin also soberly evaluates the "sweet-voiced Western choir" and will be able to maintain the necessary balance in relations with both the East and the West.