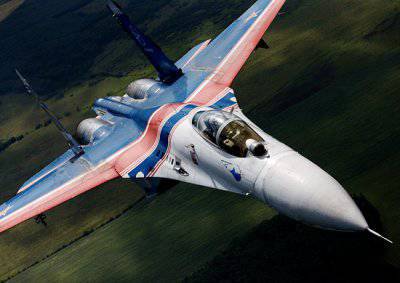 Aviation
aerobatics team "Russian Knights" (Kubinka, Moscow Region) of the State Center for the Training of Aviation Personnel and Military Tests will take part in the 12th International Exhibition of Aerospace and Naval Equipment "Lima-2013" ​​(Langkawi, Malaysia )
The five Su-27, led by the IL-76 leader aircraft, will fly over the route Kubinka - Novosibirsk - Irkutsk - Taiyuan (China) - Hanoi (Vietnam) - Langkawi (Malaysia).
The demonstration flights of Russian Knights will be held from 26 to 30 in March. Total scheduled 5 aviation shows.
In the sky over Langkavi, pilots of the aerobatic team, led by Guards Lieutenant Colonel Andrei Alekseev, will demonstrate individual, group and counter aerobatics. The program also includes two elements of group aerobatics: the simultaneous performance of the aerobatic "bell" by a pair of fighters and the turn of building a "rhombus" on the "full boost" engine mode.
The return of the aerobatic team to Russia is planned for April 2.
"Russian Knights" are regular participants of the world's largest air shows and air shows. They visited Finland, France, Germany, Sweden, Belgium, Italy, Malaysia, USA, Canada, Slovakia, Luxembourg, Austria, Holland, Norway, the Kingdom of Bahrain, China, India, where they demonstrated the highest flying skills and advanced achievements of Russian aircraft manufacturing .
To date, "Russian Knights" has been and remains the only aerobatic team in the world performing single and group aerobatics as part of 4, 6 and 9 combat aircraft on heavy Su-27 fighters and are the hallmark of the Russian Air Force.