Liberals live in a beautiful, but non-existent world. In it, superpowers struggle for the freedom of other nations, not for resources and not for hegemony. There are "human rights organizations" in it, which, by the call of the heart, and not by the "call" of the gosdepovskiy grant, are fighting for all good things against all bad things. In this world there is a market economy, where the invisible hand of the market puts everything in its place.
And most importantly - everyone in this world strives only for the good and the bright. All except Russia, of course.
Here in this world live liberals.
Only one problem - this world does not exist. The reality is completely different. But some who believe in liberal ideals do not want to notice the reality, because liberal views bring them income. They work liberals. The other part does not want to notice the reality, simply because it is easier. Because if you realize what the world really is, it can become scary.
But the reality is louder and louder at the door.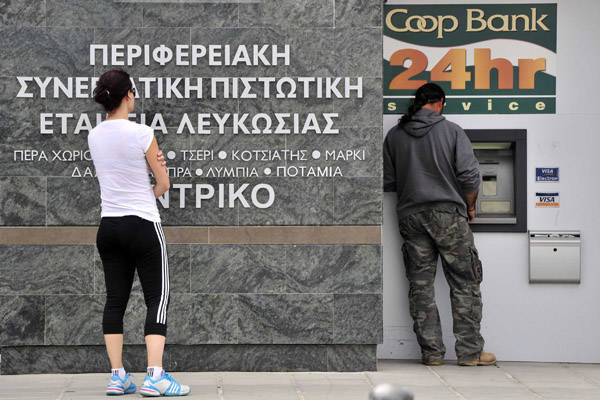 The inviolability of private property. Unshakable and secure assets and money. The inviolability of the so-called "human rights".
Here, in principle, the three whales of liberalism. We have always been told and shown that way. "There" is protected property. "There" are protected assets and money. There they respect the person and care about his rights. But in Russia ... (hereinafter you yourself know what the liberals say).
They said, forgetting to say just a little. Whenever necessary for those in power, all these "whales" will quickly go to the bottom.
When there is money - all smart. All for freedom and for various "values". And when there is no money? That's when fig leaves fly off to the side, and reality is knocking on the door.
Here and living beyond the means, the island of Cyprus can no longer preserve "propriety." And now the power elite of the "island of bad luck" is asking for help from the European Union. And what about the European Union? He offers help, but the conditions for this put forward a demand that, be it realized in Venezuela or Russia, would immediately become for the liberals proof of the "bloody and totalitarian regime".
Europe asks Cyprus to impose a tax. Everything is legal. It seems to be ...
"The tax - 6,75% on deposits up to 100 thousand euros and 9,9% on deposits above this amount - is one of the indispensable conditions for providing Cyprus with an emergency package of assistance from the EU and the IMF in the amount of 10 billion euros (13 billion dollars)."
That is, Europe has offered Cyprus to expropriate some bank depositors. Just pick up some of their money. Iniquity? What do you. These are civilized countries. The law will be developed, and your money will be taken away completely legally. That does not change the essence of what is happening.
Reality knocked on the door.
I have already written and repeatedly said that without their own country, without their own army, a strong and strong sovereign state, all Russian rich people cannot be sure about their capital.
It will be necessary and all will be taken away. Not a "bloody regime" - but the democratic authorities of the West.
Ordinary residents of Russia who do not have "assets" abroad have long understood that they have only one homeland. It is time to open your eyes to reality and those who have capital. And they have one homeland.
There can be no Motherland where your money lies, Homeland where the graves of your ancestors are.
The Cypriot authorities are backing down - too much shock from such a "purely democratic" withdrawal of funds that even Ostap Bender would envy. But for us the final result of the struggle with the debts of the "island of bad luck" is absolutely not important.
Another thing is important to us. Understanding the defenselessness of any citizen of our country, regardless of its material well-being, if the country is weak. Or it will not be at all.
This is a lesson for all of today's elite. Either you will become sovereign and you will understand that the Russian army and navy is your best insurance against all troubles, or you will simply be devoured. Money will not help you, because your money will remain yours exactly as much as they want in London or Washington.
PS We would like to thank the Cypriot government for its contribution to the patriotic education of the Russian elite.
PPS Only the "consciously blind" does not see that Russia is becoming stronger every day, and our geopolitical "friends" are weakening in the same proportion. Time works for us. The main thing is to solve the problem of demography.