From the translator:
Dear readers! The article was written and published before the US elections. After Barack Obama's re-election to the presidency, she, it seems to me, not only did not lose relevance, but, I would say, began to play with new colors. I translated it because I want you to also appreciate and enjoy the bright appearance, cleanliness of thoughts and the highest moral principles of HONEST RUSSIAN (yes - yes, that's what they call themselves) immigrants. What kind of people lost Russia !!! And what fiery, selflessly devoted patriots acquired by America !!! May God always give her such happiness !!!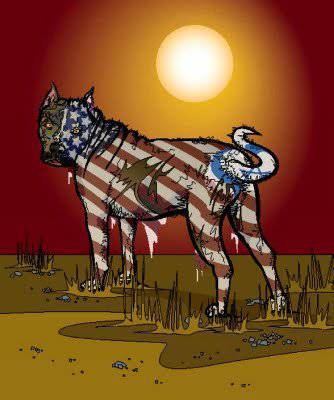 I talked to many people - the same emigrants from Russia as I was interested in - what they think about the current situation in our new homeland. Over my 32 of the year here, I have never seen such political turmoil in the country, and now warmed up by the upcoming elections and a deep economic recession. Every day I hear about someone who was fired after many, many years of service. Today I see more hatred and hostility towards the current president than I have ever seen before, including the days of the very unpopular President Carter, and the notorious Clinton scandal, which actually was more fun than real political problem.
Now even friends and family members are much more aggressive, often just ready to cling to each other's throats. People really fear for their future and the future of their children. This is not a mockery of tactlessness or the speech blunders of the idiots from the White House, and not a joke about the dress that has been stained with sperm. This is hate, and it goes from the head.
I do not want to repeat here the things that I hear every day, I do not want to repeat for fear of being immediately accused of being "not aware of" or that I became a victim of "rumors", but as they say, there is no smoke without fire . The president should not even be remotely associated with talk of hatred of America, of a burnt flag, or, even worse, raise doubts among citizens regarding the place of birth or be associated with such terrible characters as Louis Farrakhan, William Ayers and Rev. Wright.
Sex? Sex is another matter. Sex is great. We, in America, love sex. Kennedy was still that walker, and look: he is a national symbol.
But I was distracted. When I came to America in the 1979 year, it was a completely different country, Russia then was also unlike today's. Russia, or more precisely, the Soviet Union, was a state made up of fifteen republics, united by force, the mentality of a huge population was deformed by years of socialist propaganda, fear, poverty and corruption. Three hundred thousand Jews fled from there, from secret and overt anti-Semitism, to start a new life somewhere else. America generously opened its doors for us, as it has always done for people of all races and nationalities since the very first days of its existence, because the first Americans themselves were guests here.
In America, the novelty for us was literally everything — from the abundance of food and the availability of toilet paper (we never had toilet paper in Russia then; we used to use newspapers) to American work ethic. We saw that the Americans had to work much harder than the average Russian. That was a real bummer, and the Americans had to work hard for this! Employees had to come to work on time; some people had only 30 minutes for a lunch break, and a vacation was one week, two or more weeks of paid vacation could be obtained only after several years of work. In Russia, the month of vacation it was the standard! Hour allotted for lunch (called lunchtime), people spent in stores, standing in long lines to buy the most necessary things that were always in short supply in a socialist society - shoes, food, clothes. It was a world completely different from America with its huge abundance of goods, where there was a completely opposite problem: how to sell a product - how to create demand for goods.
Most Americans know very little or nothing about real Russia. They have very specific ideas about her - her magnificent ballet, severe frosts and Russians who drink vodka always and on any occasion.
How did we live under the so-called "developed socialism?" Why work harder and harder if your income and level of your life were largely predetermined for many years to come? An ordinary employee — secretary, engineer, teacher — received approximately 120 rubles a month. You may ask - how much will it be in dollars? But then no one thought in dollars, and, according to the law, the possession of foreign currency was strictly punishable. One can only say that this was barely enough to have some modest food on the table, nothing more. At the same time, a pair of winter boots cost 80 rubles, and a pair of American Wrangler jeans - the same 120 rubles. The cost of the Soviet car - buckets with nuts, was approximately 3 000 rubles. Do it yourself. It was possible to save money all my life and still do not have enough money to buy it.
Under the watchful eye of the KGB, the majority of the population lived quite poorly. Living honestly meant to condemn yourself to this 120-ruble (small plus or minus) existence for the rest of your life. So why bother, kill yourself with work? Under socialism, all people are equal! That's the thing.
Health care in the Soviet Union was public. Doctors received the same scanty money as other employees, but they worked really hard. Most of the medical professions moved into this noble profession with high ideals of helping people, saving their lives (the "ideals" were really high in Russia, socialism is very good in the art of brainwashing people), but they ended up working literally in slavery, in terrible conditions, for pennies .... If they didn't take bribes, especially surgeons and dentists. Nobody wanted to have scissors in their stomachs, left during the operation, or drill or extract a tooth without Novocain.
I would like to stress again and again, because it is very important. In a society where everyone is equal, a bribe becomes the only way to get something special, special — individual service, service, favor, or even just make others treat you like an important person, providing, for example, the best table in a restaurant. Are you sick? Die in the common room, lie in a puddle of urine, or pay the nurse only to change your bedclothes.
The Soviet Union was a very poor country with a very proud people, who lived under "developed socialism", officially "built a bright communist future", with a military machine, equal, if not better than in the USA, with a finger always on the red button, a country that asserted that everything in it is wonderful, while people did not have money, and the bosses in the Russian White House (oh no, in the Kremlin) lived like kings. I repeat: the average salary was 120 rubles per month, and it was guaranteed. On the payday the workers received their guaranteed earnings. They deducted very little of it, in some jobs nothing at all, in larger organizations they took very little money for contributions to the union, could collect money for someone's funeral or a wedding gift, but that was all. Thus, if the worker did not spend money on vodka before returning home, then he would bring all his salary home, to his wife and children.
An unpleasant discovery awaited us, the emigrants who arrived in America!
I remember very well how I received my first salary. This was my first job - in the medical office in Manhattan. I worked as a clerk in a large Jewish charitable organization, feeling my almost zero English at every step. Ironically, my salary at that time was 120 dollars per week, which of course was astronomically more than 120 Russian rubles, and, at the same time, the lowest wage here. However, I had a job and I was very proud of myself. It was 1979 year.
I mentally recalculated my first paycheck, planning on spending this huge, and at the same time, paltry money, sufficient only to pay rent for my small apartment, which I shared with another person. Before, I never paid for utilities or telephone. I dreamed of buying a sofa because I slept on a mattress that I pulled out of the trash can. I would like more curtains on the windows. Oh, and the heat! Quiet horror - New York in August! I never suspected that the heat could stop so ..., the air conditioner was just a pipe dream. I had a fan, which I also found on the trash bin, but it helped very little, just kneaded moist, hellishly hot air. Sometimes it was so stuffy and hot that I slept in the bath. I remembered ...
But I was distracted. What happened to my 120 $? I received a check for 83.79 $. But why? In tears, I ran to Lillian, my manager, a gray-haired, stately woman who calmly and patiently explained to me about taxes. Uncle Sam, a skinny dude in a top hat, who was drawn caricatures in Soviet Russia ... he wanted to get his share.
I was crushed. I did not understand this. I thought about it when I drove home on the subway and looked at the homeless and all the tramps that I later realized live off my taxes while I get up in the morning 5 and go 16 blocks to the subway to get to work . We work, and they are lying on benches and sleep ... at our expense. And we pay our taxes on this?
Most of us, Russian immigrants, have already lived under "victorious socialism," where you do not need to work hard, because there is nothing for which it would be worth working and earning. You have no incentive to do anything. This is a system that equalizes everything and everyone. This is socialism.
The problem is that it is a lie. And there, and here, and everywhere. Some go up to the corpses and get the best piece of cake, like many politicians here, who (think about it), just do absolutely nothing, but somehow get arranged that even after they leave the office, they lead a luxurious lifestyle, get money, great benefits and in general - anything. Yes - yes, something is very wrong in this picture.
I face this problem all the time ... when my taxes are used to feed robbers, when my daughter (a girl with disabilities) cannot get basic services, and drug addicts get it, because the liberals call them "sick" ... and some were not even born here!
I have been to several offices where food stamps are issued, and I have never seen a single white person, a single person in a wheelchair, not a single person older than 30; why, on 11 in the morning, they were not at work, but received food stamps? Some of them looked inhibited, as if they had just taken a dose. You paid for it - liberals. Keep paying until finally you get what you are doing. Or better yet, go buy a potion for yourself. Catch the buzz. I heard that this is great ... and on any one is better than giving such pleasure to someone else, haha.
After going with my daughter fire, water, bureaucratic battles and slingshots of the system (my elbows became like steel from this work), I still absolutely can not understand how it works. It is becoming more and more bureaucratic, the number of required papers is growing constantly. Who invents all that shit? Who complicates simple things to madness? I just watched a video about new programs created exclusively for ObamaCare ... a huge pile of pieces of paper - a list of new state institutions, exceeding by volume the famous "aria list" in "Don Juan" by Mozart, when a faithful servant lists his names to Don Juan sweethearts. But that doesn't seem funny to me. Is this the embodiment of Obama's idea of ​​"creating new jobs"?
I remember one remarkable episode.
October 1979 of the year, my first year here and the election year, I then worked in the same medical office, and I was terribly interested in who people would vote for. Naive and graceful like an elephant in a china shop, I pestered people for a long time with this question, until all the same Lillian I mentioned above invited me to my office and said it very primly (I already have a cold skin) - "Young lady. Let me tell you two things. First: never ask people how they vote - this is a personal, private question, and none of your business. [This was new to me - the very notion of "none of your business", in my understanding, your business is our common cause. In any case, this is true when everyone lives with his entire family in a tiny apartment in a standard panel house. But this is another
история
. ] Second: we are Jews. Jews traditionally vote for Democrats, always. "
On this she put the point. I was stunned, and later I stuck to another manager in our office, who was very smart and probably gay. I always asked him about everything. He told me about the past of American Jewry - about trade unions, traditions, etc. I mentally traced connections with the Russian revolutionaries and idealists, of whom almost 80% were Jews. Jews made a revolution. And of course, as soon as socialism collapsed, the Russians immediately accused the Jews of destroying their beloved Russia. As usual, if something happened - blame the Jews!
Now everything became clear to me. Plus this very Jewish love of tradition. During my life in America, I have many times encountered the importance of tradition in everything, including "party affiliation", it is especially important now that I continue to meet many very intelligent Jews who simply refuse to see, hear, accept the obvious facts. This is not only sad, but scares me! How important is the Jewish "tradition" of being a democrat, that they must remain blind and deaf to obvious lies coming from the White House? Tradition! As it was said loudly and clearly from the stage in our beloved Fiddler on the Roof, this is what has fastened our people for many millennia of the diaspora, systematic persecution, and finally, Holocaust (another name for the Holocaust, translator's note, perevodika. ru).
Traditions are wonderful ... where they come from and what they belong to, that is, at home and in synagogues. But not in the voting booth. My dear blood brothers, no one encroaches on our right to blow into the shofar (Jewish ritual musical instrument, translator's note, perevodika.ru), build a sukkah (covered by green branches temporary dwelling in which, according to the biblical prescription, Jews are obliged to spend the holiday Sukkot , translator's note, perevodika.ru, turn the dreidl (the top with which, according to tradition, children play during the Jewish holiday of Hanukkah, the translator's note, perevodika.ru), eat stuffed fish, or whatever it is. Not yet. But, if we continue to follow this particular tradition and remain blind to what is happening, then instead of living under "Stars and Stripes" and under the Star of David, we will all live under a crescent. But not for very long, because these guys only want to see us dead.
Let's go back to my 120 dollar check. Thus, now Obama wants to feed more drug addicts and illegal immigrants at the expense of honest laborers. Plus, this disgusting idea of ​​"redistributing wealth", which I have already written about, is pure socialism, which, like an insolvent idea, was rejected even by Russians. Hello ... come ... did he not hear that it doesn't work? Harvard and Columbia don't teach history? Or did he miss those classes?
Even I know that most of the money is earned by Americans through hard work, prudent endeavors and good business practices. These opportunities are open to all. Isn't that why America is called the land of opportunity? Mr. Obama himself is a very good example of this! He is well managed for a dark-skinned guy - he constantly plays a racial card, which I consider absolutely disgusting ... and, by the way, I didn't notice that he was "spreading" his personal capital. And you? Did he set up an orphanage or animal shelter, sponsor any facilities for the disabled? Medical charities? Did he personally help the victims of the tsunami? Perhaps I missed these aspects of his noble life. Correct me if I'm wrong, but I still would like to know about the modest lifestyle that he proposes to extend to us all. I heard that he earned many millions by selling his touching book ... why not share some of this wealth with unprivileged citizens, since he is so ready to give them money earned by other people?
The average ordinary Russian of my generation is an honest immigrant who came here with empty pockets, hoping to find freedom and start a new life after many years of nightmare. The so-called "new Russians" who came here in the 90s are crooks, drug dealers, vile greedy adventurers, rogues of all stripes, with money made unknown on what. These are other people from another Russia. Those I am talking about are people who came here before perestroika and the collapse of the Soviet Union, those who had very good reasons to emigrate - fear for their lives.
They - or rather, we are very grateful to America, and most of us are true American patriots.
We know what socialism is, we came face to face with it.
We do not want to live in it again.
We do not want the destruction of this country.
We don't want him here because we have nowhere else to run.
Respectfully,
Alla, an American patriot.