Once upon a time, huge flying lizards — pterosaurs — lived on planet Earth. They could swoop down on their prey the size of a car, grab it with powerful claws and then finish off appetizing it. Nowadays, thanks to researchers from the University of Pennsylvania laboratory, we will again see those times when invisible sky hunters can easily grab a person on the street.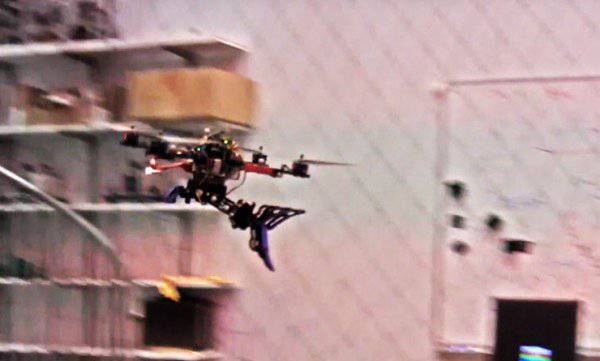 The development team has succeeded in creating a flying quadcopter that is capable of grabbing onto an object with a single, three-fingered 3D printed claw. Source of inspiration to create
drone
-birds served as real flying predators - bald eagles. The quadcopter imitates the actions of an eagle when it hunts for fish, snatching them out of the water, and this process occurs very quickly. To the credit of its creators, the drone also has an impressive speed of movement - about 2-3 meters per second.
What is the plan to use such devices? An optimistic view suggests the use of a drone in emergency situations to save people or some valuable items. However, it is likely that this clawed robot will be used in military operations — for example, to rescue hostages or capture criminals if they are hiding in difficult terrain — for example, in the mountains, in the forest, etc. Apparently, such an "arrest" would look very impressive. This can be like the eerie scene from the 4 Terminator, when the giant robot "Reaper" grabs people with its claw.
With the massive spread of quadrocopters and unmanned drones, more and more new types of them appear. We already have small HD streaming spy camera quadcopters flying
Robots
spiders that will go anywhere, a dragonfly robot and other "insects", not to mention hordes of entertaining flying robots for various shows. Now you can add a predatory drone to this series, imitating the hunting of birds of prey.
Video from the developers will help to better understand our future. Just in the place of the object, which is tightly enough drone, imagine a person.