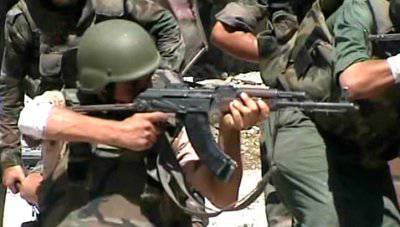 At the EU summit, an unplanned discussion on supply began.
weapons
to Syria. This was reported by a diplomatic source on the sidelines of the summit. This topic was not on the agenda of this summit. Today it was supposed only to hold an exchange of views on relations with Russia, and without accepting formal statements, ITAR-TASS.
In the meantime, the leaders of France and the United Kingdom stated unambiguously yesterday that they intend to seek the speediest possible lifting of the European embargo at the summit. Moreover, according to their logic, this topic is directly connected with Russia, because, as French President Francois Hollande said yesterday, "weapons are already being delivered to Syria, but they" are supplied, in particular, by Russia and only to the regime of Bashar al-Assad.
As a result, despite the unpreparedness of this topic, the negotiations at the summit slipped into the situation in Syria. Germany and Sweden are against the lifting of the embargo, but German Chancellor Angela Merkel has already said that Germany "will carefully consider the position of France."
The uncompromising statements of the French president on this issue upon arrival in Brussels caused even some surprise by observers. Hollande said that France is ready to unilaterally supply weapons to the armed forces of the Syrian opposition, but does not lose hope "to convince EU partners of the expediency of this step."
"We expect to convince the EU countries (to lift the arms embargo on the rebels in the SAR) in May. If one or two countries block this decision, France is ready to act alone and fulfill its duty to the people of Syria, which is destroyed by the Bashar Assad regime," Hollande "We are already helping the Syrian people, but so far non-military," he added.
However, indirectly, Hollande himself explained his position with the phrase: "I was the first head of state who officially recognized the Syrian opposition, and now we must give her the means to get Asad to leave." Given the unprecedentedly low rating of Hollande - about 30 percent. according to the results of the first ten months of the presidency - the loss of face is unacceptable for him if the opposition recognized by him is defeated in Syria.
In February, the EU Council already decided to soften the European embargo, allowing it to supply "non-lethal military equipment and equipment" to Syria. The ban on the supply of weapons and ammunition extended to 1 June. In this regard, the United Kingdom announced earlier the beginning of the supply of rebels armored jeeps, not equipped with weapons systems, body armor and communications equipment.