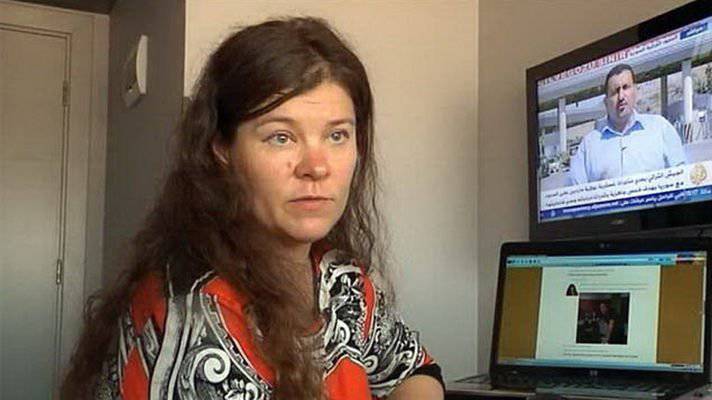 5 for many months the journalist Ankhar Kochneva held captive Syrian gangsters - those who know how to fight only with unarmed women or defenseless children. Who kidnaps people on the roads, dressing up in the form of the Syrian army, and then demanding money, and also calls it all the loud word "revolution".
Ankhar Kochneva was abducted in early October last year. We traveled with her to the city of Tartus. It so happened that then our paths diverged - I went to Damascus, and she went to Homs. For two days. But it didn't work out the way she wanted, and it turned out - not for two days, but for 5 months ...
During this time, the kidnappers repeatedly changed their demands - at first they wanted to exchange Ankhar for militants, then they demanded to remove a report about them, but in the end it all came down to their insane thirst for money. It is clear that for no good this money would not have gone - at best, they would have settled in the pockets of these villains - "fighters" with women and their masters, at worst - they would have bought them
weapons
, in order to kill again, threaten, kidnap ... Apparently, Qatar already gives little money for a pseudo-revolution, which failed with a deafening crash. Even for the oil monarchs, it is already obvious that the complete rout of the terrorist gangs is not far off.
Many human rights organizations, in particular Reporters Without Borders, spoke out in defense of Ankhar. But do gangsters listen to at least some human rights activists? Even those who in the process protect them? This is the global "human rights protection" - with one hand it protects the victims of the bandits, and with the other - the criminals themselves.
It's hard to say how this would end
история
, a ransom would be paid or the kidnappers would make any more demands. Many even assumed the worst ... Personally, I never believed in the worst. I almost knew that sooner or later Ankhar would return. But ... Rumors went different.
And now - joyful
news
. Ankhar frustrated militant plans. She managed almost impossible - to escape from captivity.
Hearing about her release, I called her. The voice was cheerful and confident - the long months of imprisonment did not break her. She said she was walking 15 kilometers through enemy territory, and she was lucky - she went to the village where the bandits hate. She was helped. She is currently safe.
I did not ask for long details. I think in the future they will. After all that has been experienced, you need to rest and gain strength.
But one thing is already clear: the brave journalist is not going to give up her activities. She intends to continue to defend the truth in the information field, exposing the anti-Syrian plot and its perpetrators and organizers. Even after everything experienced, after the daily threat of death, after being kept in a cold room and starvation ...
And while such people are spiritually fighting on our side — the United States and NATO, with all their military and propaganda machinery, with all their might and material wealth, with all the sophisticated intrigues and insidious designs — they can never win a final victory. Their victories can only be local and temporary. There will always be People who challenge them. And Ankhar Kochneva - one of those who are able to fight with their propaganda machine.
But in this story, the beloved of the West "rebels" revealed themselves in all "beauty" - they are just ordinary gangsters, without conscience and belief. And the sufferings of the captive journalist, who miraculously escaped death, clearly prove this. I think she has something to tell about their crimes. And she will tell. And he will be a personal witness against customers of pseudo-revolutions, against those who want to put another Middle Eastern country on their knees. He wants, but can not. Because they could not win even one woman, faithful to convictions. Where can they defeat Syria?