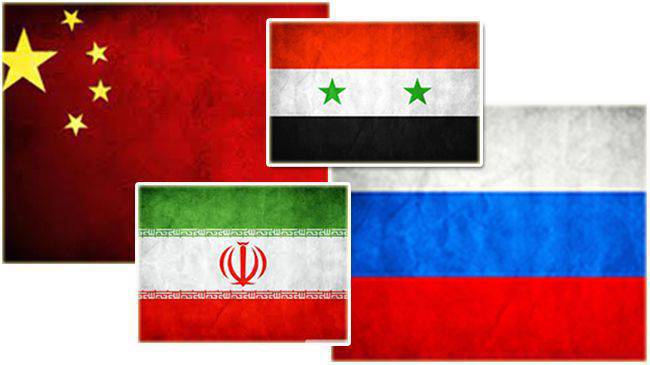 Is Russia blind to defending the allies of Syria and Iran and, ultimately, its own long-term interests?
It seems that Russian leaders are bewildered by the conflict raging in Syria, feeling rightly, on the one hand, that the Western powers and their Turkish and Arab deputies are waging a war of low intensity for the sake of regime change. On the other hand, Moscow strangely looks apathetic or indifferent with regard to the criminal geopolitical plans of the West.
The same is true for Iran, where Russia (and China) continues to participate in the insolvent process of isolating the Islamic Republic through the fake negotiations of the 5 + 1 countries about its sovereign nuclear rights.
But first, let's talk about Syria. Look at this statement by Russian Foreign Minister Sergei Lavrov after a massacre with a huge bomb last month that destroyed 53 lives, including women and children, next to the Russian embassy in the Syrian capital Damascus.
February 22 Reuters reported that Lavrov was "disappointed" by the American "double standards" that this massacre was not condemned. Regarding the absence of condemnation from Washington, the most senior Russian diplomat commented: "And we see this as a very dangerous tendency on the part of our American colleagues to move away from the fundamental principle of unconditional condemnation of any terrorist act, the principle that ensures the unity of the international community in the fight against terrorism."
Wait a minute. What is this talk about "American colleagues" and "the unity of the international community in the fight against terrorism"? This brutality in Damascus was without a doubt the work of Western-backed terrorists who are funded, armed, and sent by Western military intelligence to destroy the government of President Bashar Al-Assad.
This kind of mass murder of people indiscriminately has become the standard method of action for the army of Western intermediaries to implement the long-standing plans of the West to change the regime in Syria.
Despite the cynical statements of Washington, London, Paris and Berlin about the supply of "only non-lethal" military equipment to Syrian militants, Russia is well aware that these Western governments are armed to the teeth with a network of murderers and are engaged in logistics and supply them with intelligence to help terror against civilians. Earlier, Russia itself emphasized and condemned the supply of armed groups with American anti-aircraft missiles.
So let's get rid of the illusions about "colleagues fighting international terrorism." These so-called "colleagues" are contributing to terrorism through worn-out western channels, al-Qaida and other Saudi-supported extremist mercenaries.
Russia (and China) should be aware of the big picture at the moment. The performance of the "war on terror" after 11 / 09 has nothing to do with the "international fight against terrorism," but it has much in common with the distinction between the Western capitalist powers under the leadership of America and the new global spheres of influence. Iraq, Afghanistan, Libya, Somalia, Syria, Mali are all part of Washington's uninterrupted strategic plan to dominate the "full spectrum" in resource-rich regions.
The expansion of NATO bases on the territory of the former Soviet republics, the offensive of missile systems on the borders of Russia and the threatening military environment of China are also part of this driving force, in which perceived geopolitical rivals must be undermined, surrounded and subdued. The Western pseudo- "war against terrorism" or "the responsibility to protect" that have spread to Asia and Africa are as much associated with the seizure of the resources of these continents as with the trampling of the economic interests of Russia and China.
Syria provides Russia's only naval base in Tartus, giving access to the strategically important Mediterranean and oil-rich Middle East. It is clear that the Western powers want to squeeze out Russia from there, eliminating the Assad government in Damascus and setting up a puppet pro-Western regime.
Nonetheless, instead of condemning Washington and its allies for criminal aggression, Moscow seems to be under the illusion that the United States and other criminals of NATO can be reasoned. For example, last week, Sergei Lavrov met with the new US Secretary of State John Kerry in Berlin, while President Vladimir Putin gave a reception to his French counterpart Francois Hollande in Moscow for talks on Syria.
But instead of indulging in political tricks, Russia and China should use their overall undoubted influence on the world stage to expose and condemn Western governments for their crimes against humanity and international peace in Syria and elsewhere. Moreover, Moscow and Beijing should provide direct military assistance to Damascus, without any excuse.
It is obvious that the criminal Western powers understand only one language - the language of force, and not diplomatic rhetoric. If the Western regimes can be so shameless that they arm and support terrorists who are blowing up tons of vehicles in 1,5 with explosives in the center of Damascus, aiming at Russian state interests, then Moscow needs to be just as shameless in its response to Syria.
On the issue of Iran, Russia and China also need to urgently pull up their game and return to reality. For more than a decade, Iran has been threatened with war and has been beaten with illegal sanctions, all in connection with completely false statements by Western states that Iran has secretly used its nuclear program for military purposes.
This false accusation of the West as a pretext for criminal aggression against Iran is constantly repeated, like a broken record.
US Secretary of State John Kerry said about the recent negotiations of the countries "5 + 1" in Kazakhstan at the end of last month: "Iran knows what he needs to do, the president clearly expressed his determination to implement his strategy, which is that Iran will not get nuclear
weapon
".
Kerry is either poorly informed or, more likely, cynically spins the propaganda wheel of fortune. The US National Intelligence estimate, many of their spy services, and their Israeli deputies do not even pretend to believe in this tale of Iran as a nuclear threat. Russia should also know this. It has been closely associated with the development of the Iranian civilian nuclear industry in Bushehr over the past 16 years.
So why do Russia and China continue to give this parody of international relations and sovereign rights further legitimacy by participating in altercations within the framework of "5 + 1"? This self-proclaimed group includes the United States, Britain, France, Germany, Russia and China. Who are these nuclear-armed powers to dictate to others, especially given
history
Western subjects with their genocidal wars and international arbitrariness?
This clique could not continue to regale everyone with their fictions about Iran's nuclear intentions if Russia and China had just left the group - which is what they should do.
Both Moscow and Beijing express their support for Iran with regard to its right to develop a civilian nuclear program. Therefore, these powers should make sure that their words do not disagree with the case, and insist on Iran's inalienable right, and not to ensure the legitimacy of the smoke screen that hides the strangulation of Iran.
Iran and Syria are part of the same imperialist driving forces of the Western capitalist powers that wage wars all over the world for their own selfish and criminal interests. In the future, Russia and China are the targets of these driving forces. At least for the sake of their own self-defense, Moscow and Beijing should conduct a clearer analysis of the geopolitical context and see that the Western powers are aggressive opponents.
Syria's military defense and insistence on ending illegal sanctions against Iran will be the beginning of more realistic thinking and policies that could restore the appearance of law and order in the world.
Russia and China bear a great responsibility for world peace. They need to begin to act immediately in this direction, forming a realistic defensive alliance with Syria and Iran.
Why talk to the arsonists when the house is on fire?
Finian Cunningham, originally from Belfast, Ireland, was born in 1963. He is a renowned expert in international affairs. The author and commentator was expelled from Bahrain in June 2011 for his critical journalistic work, in which he highlighted human rights violations by a Western-backed regime. He received his Master's degree in Agrochemistry and was a Science Editor at the Royal Society of Chemistry in Cambridge, England, before taking up journalism. He is also a musician and songwriter. For many years he worked as an editor and author at leading news publications including The Mirror, Irish Times and Independent. He now lives in East Africa, where he is writing a book about Bahrain and the Arab Spring. He is one of the presenters of the weekly current affairs program, "Sunday at 3:XNUMX" on Radio Bandung.