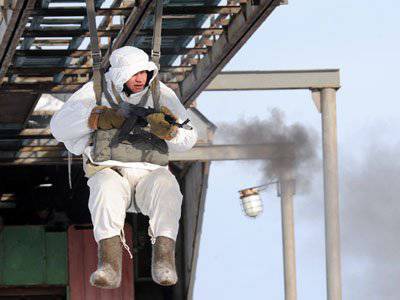 Over 250 Marines and a separate motorized rifle brigade of the North
fleet
(SF) completed a set of ground training during the camp camp on airborne training.
All personnel received access to a single parachute jump from Mi-8MTV helicopters from a height of 900. Each soldier will make a minimum of an 2 jump. About 40% of the personnel who took part in the training camp were called up in the fall of 2012. They will have to perform skydiving for the first time.
Parachute jumping is traditionally preceded by a serious ground training. With the beginning of the winter training period, the young recruitment began to study the characteristics, design and order of installation of the parachute. At the training camp, personnel continued to improve their skills.
On the eve of the universal parachute simulator, the marines and motorized infantrymen in practice carried out the elements of the exit from the helicopter (aircraft) and the landing. When practicing jumps, servicemen fired from small
weapons
during the flight phase.
The reconnaissance units of the motorized rifle brigade and the airborne assault detachments of the naval infantry of the Northern Fleet after the landing will conduct training in the defense of the landing area, as well as in capturing and holding the fortified enemy firing point.