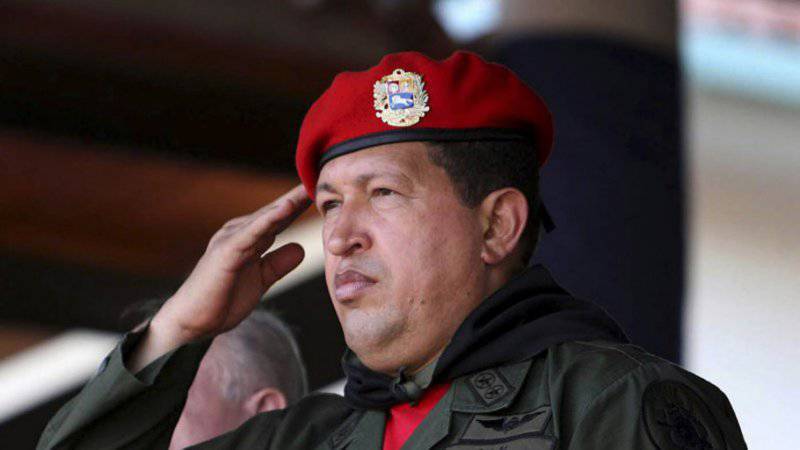 Venezuelan President Hugo Chavez died. He was 58 years old. The death was announced by Vice President Nicolas Maduro. Near the building of the military hospital of Caracas, in which the Venezuelan leader was treated the last two weeks before the death of the country, the flag is lowered.
Last lifetime and now
historical
Personnel: December 10, 2012, the President of Venezuela flies to Cuba. Hugo Chavez in a tracksuit, smiles, claps on the shoulder of the guardsman, firmly and characteristically Hispanic, clenching his hand in a mighty fist, says: "We will win" and "Long live Venezuela".
Venezuelans believed that the attack - an aggressive cancer - again gave way to Hugo's inner strength, as they believed last summer, when, after three operations, he declared that for the sake of his people death had conquered. In the fall, Chavez confidently won the presidential election again.
Hugo Raphael Chavez Frias could become a priest - such was the will of his parents, poor rural teachers. But one day the boy had a fight with the holy father and was expelled from the church. He could be a baseball player - Chavez dreamed about it himself. Already being the president of the country, he began every weekly newspaper column with baseball. Nevertheless, as a young man, Hugo decided that his military uniform was much more to his face. Red takes a paratrooper, as well as a fist raised above his head until the last days were an essential attribute of the unique image of Hugo Chávez.
Hugo Chávez's main dream can hardly come true. Being devoted to the cause of Simon Bolivar, who brought Venezuela freedom from Spanish colonists, he preached Bolivarianism - the idea of ​​uniting Latin America into one country. But nowadays it is this idealist and romantic who broke off not only Venezuela, but also a good part of the continent from what seemed to be the eternal protectorate of the United States. American preacher Pat Robertson called: "We must kill Hugo Chávez. It's cheaper than starting a war. He's a dangerous enemy."
He was used to be called an implacable fighter against the United States, but in reality he simply responded to the imperial attacks with dignity and criticized those who meekly complied with the directives of the State Department. So he talked about US President George W. Bush from the rostrum of the UN General Assembly: "The devil was here, yesterday he stood on that very spot. It still smells of sulfur here. The US president is a devil in the flesh. He teaches us to live, speaks with us as the lord of the world. He needs a psychiatrist. He wants world domination and teaches us how to behave. This is more serious than the films of Hitchcock. I came up with the title - "Devil's Cookbook."
Like many in Latin America, he began his ascent with a coup: February 4 1992, Lieutenant Colonel Chavez, with a thousand soldiers, tried to seize power, but failed. He will return to politics without
weapons
after two years in prison and in 1998, he will win his first presidential election, promising Venezuela at the time a radical change.
In 2002, they nearly overthrew him. Dissatisfied with the nationalization of oil enterprises, incited by US liberals kidnapped Chavez and occupied the presidential palace of Miraflores. But only for two days. Slum dwellers revolted against the authorities, those whose life the ousted president was trying to change with the help of oil revenues redirected to the Venezuelan coffers.
Before Chavez, half of Venezuelans lived below the poverty line, now too many - 30 percent. But there are times when newspapers wrote about how to eat dog food, and there was such a thing a long time ago. In the slums blown by the breezes, cableways were built, kindergartens and schools appeared there. Recently, the UN recognized that illiteracy in the country is eliminated, in every village there is a mercal - a shop with fixed prices and a doctor, most often, Cuban. 30 thousands of doctors in Venezuela sent the best friends of Hugo Chávez - brothers Fidel and Raul Castro.
Hugo Chavez was flattered by the nickname "Red Rebel". He could talk endlessly about the future of Venezuela, and once he led his own television show "Hello, President" for eight hours and six minutes without a break, distracted only to take a sip of coffee. And he drank coffee on 17 mugs a day.
There are legends about the curiosity of Chávez. He scrupulously studied how Belarusian tractors work, how Russian military airplanes and helicopters are arranged, he was detained for a long time on construction sites in Caracas, where engineers from Moscow are building whole blocks for Venezuelans.
Hugo Chavez is an atypical politician. He openly admitted mistakes, sincerely repented before the people, if something did not work, wrote poetry, drew perfectly. The gene responsible for fear, he was completely absent.
Even the monarchs could not stand his critics. So, in 2007, the king of Spain, Juan Carlos, flared up at the Ibero-American meeting. "Why don't you shut up," he said irritably, turning on you, he shouted to Hugo Chávez. The Venezuelan president just grinned at this.
The disease caught up with the Red Rebel a year and a half ago, and since then, American newspapers have written dozens of times that Hugo Chavez is dead. But after each operation in Cuba, he returned to Miraflores and even from the hospital ward went on the air.
The last operation lasted six hours and was unsuccessful - a deadly infection got into the lungs. The heart of the Venezuelan leader has stopped. He seemed to have a premonition of death: he managed to appoint a successor. Chavez always hoped that the Bolivarian revolution would survive him.