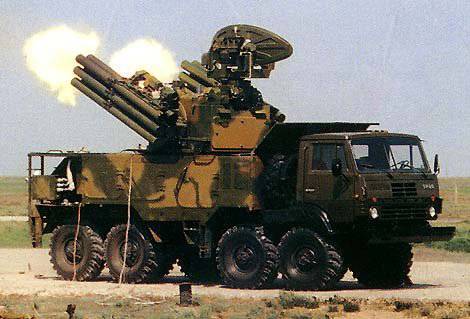 Pantsir-S1 (GRAU index - 96K6) is a Russian ground-based self-propelled anti-aircraft missile-gun complex (ZRPK), developed by the Tula Instrument Design Bureau. It is intended for short-range protection of civilian and military targets (including long-range air defense systems) from all modern and prospective means of air attack. The complex was created in 1994 year and first demonstrated at MAKS-1995. Since that time, the complex has been significantly upgraded, the last known modification was demonstrated at MAKS-2007. It is assumed that in the future Pantsir-С1 will completely replace in the Russian army ZRPK "Tunguska".
Pantsir-С1 is a short-range anti-aircraft missile-gun complex, located on the chassis of a truck, trailer or permanently installed. Management is conducted by two or three operators. Air defense is carried out by automatic guns and guided missiles with radio, command or optical guidance. The complex is designed to protect civilian and military point objects from the platoon to the regiment or to cover long-range air defense systems such as C-300 / C-400. Air targets include all targets with a minimum reflective surface from 2-3 cm² and speeds up to 1000 m / s and a maximum range of 20000 meters and altitude up to 15000 meters, including helicopters, unmanned aerial vehicles, cruise missiles and high-precision bombs.
A feature of the Pantsir-C1 complex is the combination of a multi-channel capture system and target tracking with cannon-artillery weapons, creating a continuous target interception zone from 5 m in height and 200 m to 15 km in height and 20 km in range, even without external support.
Up to 6, Pantsir-С1 machines can work together through a digital communication network in various modes.
* Single combat operations: all actions from detecting a target to intercepting it are fully carried out by a single complex without the involvement of other means.
* Fighting as part of the battery: one Pantsir-С1 works as a combat vehicle as well as a command post. From 3 to 5 Shells can be connected to it and receive target designation for the subsequent performance of the task.
* Combat operations with the command point: the command point sends target designations to the Artillery-С1 installations for the subsequent performance of the task.
* Fighting as part of a battery with a command post and an early warning radar: the command point receives an air situation from the early warning radar and sends targeting to the Pantsir-С1 installations for the subsequent performance of the task.
For targets with an effective 2 m2 dispersion area [1], the detection range is 32-36 km. This radar accompanies both targets and ground-to-air missiles launched by the complex.
In addition to radar, the fire control system also contains an optical-electronic complex with a long-wave thermal receiver and an infrared direction finder, and also performs digital signal processing and automatic tracking of the target. There is a simplified, cheap version of Pantsir-С1 for export, which contains only an optical-electronic fire control system.
Two independent means of guidance - a radar and an optical-electronic system allow the capture of two targets simultaneously. The maximum capture speed is equal to 10 targets per minute.