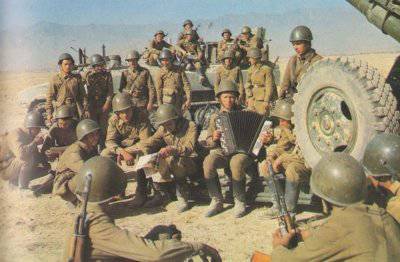 A Soviet soldier who disappeared in Afghanistan in 1980 year was found alive in the western province of Herat, where, as it turned out, he lived all this time. Thus in the list of 264 people who are missing in Afghanistan, there was one less soldier, reports RIA "
News
".
Born in the Uzbek city of Samarkand Bahretdin Khakimov, which is now called Sheikh Abdullah, was found thanks to the efforts of Soldiers-Internationalists Affairs Committee of the Council of Heads of Governments of the CIS countries, which has been operating since the year 1992. Among his other tasks is the search for Soviet soldiers who disappeared during the war in Afghanistan in 1979-1989. Searches were conducted in the province of Herat during the year and meetings scheduled with him were disrupted three times, until February 23 local residents brought Khakimov to a meeting with the Deputy Chairman of the Committee Alexander Lavrentiev.
"He served in 101-th motorized infantry regiment, which was stationed near Herat city. In September 1980 in a battle was seriously wounded, he picked up the locals, and then went out and took care of an elder who treats herbs. The same is now engaged himself Sheikh Abdullah ", - quotes RIA" Novosti "Lavrentiev.
Khakimov was married, but his wife died, leaving no children. Now the former soldier leads a semi-nomadic way of life, he has no documents and he hardly understands Russian. However, according to Khakimov, he would very much like to meet with relatives if they wish. The former soldier also identified from photographs of other missing Soviet soldiers, with whom he even met in Afghanistan, which gives hope: they will also be found.
Of the 264 soldiers reported missing in Afghanistan, half are Russian citizens. The committee managed to find 29 ex-military alive, 22 of them returned to their homeland, and seven chose to remain in Afghanistan. The remains of 15 war graves were exhumed. According to the results of the examination, five Soviet soldiers were identified among the remains in Russia.